Music-wise, the year 1985 had that "best of times, worst of times" thing going on.
Unquestionably, some of the most memorable songs of the decade — Don Henley's "Boys of Summer," Simple Minds' "Don't You Forget About Me," Madonna's "Material Girl," to name but a few — came out in 1985. But *80s Haters (and they're out there) need look no further than December 1985 when preparing their "80s = Lame" arguments.
Klymaxx's "I Miss You" . . . Dionne and Friends' "That's What Friends Are For" . . . Not one, but TWO songs from the film White Knights (Lionel Richie's "Say You, Say Me" and Phil Collins/ Marilyn Martin's "Separate Lives") — make no mistake: the upper echelon of the Billboard charts were truly overloaded with cheese in December 1985. But perhaps the cheesiest of the bunch was Eddie Murphy's "Party All the Time."
Now, I'm not saying the song wasn't successful. (It reached #2 on the Billboard charts, after all.) And I will concede it's pretty catchy — though not as catchy as the ridiculously giddy folks in the video seem to think.
But all in all, "Party All the Time" was just strange — from Eddie's high singing voice, to the fact that it wasn't (intentionally) funny, to the completely un-ironic approach to the whole project. Honestly, here is Eddie Murphy — famous, multi-millionaire playboy — who is lamenting his girlfriend parties the night away, leaving him to sit at home all alone? Did that ring at all true to anyone?
Thirty years have passed since Murphy's biggest musical hit was incessantly played on the radio, and to commemorate that milestone, here are thirty facts about "Party All the Time":
1.  In early 1985, Eddie Murphy was riding high. Beverly Hills Cop, released in December 1984, was reigning atop the box office and would eventually gross almost $235 million. It seemed he could do no wrong. So it makes sense that, around this same time, the top comic actor in the world would take a risk and indulge in his other lifelong passion: music.
2.  Murphy's interest in music predates his stand-up career. In fact, he formed his first band when he was a student at Roosevelt High School, Eddie Murphy Mitchell Keiser Band (or EMMK).
3.  As Murphy explained in a November 2013 interview for Billboard Magazine, he and his friend Keiser got together because they both did impressions: "And we were like, 'You know what would be really cool? If we could do Beatles impressions and get a real band playing.' So we got a band together and played behind us while we did Beatle impressions. Eventually, it turned into a real band."
4.  Even when Murphy gained fame as a comedian, he didn't abandon music; during his Saturday Night Live tenure, Murphy sang in several sketches, including "James Brown's Celebrity Hot Tub Party" and "Buckwheat's Greatest Hits."
5.  Says Murphy in the November 2013 Billboard: "I was always singing parodies, but if you listened to it, what would make it funnier was that the singing would be kind of cool. I did all these different impressions and could do all these things with my voice because I have a really wide range when I sing."
6.  On his debut comedy album, 1982's Eddie Murphy, Murphy sings "Enough Is Enough" (a parody of the Barbra Streisand/ Donna Summer duet) and "Boogie in Your Butt."
7.  "I do music all the time. Just when I'm around my house. I have my guitar and stuff with me all the time. I don't do jokes all the time . . . I love to make people laugh. But even if I was dead broke, I would play my guitar, but I would not be writing jokes . . ." (Eddie Murphy, quoted in Billboard, November 21, 2013).
8.  For his first non-comedy album, Murphy hired Aquil Fudge for his producer. As Murphy explained to Interview Magazine in 1987, "I wanted to get a producer who was enthusiastic, but not a big name, someone who wouldn't overpower things."
9.  Fudge was definitely not a "big name"; in fact, he was SO not a "big name" that Billboard reported in its October 5, 1985 edition that Aquil Fudge was a pseudonym for Murphy himself; the magazine stated Fudge was "quite clearly Mr. Murphy." Actually, Aquil Fudge was quite clearly Stevie Wonder's cousin.
10.  Speaking of Stevie Wonder . . . Eddie famously impersonated Stevie on Saturday Night Live (and as part of his comedy routine in the HBO special Delirious). But there seemed to be no hard feelings on the part of Stevie, who wrote two songs for Murphy's album (in addition to playing keyboards and harmonica).
11.  According to a November 3, 1985 Los Angeles Times article, Lionel Richie and Prince were also set to help ("I figured there was no way the album wouldn't sell with all those guys involved," said Murphy); in the end, though, Richie was too busy, and Prince's involvement was minimal. But the star who lent the most memorable assist: Rick James, writer and producer of "Party All the Time."
12.  James had a busy 1985: he released a solo album, Glow; his proteges, the Mary Jane Girls, hit the charts with their song "In My House" (which James produced); and he even wrote a song for the Beverly Hills Cop soundtrack, "(BHC) I Can't Stop" (which was never actually used in the film).
13.  Murphy and his crew (including his brother Charlie) took a pilgrimage to James' compound in Buffalo, New York to record "Party All the Time". As Eddie recalls in the November 2013 Billboard: "I was supposed to fly in for one day, then a snowstorm hit, and we got snowed in and stuck in Buffalo for two weeks."
14.  As part of a local news story about the making of "Party All the Time" James claimed that Eddie "has his own sound . . . it's almost like a kid singing. He's only twenty-two, anyway. That youthfulness is still in his voice." (Murphy was actually twenty-four.) The Buffalo news report, available on Youtube, also included footage of both Murphy and James clearly mimicking Stevie Wonder.
15.  Eddie's brother, Charlie Murphy, gave further insight into the process of recording "Party All the Time" in his book, The Making of a Stand-Up Guy: "For a long stretch during the making of that album," Charlie says, "we were snowed in at Rick's house in Buffalo, so all we did was party all the time. There you have it: art imitating life."
16.  In addition to collaborating with James and Stevie Wonder, Murphy wrote several songs himself for his debut album, including the song "C-O-N Confused." (Sample lyric: "People come and people go/ But there's one thing I surely know/ It's everyone is so confused.") In the November 3, 1985 edition of LA Times, Murphy says the following about his songwriting prowess: "Look at the lyrics I wrote. There's feeling in them. They're not funny . . . I like the fact that album is out there for people to see there's more to me than the brash comedian."
17.  In a way, "Party All the Time" led to Eddie Murphy hosting 1985's MTV's Video Music Awards. According to the book I Want My MTV, Murphy declined the hosting gig at first, in deference to his friend Rick James, who was still sore MTV didn't play the video for "Super Freak." (James called the network racist; the executives said the video was too raunchy.) MTV co-founder Les Garland promised Murphy that if he hosted the show, the network would play a video from Murphy's album. Murphy finally agreed to host and even joked about his negotiations in his obscenity-laced monologue: "Now I got a video, so I kiss (MTV's) a$$."
18.  As an aside: Rick James wasn't the first to lob charges of racism against MTV. In truth, in its early years, MTV claimed black artists didn't fit the network's rock-and-roll format. (The first black group to appear on the station, according to the book I Want My MTV? Musical Youth's "Pass the Dutchie." Seriously? "Pass the Dutchie" is a historical precedent??) Eventually, Rick James and MTV reconciled, and MTV's Les Garland even appeared in the "Party All the Time" video.
19.  Eddie's debut musical album, How Could It Be, was released in the summer of 1985. According to Murphy, it went gold and sold over 800,000 copies (Interview Magazine, September 1987).
20.  In December 1985, "Party All the Time" peaked at #2 on the Billboard charts — making it Rick James' most successful song. It was denied the top spot by Lionel Richie's "Say You, Say Me." (Yes, that same Lionel Richie who was too busy to help Eddie with this album!)
21.  Despite the initial success of "Party All the Time," the ensuing years have not been kind to the song. At one time or another, Buzzfeed, Blender Magazine, AOL Radio and VH1 have all included it on their lists of "Worst Songs Ever." (Of course, VH1 also included it on a list of "100 Greatest One-Hit Wonders of the 80s.")
22.  Critics of the How Could It Be album even include Murphy himself. "Yeah, a lot of it turned out bad," he admitted in a September 1, 1987 piece for Interview Magazine. Murphy said the album's producer, Aquil Fudge, "wasn't all that familiar with the recording equipment we used; he didn't see to it that the material got handled right, and that's why it came out the way it did."
23.  In that same article, Murphy also reported he felt uncomfortable with the material on the album: "I shouldn't be singing ballads. I'm not good at them, and I don't like singing them." He claimed "How Could It Be," the follow-up to "Party All the Time," made him feel "embarrassed."
24.  Perhaps inspired by Murphy's foray into music, other actors got the singing bug. In August 1986, Don Johnson — still riding the Miami Vice wave — released "Heartbeat," and in 1987, Bruce Willis released "Respect Yourself." Unfathomable though it may seem, both songs climbed to #5 on the charts.
25.  Murphy continued to put out albums in the 80s and early 90s: 1989's So Happy included the unfortunately-titled single, "Put Your Mouth on Me"; and 1993's Love's Alright, included a duet with Michael Jackson, the equally unfortunately-titled "Whatzupwitu." Neither single came close to matching the success of "Party All the Time." (In 1999, MTV ranked "Whatsupwitu" #3 on its "Worst Videos of All Time" list; Don Johnson's "Heartbeat" took the top spot.)
26.  "Party All the Time" ended up being the pinnacle of Rick James' career. Drug abuse — in particular, an addiction to crack cocaine — ultimately led to his fall from grace. Though buoyed financially by M.C. Hammer's sampling of "Super Freak" (for 1990's "U Can't Touch This"), the rest of the 80s and 90s saw James continue his descent into drugs as well as crime: in 1991, James and his girlfriend were arrested and charged with holding a 24-year-old woman hostage, sexually assaulting her, and burning her legs with a crack pipe. In January 1994, James was sentenced to five years in prison; he served two. In 1998, James had stroke, which left him in tenuous health.
27.  James found himself back in the spotlight in 2004, thanks to a skit on Comedy Central's Chappelle's Show, "Charlie Murphy's True Hollywood Story." The skit, which originally aired in February 2004, involved Charlie Murphy sharing wacky Rick James tales. Alas, a comeback was not to be: a few months later, in August 2004, James died in his sleep, at the age of 56. Coroners found nine drugs in his system when he died.
28.  In the 2000s, Murphy found opportunities to blend his acting and singing careers. As the character of Donkey, he sang "I'm a Believer" and "Livin La Vida Loca" in the Shrek films. And in 2006, he played the role of R&B singer Jimmy "Thunder" Early in the film Dreamgirls — a role for which Murphy earned an Academy Award nomination.
29.  Over the past few years, Eddie has been releasing reggae songs, including 2013's "Red Light" (a collaboration with Snoop Dogg . . . uh, Snoop Lion) and 2015's "Oh Jah Jah."
30.  "Party All the Time" continues to live on, appearing on TV shows such as Scrubs and Glee, and on the soundtrack for Grand Theft Auto V. In 2006, DJ Sharam Tayebi sampled the song for his "PATT" — an acronym for "Party All the Time." (Sharam's version reached number 8 in the United Kingdom.) All of which means it seems we'll be listening to "Party All the Time" until the end of time.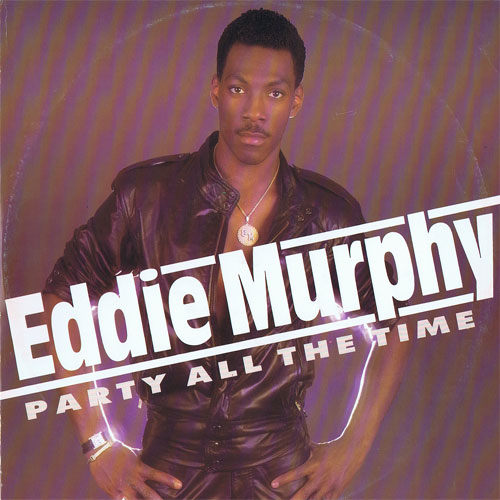 Works Cited
(I used a quite a few sources for this, some of which won't be cited here because they contained "common knowledge" type of information.)
Hunt, Dennis. "Eddie Murphy On His New LP: 'This Is Me.'" LA Times, November 3, 1985
Mitchell, Elvis."Eddie Murphy." Interview Magazine. September, 1, 1987.
Murphy, Charlie. The Making of a Stand-Up Guy. Simon Spotlight: New York, 2011.
Tannenbaum, Rob and Craig Marks. I Want My MTV: The Uncensored Story of the Music Video Revolution. Penguin: New York, 2011.
Wild, David. "Eddie Murphy Q&A: 'Even If I Was Dead Broke, I Would Play My Guitar.'" Billboard Magazine. November 21, 2013.