I Wear My Sunglasses at Night
Nothing can make your totally rad 80s look like the right pair of sunglasses. Here is a partial summary of the bodacious eyewear options favored in the 1980s.
MARCH 2014: The totally awesome gals at stylebriefs.com are giving away a pair of Ray Ban Aviators this month!! This classic look can be yours for spring. So, click on over there and follow them to enter to win. Sah-weet!!
Wayfarers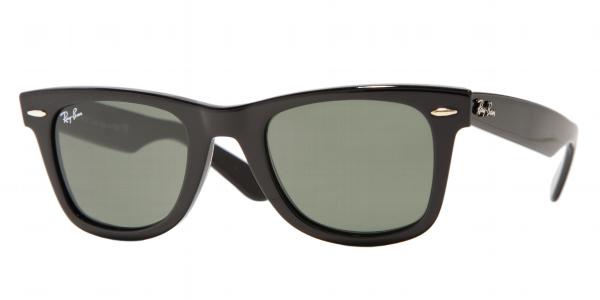 These ubiquitous shades are so 80s that they warranted their own page in the site. So, be sure to check out the Wayfarers page. What is not talked about there is the wide range of similarly styled knockoffs that were also everywhere in the 80s. Didn't have the money for the real thing? Not a problem. You could pick up a pair of look-a-likes at your local 7-11 and be ready to rock for under $7.00 flat.
Also very popular was the two-toned wayfarer knockoff that featured contrasting ear pieces, preferably in neon shades of orange, yellow, green and pink. A picture tells this story better than words (see below). The choices were endless and this basic shape for sunglasses was used with every possible color and finish. These are still readily available on ebay – try searching for "vintage 80s sunglasses."

Robot Sunglasses
We were unable to determine the exact name of these sunglasses but they are SO 80s that they must be included here with or without the right nomenclature. These were submitted to Like Totally 80s by one of our site visitors – thank you!! In their words:
"They're hard to explain, but definitive 80's…They really don't have an official name, referred to as "robot glasses" and "devo sunglasses" they are exactly what that decade brings to mind. Here's a few pictures I found off ebay, a photo of the group the Phenomenauts, and one famously from the beginning segment of "Sixteen Candles" (shown below at right).

Here are some follow up references to these very 80s shades for those that just can't get enough:
The Italian group Righeira's 1983 music video for "No Tengo Dinero" (on youtube) features the duo sporting these shades, and is worth a look for its sheer 80'sness in its own right.
Also [used] in the Foo Fighters 1997 music video for "Everlong." Lead singer, Dave Grohl, is seen in a dream sequence from either a Halloween party, or a real life flashback which happens to take place in the 80's…One of the male attendees at the party is sporting a pair of those shades as well.
Aviators
Ok, I admit it, I still have my aviators from the 80s. Also by RAY BAN (makers of the Wayfarer sunglasses), this style has been popular since they were developed in 1937. Called Aviators because of their teardrop shape, which matched those of the smoked-lens flying goggles which Ray-Ban was then selling to the Army and Navy. However, they have not been used in military aviation in many years. Since at least 1970, the only style issued or offered for sale for flying have those with rectangular lenses. This change is because the oxygen masks used to not allow for the tear drop sunglasses.
These are classics, having been compared to Chuck Taylors, white t-shirts and cowboy hats in their timelessness. Aviators are still available by RAY BAN for a pretty penny (around $115.00), but we found this look alike (see right hand column) for just $5.00 – what a bargain!
Apparently what you needed to do if trying to launch and market sunglasses in the 80s was to hire Tom Cruise (pre-madness episodes). He did for Aviators in 1986 with the explosive hit, "Top Gun" exactly what he did for Wayfarers in 1983 with the classic "Risky Business."

Shutter Shades
Shutter shades have made a huge comeback after Kanye West sported a pair in the video for "Stronger." Even Paris got in on the trend (see photos) – they must be cool! The lunacy of this look is just further evidence of the magnetism of the 80s and its fashion.

Glacier Shades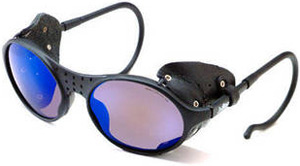 If there's one thing we learned from the 80s, it was that if you wore regular prescription glasses, you were a total nerd, BUT, if you wore SUNglasses, you were easily the coolest kid in school. That's how, if you joined a movie already in progress on TV one night, you would know exactly who was cool and who was the tool. Few sunglasses conveyed such associated awesomeness like Glacier shades. You remember those, right? The sunglasses that had the ear pieces that looped around your entire ear and had the leather side shields? I'm not sure what they "shielded," other than your peripheral vision, but you could put them on and be cooler than a MTV Remote Control marathon. While many things 80s, particularly in fashion, have made a comeback, the Glacier shades haven't quite made it back around yet. We at Like Totally 80s think they should. I mean, it is very apparent how they got their name — put them on, and oooooooh yeahhh, you are instantly "cool."