04.08.10: UPDATE – Wow, this is some tough stuff. Acid washed jeans are bad enough, combine them with leggings and then charge $154 for them, and you have WAY lost me. BUT, if this sounds like a yummy, must-have item for you, you're in luck and Saks Fifth Avenue is happy to sell them to you. Check out their Acid Wash Legging Jeans.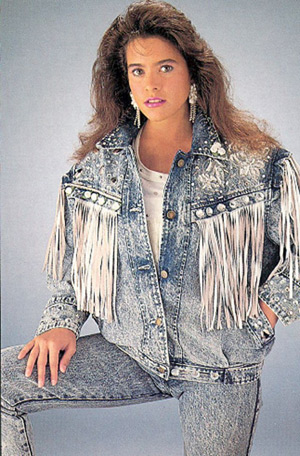 Do memories of 1980's clothing styles send you running for the hills? Fear not, you probably aren't alone! One of the hottest and thankfully short lived trends in this decade of fashion oddities was wearing acid washed jeans. The acid washed jeans trend didn't become popular until the mid to late eighties and faded four to five years later. This trend seemed to go hand in hand with the big hair phenomenon of the late 80s. If you were a fan of one, you were most likely a fan of the other.
The process of acid washing jeans used chemicals, stripping off the color of the top layer, leaving the white fabric exposed. The color remained in the lower layers of the material, giving it a faded look. Acid washing could be done overall or made to look splotchy. See the link at the end of this piece for a link to a how-to if you'd like to make your own acid washed jeans.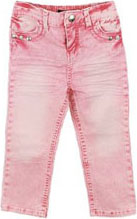 The most popular choice was navy colored denim jeans, but you could also buy acid washed denim in black and a whole 80s-inspired rainbow of color choices. Colors like red, gold, purple and teal tried, but they never achieved the devoted following enjoyed by the blue and black versions. This pair of pink acid washed jeans are made for baby girls – these are, unfortunately, not vintage. They are new and available for purchase for your little girl.
What did they wear in the 80's besides basic acid washed jeans? They could acid wash anything denim and did it with abandon. Acid washed tight jeans, acid washed denim skirts, acid washed tapered pants and acid washed winter coats (complete with shoulder pads)! As accessories, acid washed denim purses even came on to the market in the 80's.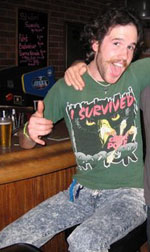 Acid washed jeans were available in many different styles. They came in tapered leg, short lengths and regular. Other eighties fashions for women included zippers up the side, zippers on the back and side peek-a-boos. The holes were covered with bows or other colored material. If you were really feeling edgy, you might opt for holes in your acid washed jeans.
If you truly wanted to be in the "It" crowd, you had an acid washed jean jacket that matched your jeans. Getting a hold of your boyfriend's coat was even more popular. It was an eighties fashion for women that faded (no bad 80s pun intended) quickly. And, to give you a taste of what your acid washed jeans-wearing boyfriend might have looked like, take a look at this guy.
Many 1980's clothing styles died down when the 1990s struck. A few hold outs wore acid washed until a law was passed forbidding it – just kidding (that's just wishful thinking). Believe it or not, there are still places where acid washed jeans can be bought today (although it must be said that we strongly recommend against it). This is the most unlikely of 80s trends to return to fashion, and yet it seems to be doing so. As proof, Nicole Richie was spotted sporting her own version of this look (see picture to right).
If all this talk of acid washed loveliness has you longing for some acid washed goodness of your own, we found this helpful article on eHow on How to Acid Wash Clothes. Pumice stone – check. Chlorine – check. No, wait, I don't want to do this.