If you're looking for a list of 80s hair bands, you've come to the right place. Here's a list of the 80s hair bands that rocked the decade like no one else could. Grab your black concert t-shirt, your too-tight jeans (also black), throw in a bandana for good measure and get ready to rock.
Bon Jovi
Britny Fox
Cinderella
Motley Crue
Def Leppard
Poison
Quiet Riot
Van Halen
Dokken
Twisted Sister
Skid Row
Great White
KISS
Whitesnake
Scorpions
Ratt
Warrant
W.A.S.P.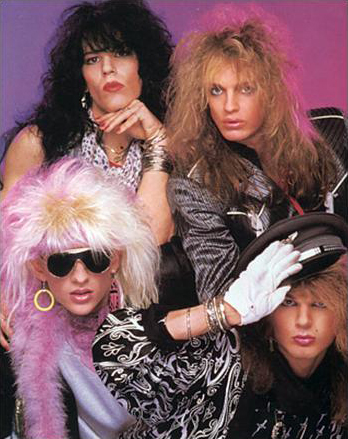 Poison: Helping Put the "Hair" in Hair Band!
While all of the great heavy metal/hair bands listed above helped to define this genre of music, we have selected the following top 80s hair bands for special recognition.

Motley Crue
To top our list of 80s hair bands is none other than Motley Crue. They had us "Smoking in the Boys Room" in '85 and in 1987 they introduced us to the "Wild Side" some of us never knew existed. Motley Crue truly sang the rebellious anthems of the 80s. >> Motley Crue t-shirts

Def Leppard
Second place on our list of 80s hair bands goes to Def Leppard. Formed in 1977, Def Leppard's first rehearsal took place in a spoon factory near Bramall Lane, Sheffield, England. While they always had talent, they gained mass popularity in 1983 with Pyromania and solidified their place in rock and roll history with 1987's Hysteria. Perhaps what stands out most about this band is their extraordinary ability to overcome conflict and tragedy. EXPAND "I'm hot, sticky sweet – From my head to my feet yeah!" Nuf said. >> Def Leppard t-shirts

Guns n' Roses
"Where the grass is green and the girls are pretty." This band was HUGE at my high school. As a 1990 graduate, they were a pervasive presence throughout high school. "The band's 1987 major label debut, Appetite for Destruction, earned them worldwide popularity. Their 1991 effort, the simultaneous release of Use Your Illusion I and Use Your Illusion II, and subsequent world tour solidified their status. Having sold an estimated 90 million albums worldwide, they are considered one of America's most successful hard rock bands today. Today, front man Axl Rose is the only original member in the band's current lineup."1 >> Guns N Roses t-shirts 1 – Information provided by Wikipedia.

Poison
Of all 80s rock/hair bands, Poison was not only huge then (hair and all) but has managed to stay together and continue touring and producing new music. Poison hit the national scene in 1986 with the multi-platinum, top-ten success of their debut album (independently produced), Look What the Cat Dragged In. Their second album, 1988's Open Up and Say . . . Ahh! was huge with hit songs that included "Nothin' But A Good Time," "Fallen Angel," "Every Rose Has Its Thorn" (their first #1 single) and "Your Mamma Don't Dance." The band began touring as the opening act for David Lee Roth. However, it was soon obvious that Poison could fill arenas by themselves and went our on their own. The second album went on to sell over 8 million copies. Go to Poison's Web site, complete with current tour dates and a great history of the band. >> Poison t-shirts These super-groups rocked the "Youth Gone Wild" down in the "Paradise City" where "Every Rose has Its Thorn." We'll never forget them. Needless to say, fans of 80s hair bands were a bit devastated when the grunge scene came to town and the 80s hair band scene seemed to fade into the rock n' roll night. Luckily for those fans, many of the groups on this list of 80s hair bands are still touring today. So rock on child of the 80s; the soul of your decade will never die (even if the hairstyles did). Check out Ryan's review of Poison, Def Leppard & Cheap Trick – Concert Tour, Summer 2009.