By Ryan Zimmerman
When I first heard Poison was coming to town on tour this summer, I was amped! I mean, the band I followed so passionately as a kid was coming to town, and despite my adoration of them back in the 80s, I had never actually seen them in concert. Then, I hear they are teaming up on tour with Def Leppard and Cheap Trick, so that was a no-brainer. I had to be there. That was one trifecta of teased hair and torrid talent I was not going to miss.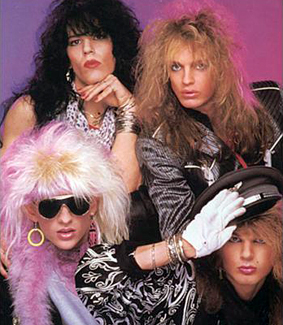 Poison: Then . . . and Now
Luckily, I scored free tickets on a radio contest, so I didn't have to invest $80 a pop on some less than close seats. My old college roommate and I headed down to the Sprint Center, Kansas City's newest and finest concert venue, and headed on in expecting to see quite the eclectic crowd. We were right. I donned my Cobra Kai Tee, in homage of the 80s, but couldn't hold a candle to some of the concert goers I saw that night. It got to the point that I couldn't tell if people were dressed up in costume, or if it was their everyday party garb. We shuffled into the arena, and distantly I could hear Cheap Trick rocking "Dream Police."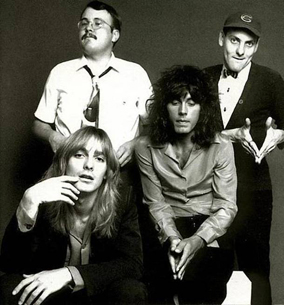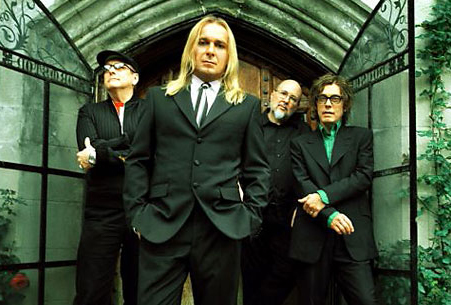 Cheap Trick: Then . . . and Now
We were a bit late, so didn't see the entire Cheap Trick set, but did catch the aforementioned hit, plus "The Flame." I didn't know what to expect, but I was incredibly impressed by the vocals and overall sound from the band. After decades, they could still make the hits sound legit. The music was crisp and the vocals sounded like a near flawless replication of their radio airplay.
Following a 20 minute intermission, the lights dimmed and C.C.'s guitar started to blare through the speakers. Poison was taking the stage and the crowd was going nuts. Songs about strippers and debauchery filled the arena, as they rocked through their hair raising hits. "Talk Dirty to Me" never sounded dirtier, and the raucous crowd couldn't have bopped any harder to "Unskinny Bop." I was pleasantly surprised that, despite the abundance of lighters and Aquanet in the air during "Every Rose Has its Thorn," no fire alarms or evacuations were needed.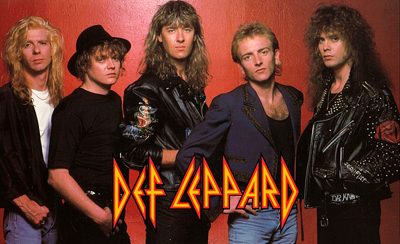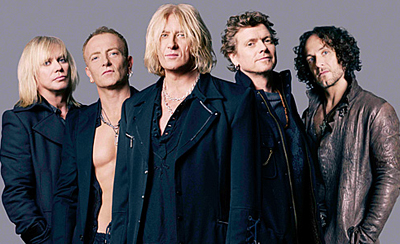 Def Leppard: Then . . . and Now
Def Leppard, due to having the most worldwide album sales, was the headliner of the night. I was thinking that they would have a tough time following Poison's scorching set — and for the most part, I was right. The first several songs were lackluster and my clapping following each tune was more lackadaisical than legit. Joe Elliott seemed to conveniently have the crowd fill in and sing through the high notes that he probably could no longer hit. Don't get me wrong, though — it wasn't all bad. Half way through the gig, the rocking got better and the songs got louder. "Animal" was ferociously fun and "Rock of Ages" rocked all the widespread ages in the crowd. I was quite surprised when I heard the echoing of "Love is like a bomb" throughout the arena that "Pour Some Sugar on Me" was not the encore. I remarked to my friend as Def Leppard left the stage that the only song left I could think of was "Let's Get Rocked." Just then, the lights dimmed again, Joe came out and said "I have just one question for you Kansas City. Do you wanna get rocked?!" The crowd responded its approval with thunderous applause and following the finale, the concert came to a close. All in all, the concert was awesome — plain and simple. I went in excited, but with limited expectations and left as satisfied as the girls on "Rock of Love." As I exited the arena, I stopped to peer in at the concert tees and see how much they cost. My heart sunk as I saw the cheapest tee cost $40. I weighed the benefit of wearing a Poison Tee shirt from 2009, or getting one from 1988 on Ebay for half the price. Let's just say I am currently the highest bidder . . . and had enough left over for a pair of leather pants.
Link to Tour Dates: www.poisonweb.com