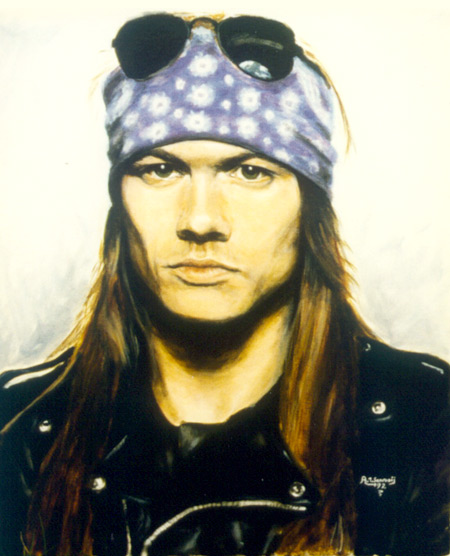 Brush up on your head banging and get ready be one bad a– dude. Attitude is a prerequisite to this costume. In addition to that, blend together the following elements and you are going to have to beat off the metal chicks with a . . . drum stick.
Hair – the 80s metal look was all about hair (try this wig)
Bandana – this can worn around the neck (always sexy) or tied around your jeans
Black t-shirt or black leather vest as shown to the right
TIGHT jeans – you got to show the girls what you got
Boots – work boots or cowboy boots
Finally, you'll need some type of leather band bracelet or heavy silver neck chain
Bottle of whiskey as a prop (or liquid refreshment, whatever)
The Axl Rose Adaptation of the Metal Head Costume
You're going to want to switch to the blonde wig for this version of the Metal Head. Critical adaptations to the above costume list are included below.
Bandana – for Axl, you'll want to tie it on your head as shown
Shades – those go up top on top of the bandana
Black leather jacket
Re-watch the Patience video for some tips on the uniquely Axl hip moves. Watch the Patience video here. We at Like Totally 80s particularly like the little hip thing he does around the 1:45 minute mark in the video. You'll also note when watching the video that in this case, he has added a baseball cap turned backwards to the head bandana – also a nice touch.
Party on, Wayne! Harrison Ford and wife, Calista Flockhart, rocked it hard this Halloween (2011) with their version of the 80s hair band look.

Want more metal head looks? Check out our site reader submitted Vince Neil (of Mötley Crüe) costume.