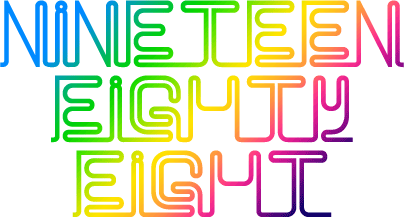 1988 was a politically active year with indictments handed down in the Iran-Contra affair, a presidential election in which George HW Bush beats out Michael Dukakis, and the election of Sonny Bono as the new mayor of Palm Springs. To escape the politics and the natural and manmade disasters, people flocked to the movies to see some great cinema. This was the year of Rainman, Coming to America, Die Hard, Beetlejuice, and A Fish Called Wanda. At the Oscars that year, The Last Emperor won an astounding 9 Academy Awards (what!?!). On the music scene, Rick Astley released "Never Gonna Give Up" allowing future generations to Rick Roll (not sure if that goes in the good or bad category), and George Michael convinced us that we had to have "Faith." We all wished Michael Hutchence was talking to us personally when he sang "Need You Tonight" and Guns N Roses hit it huge with "Sweet Child O' Mine." Both Roseanne and The Wonder Years hit the small screen. The Winter Olympics were in Calgary, and the Redskins won Super Bowl XXII. Whatever 1988 brought us both good and bad, we heeded the advice of Bobby McFerrin – Don't Worry, Be Happy.
Jump directly to your area of interest using these links:
History & Politics  .  Music  .  Television  .  Movies  .  Sports  .  People Who Died  .  People Who Were Born
Back to 80s Time Capsules
---
History & Politics
U.S. Vice President George H.W. Bush and CBS News anchor Dan Rather clash over Bush's role in the Iran-Contra scandal, during a contentious television interview.
Anthony M. Kennedy is appointed to the Supreme Court of the United States.
Hustler Magazine v. Falwell: The Supreme Court of the United States sides with Hustler magazine by overturning a lower court decision to award Jerry Falwell $200,000 for defamation.
Students at Gallaudet University (school for the advanced education of the deaf and hard-of-hearing) go on strike for the selection of a non deaf university president.
Two U.S. Army helicopters collide in Fort Campbell, Kentucky, killing 17 servicemen.
Iran-Contra Affair: Lieutenant Colonel Oliver North and Vice Admiral John Poindexter are indicted on charges of conspiracy to defraud the United States.
The Last Emperor (directed by Bernardo Bertolucci) wins 9 Oscars.
Former pop singer Sonny Bono is elected mayor of Palm Springs, California.
The USS Samuel B. Roberts (FFG-58) strikes a naval mine in the Persian Gulf, while deployed on Operation Earnest Will during the Tanker War phase of the Iran-Iraq War. United States Navy forces retaliate for the Roberts mining with Operation Praying Mantis, in a day of strikes against Iranian oil platforms and naval vessels.
PEPCON disaster in Henderson, Nevada: A major explosion at an industrial solid-fuel rocket plant causes damage extending up to 10 miles away, including Las Vegas's McCarran International Airport.
Bus disaster near Carrollton, Kentucky: A drunk driver going the wrong way on Interstate 71, hits a converted school bus carrying a church youth group from Radcliff, Kentucky. The resulting fire kills 27, making it tied for 1st in the U.S. for most fatalities involving 2 vehicles to the present day. Ironically, the other 2-vehicle accident involving a bus that also killed 27 occurred in Prestonsburg, KY 30 years prior.
A report by U.S. Surgeon General C. Everett Koop states that the addictive properties of nicotine are similar to those of heroin and cocaine.
Four workers are asphyxiated at a metal-plating plant in Auburn, Indiana, in the worst confined-space industrial accident in U.S. history (a fifth victim dies 2 days later).
The Piper Alpha drilling platform in the North Sea is destroyed by explosions and fires, killing 165 oil workers and 2 rescue mariners.
The first reported medical waste on beaches in the Greater New York area (including hypodermic needles and syringes possibly infected with the AIDS virus) washes ashore on Long Island. Subsequent medical waste discoveries on beaches in Coney Island and in Monmouth County, New Jersey force the closure of numerous New York-area beaches in the middle of one of the hottest summers in the American Northeast on record.
Tompkins Square Park Police Riot in New York City: A riot erupts in Tompkins Square Park when police brutally attempt to enforce a newly-passed curfew for the park. Bystanders, artists, residents, homeless people and political activists are caught up in the police action that takes place on the night of August 6th and the early morning of August 7th.
The Iran-Iraq war ends, with an estimated 1 million lives lost.
NASA resumes space shuttle flights, grounded after the Challenger disaster, with Space Shuttle Discovery.
United States presidential election, 1988: George H. W. Bush is elected over Michael Dukakis.
War on Drugs: U.S. President Ronald Reagan signs a bill providing the death penalty for murderous drug traffickers.
In Palmdale, California, the first prototype B-2 Spirit stealth bomber is revealed.
A cyclone in Bangladesh leaves 5 million homeless and thousands dead.
Back to Top  .  Back to 80s Capsules
---
Music
Father Figure – George Michael
Got My Mind Set On You – George Harrison
Never Gonna Give You Up – Rick Astley
Sweet Child O' Mine – Guns N' Roses
Wishing Well – Terence Trent D'Arby
Shattered Dreams – Johnny Hates Jazz
Seasons Change – Exposé Listen
Get Outta My Dreams, Get into My Car – Billy Ocean
Anything for You – Gloria Estefan/Miami Sound Machine
Hold on to the Nights – Richard Marx
Wild, Wild West – Escape Club
Flame – Cheap Trick
Baby, I Love Your Way/Freebird Medley (Free Baby) – Will to Power
Another Lover – Giant Steps
Under the Milky Way – Church
Don't Worry Be Happy – Bobby McFerrin
It Takes Two – Rob Base & D.J. E-Z Rock
Back to Top  .  Back to 80s Capsules
---
Television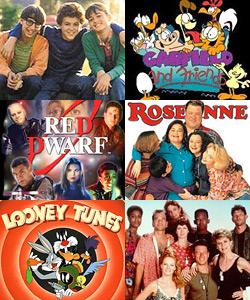 The Wonder Years
Starring: Fred Savage, Jason Hervey, Alley Mills, Josh Saviano, Danica McKellar, & Olivia d'Abo
An adult Kevin Arnold reminisces on his teenage years spent growing up during the 60's. As he goes from adolescence to adulthood, he experiences, along with his best friend Paul and sometimes-girlfriend Winnie, the full range of trials and traumas that come in just about everyone's life.
Roseanne
Starring: Roseanne Barr, John Goodman, Laurie Metcalf, Alicia Goranson, Sara Gilber, & Michael Fishman
The Connors are a middle class family of five (DJ, Darlene, Becky, Roseanne and Dan) who struggle with life's essential problems: Marriage, Children, Money and In-Laws.
Mystery Science Theater 3000
Starring: Joel Hodgson
When zany mad scientist Dr. Clayton Forrester and his loopy assistant Frank get bored with their work at the Deep Thirteen research center, they kidnap Joel the janitor and shoot him into orbit on the Satellite of Love. While in space Joel builds wacky robot sidekicks Tom Servo and Crow T. Robot to help him withstand an onslaught of grade 'Z' movies that the mad scientists force him to watch.
The Looney Tunes Show
China Beach
Starring:  Dana Delany, Concetta Tomei, Marg Helgenberger, Michael Boatman, Robert Picardo, Brian Wimmer, Jeff Kober, & Nancy Giles
A drama series set at an American base during the Vietnam War that looked at the everyday lives of the people sent to serve their country. The doctors, nurses, soldiers and even USO entertainers stationed at the base must try to come to terms with the horrors and stresses of the war around them. Not all of them succeed.
Garfield & Friends [cartoon]
Animated television series based on the popular comic strip. Each show is divided into stories about Garfield, Odie, Jon and the trouble they get into, or Orson the Pig and his adventures on a farm with fellow farm animals Wade Duck, Roy Rooster, Bo and Lanolin the sheep, Booker the chick and Sheldon, an unhatched egg.
Red Dwarf
Starring: Craig Charles, Danny John-Jules, Chris barrie, & Robert Llewellyn
Three million years ago, a radiation leak killed the crew of the mining ship, Red Dwarf. The only survivor was Dave Lister, the chicken soup machine repairman. He spends his time on the ship with a holographic projection of Arnold Rimmer (his dead bunkmate), Cat (a life-form that evolved from Dave's cat), Holly (the ship's senile computer), and Kryten (a service mechanoid).
Back to Top  .  Back to 80s Capsules
---
Movies

Rain Man
Starring: Dustin Hoffman & Tom Cruise
Selfish yuppie Charlie Babbitt's father dies and leaves a fortune to Raymond, the institutionalized savant brother that Charlie didn't know he had. They set out on a cross-country journey of discovery.
Who Framed Roger Rabbit
Starring: Bob Hoskins, Christopher Lloyd, Charles Fleischer, & Joanna Cassidy
A toon hating detective is a cartoon rabbit's only hope to prove his innocence when he is accused of murder.
Coming to America
Starring: Eddie Murphy & Arsenio Hall
It is the 21st birthday of Prince Akeem of Zamunda and he is to marry a woman he never saw before. Now the prince breaks with tradition and travels to America to look for the love of his life.
Big
Starring: Tom Hanks
When a boy wishes to be big at a magic wish machine, he wakes up the next morning and finds himself in an adult body literally overnight.
Twins
Starring: Arnold Schwarzenegger & Danny DeVito
A physically perfect, but innocent, man goes in search of his twin brother, who is a short small-time crook.
Crocodile Dundee II
Starring: Paul Hogan & Linda Kozlowski
Australian outback expert protects his New York love from gangsters who've followed her down under.
Die Hard
Starring: Bruce Willis
New York cop John McClane gives terrorists a dose of their own medicine as they hold hostages in an LA office building.
The Naked Gun: From the Files of Police Squad!
Starring: Leslie Nielsen
Incompetent cop Frank Drebbin has to foil an attempt to assassinate Queen Elizabeth II.
Cocktail
Starring: Tom Cruise, Bryan Brown, & Elisabeth Shue
A talented New York bartender takes a job at a bar in Jamaica and falls in love.
Beetle Juice
Starring: Alec Baldwin, Geena Davis, Miachael Keaton, Winona Ryder, Catherine O'Hara, & Jeffery Jones
A couple of recently deceased ghosts contract the services of a "bio-exorcist" in order to remove the obnoxious new owners of their house.
Working Girl
Starring: Harrison Ford, Sigourney Weaver, & Melanie Griffith
When a secretary's idea is stolen by her boss, she seizes an opportunity to steal it back by pretending she has her boss's job.
A Fish Called Wanda
Starring: John Cleese, Jamie Lee Curtis, Kevin Kline & Michael Palin
In London, four very different people team up to commit armed robbery, then try to doublecross each other for the loot.
Scrooged
Starring: Bill Murray
A cynically selfish TV executive gets haunted by three spirits bearing lessons on Christmas Eve.
Willow
Starring: Val Kilmer, Warwick Davis, Joanne Whalley, & Jean Marsh
In the dungeons of the castle of the evil Queen-sorceress Bavmorda, a prisoner gives birth to a child who, according to an ancient prophecy, will put an end to the reign of the Queen. A midwife saves the child from the wrath of Bavmorda, but is forced to throw her cradle in a river when reached by the Hounds of the Queen. The river brings the child near a village of nelwyns, and little Willow finds and adopts her. When the Hounds reach the village, Willow begins a difficult journey to bring the baby back to her people and to fulfill the prophecy.
Beaches
Starring: Bette Midler & Barbara Hershey
A privileged rich debutante and a cynical struggling entertainer share a turbulent, but strong childhood friendship over the years.
Oliver & Company
A homeless kitten named Oliver, roams the streets of New York, where he is taken in by a gang of homeless mutts who survive by stealing from others. During one of these criminal acts, Oliver meets a wealthy young girl named Jenny Foxworth. This meeting will forever change his life.
Bull Durham
Starring: Kevin Costner, Susan Sarandon & Tim Robbins
A fan who has an affair with one minor-league baseball player each season meets an up-and-coming pitcher and the experienced catcher assigned to him.
The Land Before Time
Four orphan dinosaurs (Littlefoot, Petrie, Ducky & Cera) travel the ruins of their world, while grieving the loss of their families and banding together to face the odds of survival.
Young Guns
Starring: Emilio Estevez, Kiefer Sutherland, Lou Diamond Phillips, Charlie Sheen, Dermot Mulroney & Casey Siemaszko
A group of young gunmen, led by Billy the Kid, become deputies to avenge the murder of the rancher who became their benefactor. But when Billy takes their authority too far, they become the hunted.
Biloxi Blues
Starring: Matthew Broderick & Christopher Walken
A group of young recruits go through boot camp during the Second World War in Biloxi Mississippi.
Dirty Rotten Scoundrels
Starring: Steve Martin & Michael Caine
Lawrence and Freddie are con-men; big-time and small time respectively. They unsuccessfully attempt to work together only to find that this town (on the French Mediterranean coast) aint big enough for the two of them. They agree to a "loser leaves" bet. The bet brings out the best and worst in the two.
The Great Outdoors
Starring: Dany Aykroyd & John Candy
A Chicago man's hope for a peaceful family vacation in the woods is shattered when the annoying in-laws drop in.
Tequilla Sunrise
Starring: Mel Gibson, Michelle Pfeiffer, & Kurt Russell
A business on the line. A friendship on the edge. A woman caught in the middle.
Midnight Run
Starring: Robert De Niro & Charles Grodin
A mafia accountant is chased by bounty hunters, the FBI, and the Mafia after jumping bail.
Dangerous Liaisons
Starring: Glenn Close, John Malkovich, Micelle Pfieffer, Swoosie Kurtz, Keanu Reeves, & Uma Thurman
Rich and bored aristocrats in Rococo France play high-stakes games of passion and betrayal.
Mississippi Burning
Starring: Gene Hackman & Willem Dafoe
Two FBI agents with wildly different styles arrive in Mississippi to investigate the disappearance of some civil rights activists.
Child's Play
When serial killer Charles Lee Ray is mortally wounded in a police shoot-out, he uses a voodoo spell to transfer his soul into Chucky, a "Good Guys" doll. Andy receives the doll as a birthday gift, and Chucky soon resumes his killing spree. However, Charles doesn't want to be trapped in the body of a doll forever. His only escape would be to transfer into the first human he revealed his true identity to . . . which places Andy in mortal danger.
The Accidental Tourist
Starring: William Hurt, Kathleen Turner, & Geena Davis
Macon Leary is the author of a travel book for people who want to travel with the minimum fuss and as little impact as possible on their lives. Arriving back from a working trip, his wife announces she can no longer deal with the fact that he is dealing with the death of their son the same way that he travels: with minimum impact. Macon subsequently meets the quirky Muriel, who it seems is just the opposite to Macon.
The Accused
Starring: Kelly McGillis & Jodie Foster
A rape victim, enraged at the light sentence her attackers received on account that she was of "questionable character" goads a female prosecutor to charge the men who literally cheered the attack on.
Funny Farm
Starring: Chevy Chase & Madolyn Smith Osborne
Andy and Elizabeth are sick of life in the city, and decide to move to the country. Buying a home near a picturesque town, they soon discover (to their horror) that things are done differently in the country. They must deal with all of the local characters, the local animals, as well as any skeletons in the closet.
Alien Nation
Starring: James Caan, Mandy Patinkin, & Terence Stamp
A few years from now, Earth will have the first contact with an alien civilisation. These aliens, known as Newcomers, slowly begin to be integrated into human society after years of quarantine but are victims of a new type of discrimination. When the first Newcomer police officer, Sam Francisco is assigned his new partner, he is given Matthew Sykes , a mildly racist veteran, the animosity between them soon gives way to respect as they investigate the Newcomer underworld, and especially Newcomer leader William Harcourt.
Gorillas in the Mist
Starring: Sigourney Weaver
The story of Dian Fossey, a scientist who came to Africa to study the vanishing mountain gorillas, and later fought to protect them.
License to Drive
Starring: Corey Haim, Corey Feldman, & Heather Graham
A teen decides to go for a night on the town with his friends despite flunking his driver's test.
Short Circuit 2
Starring: Fisher Stevens, Michael McKean, & Cythia Gibb
When Number Five is sent from Newton and Stephanie's ranch to the big city to help Ben with his electronics business, he finds that his robotic talents are wanted by city low-life who want to turn Number Five into profits.
Married to the Mob
Starring: Michelle Pfieffer, Matthew Modeine, & Dean Stockwell
Angela deMarco is unhappily married to high Mafia member Frank deMarco. When Frank is killed, Angela takes the opportunity to break free of the Mafia world entirely and start a new life. But Frank's boss, Tony Russo, begins to court the unresponsive Angela. The FBI begins surveillance on her, thinking her to be his new mistress. FBI agent Mike Downey goes undercover as Angela's neighbor, but soon finds himself attracted to Angela himself.
Back to Top  .  Back to 80s Capsules
---
Sports
The 1988 Winter Olympics are held in Calgary, Alberta, Canada.
In Super Bowl XXII, the Washington Redskins defeated the Denver Broncos, 42–10.
Edmonton Oilers win the Stanley Cup.
The Chicago Cubs play their first ever night game at home in Wrigley Field, defeating the New York Mets, 6-4.
The Summer Olympic Games are held in Seoul, South Korea.
Kirk Gibson, who could barely walk due to injuries, hits a dramatic homerun during Game 1 of the World Series to give the Los Angeles Dodgers a 5-4 victory against the Oakland Athletics. The Dodgers went on to win the World Series.
Ted Turner Officially Buys Jim Crockett Promotions, known as NWA Crockett, and turns it into WCW or World Championship Wrestling.
Winning Colors wins the Kentucky Derby with a time of 2:02.20.
Rick Mears (for Penske Racing, Inc.) wins the Indy 500.
Stefan Edberg defeats Boris Becker to win Men's Singles & Steffi Graf defeats Martina Navratilova to win Lady's Singles at Wimbledon.
Pedro Delgado (Spain) wins the Tour de France.
Mats Wilander defeats Ivan Lendl to win Men's Singles & Steffi Graf defeats Gabriela Sabatini to win Women's Singles at the US Open.
Bill Elliott #9 won the NEXTEL Cup (formerly Winston Cup).
Back to Top  .  Back to 80s Capsules
---
People Who Died
Heather O'Rourke (b. 1975) – Actress – as Carol Anne in the Poltergeist films
Joe Besser (b. 1907) – Actor / Comedian – as Stinky on The Abbott and Costellow Show
Harris Glenn Milstead (b. 1945) – Actor – best known for his drag persona Divine; appeared in Pink Flamingos, Femal Trouble, & Hairspray; and played both Peggy Bundy's Mother & her Uncle Otto on Married with Children
Andy Gibb (b. 1958) – Singer – member of the Bee Gees & younger brother of Barry, Robin and Maurice Gibb
Robert A. Heinlein (b. 1907) – Sci Fi Authror – wrote Starship Troopers & Stranger in a Strange Land
Daws Butler (b. 1916) – Voice Actor – as Snap one of the Rice Krispies mascots, Beany Boy & Captain Huffenpuff on Time for Beany, Chilly Willy, Huckleberry Hound, Yogi Bear, Snagglepuss, Quick Draw McGraw, Loopy De Loop, Wimpy from Popeye, Augie Doggie, Elroy Jetson, Scooby-Dum, Cap'& n Crunch
Chet Baker (b. 1929) – Jazz musician – Trumpeter & singer
Nico (b. 1938) – Singer-songwriter / Model / Actress / Warhol superstar – part of The Velvet Underground and Nico
Judith Barsi (b. 1978) – Child & Voice actress – Kids Don't Tell; There Were Times, Dear; Eye of the Tiger; Jaws: The Revenge; voice of Ducky in The Land Before Time; & voice of Anne-Marie in All Dogs Go to Heaven
Trinidad Silva (b. 1950) – Actor – best known as Martinez on Hill Street Blues
Anne Ramsey (b. 1929) – Actress – as Mama Fratelli in The Goonies & Mrs. Lift in Throw Momma from the Train
Gert Fröbe (b. 1913) – Actor – as Auric Goldfinger in the Bond movie Goldfinger & as Baron Bomburst in Chitty Chitty Bang Bang
Roger Hargreaves (b. 1935) – Author / Illustrator of childrens books, most notable the Mr. Men and Little Miss series
John Houseman (b. 1902) – Actor / Film producer – as Professor Charles Kinsfield in The Paper Chase & as grandfather Edward Stratton II on Silver Spoons
John Carradine (b. 1906) – Actor – as Jim Casy in The Grapes of Wrath, Aaron in The Ten Commandments, Naveau "the singing-musketeer" in The Three Musketeers, Porter Rockwell in Brigham Young, & Maj. Cassius Starbuckle in The Man Who Shot Liberty Valance. Also the fauther of David, Bruce, Keith & Robert Carradine.
Roy Orbison (b. 1936) – Singer – "Only The Lonely," "Oh, Pretty Woman," "Crying," & "You Got It"
Back to Top  .  Back to 80s Capsules
---
People Who Were Born
Haley Joel Osment – Actor – Cole Sear in The Sixth Sense, Trevor McKinney in Pay It Forward, David in A.I., & Walter Caldwell in Secondhand Lions
Brooke Hogan – Reality Star / Singer – as herself on Hogan Knows Best; daughter of Hulk Hogan
Nikki Reed – Actress / Writer – co-wrote & starred in Thirteen as Evie Zamora, as Kathy Alva in Lords of Dogtown, & Sadie Campbell on The O.C.
Mae Whitman – Actress – as the president's daughter in Independence Day, Maggie Taylor in One Fine Day, Bernice Pruitt in Hope Floats, Emma Grac McKee on State of Grace, Ann Veal on Arrested Development, voice of Katara on Avatar: The Last Airbender, & voice of Rose on American Dragon: Jake Long
Rupert Grint – Actor – as Ron Weasley in the Harry Potter films
Alexa Vega – Actress – as Carmen Cortez in the Spy Kids movies & Vanessa in Odd Girl Out
Max Thieriot – Actor – as Gus in Catch That Kid, Seth Plummer in The Pacifier, & Ned in Nancy Drew
Vanessa Anne Hudgens – Actress / Singer – as Gabriella Montez in High School Musical movies
Carly Patterson – American Gymnist – Won Gold in the All-around and Silver in the Team competition & on the balance beam at the 2004 Summer Olympics
Nikki Reed – Actress – as Rosalie Cullen in The Twilight Saga