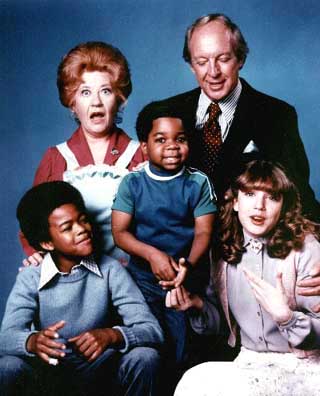 If forced to pick five favorites from among the great TV shows of the 80s, Diff'rent Strokes would definitely make the cut. The show wasn't just about laughs, it was about breaking social and cultural barriers while learning about the important things in life – and, of course, it had Arnold's catch phrase, "Whatchou talkin' bout Willis?" (see video below).
Diff'rent Strokes first aired in 1978 and ran until 1986, but re-runs still play on the air to this very day. You can even buy seasons of the show on DVD.
Diff'rent Strokes revolved around Arnold and Willis (Gary Coleman and Todd Bridges), two young African-American boys whose mother died. On her deathbed, the mother asked her employer a favor – to take care of her two sons. That was when destiny had the boys go from rags to riches.
Mr. Drummond (the wealthy Manhattan widower) and his daughter Kimberly, along with the housekeeper Mrs. Garrett (who later came to star in The Facts of Life), find themselves taking Willis and Arnold under their wings. The show covered some tough topics such as racism, drug use and even child molestation during its run.
It was definitely a culture clash at times, but it made for some awesome story lines and wonderful life lessons, not to mention more than a few great laughs. This was 80s TV at its best.
Everybody's got a special kind of story
Everybody finds a way to shine . . .
It takes different strokes to move the world, yes it does . . .