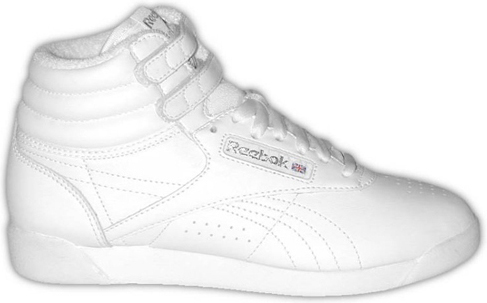 Like Thiller, the Reebok High Top (aka Freestyle) is celebrating its 25th anniversary (in 2007). Wow – that is a really long time with a single style of shoe, especially one created in the 80s.

More for Fashion, Less for Sports
Most high-tops are basketball shoes, but not in the 80s! In the 80s, they became a fashion statement – so ubiquitous were the Reebok Hightop Aerobic shoes that they became a fashion staple – a must-have! This mid-80s footwear craze could be seen with outfits ranging from a mini-skirt to jeans to stirrup pants (ouch – a real fashion low). Throw in the biggest hair you've ever had in your life and bunch up the sides of your shirts with some weird plastic clip, and you've got the makings of one totally rad 80s outfit. Well, it was the 1980s . . . Even Flo Rida sees the value in these iconic tennis shoes. In his 2008 hit "Low" he refers to the "Reeboks with the straps." Yeah, that's these shoes. I have to admit though, it's not just what we wore them with that made these shoes "different" – it was the shoes themselves. First, you've got this decent looking aerobics shoe, but then you throw a high top on top of it, but not a normal high top. No, in the 80s we couldn't do anything normal. The high top part of the shoe had three different levels, two of which had their very own Velcro strap (although the rest of the shoe was a lace-up).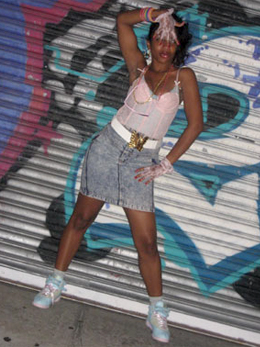 When the shoes first came out, they were only sold in black and white versions. Then the 80s craziness went into full swing and the shoes became available in all different colors including pink, red, blue, and green. These shoes were SO cool, and no mid-80s wardrobe was complete without a pair. I remember my first pair – the thrill of pulling them out of the box – the delicious smell of the brand new leather. I am not sure I have liked a pair of shoes so much since. I had a pair in red and I wore them into the 90s (until a boyfriend looked at my feet and laughed and I ended up tossing them in the trash that night). But guess what? They're back! Yes indeed, if you didn't manage to jump on this trend in the 80s, Reebok is giving you a second chance to enjoy the oh-so-comfortable thrill of the high top aerobic footwear trend! Maybe we'll be seeing stirrup pants and the funny shirt clips soon too?

Still Kickin' It
So, all kidding aside, if you'd like to grab onto some Reebok Hightops and all those great memories of junior high all over again, you can get a brand new pair here. Some of the new styles of the Freestyle (its real name) even sport neon laces (pink) such as the new Tokyo version. You'll need to get out their web site to see the new and funky ways that these classic fashion greats are making a comeback. > You can pick up a pair here.