I started to write an article about the very 80s tendency to roll up t-shirt sleeves (yes, t-shirts) when I realized that it wasn't just t-shirts that received this 1980s fashion treatment. No article of clothing was seemingly out of reach of a good roll. Jean jackets looked much better with a roll or two on the sleeves. And, pegged jeans (defined below) were a must. So, instead of limiting this analysis to t-shirts as originally planned, we will explore the overall obsession with rolling up clothes.
Photo Below: A huge LT80s "thank you" to D. Hernandez for sharing this picture with us. This has so much 80s awesomeness happening—her hair, the foldover jeans, and of course, the tight roll!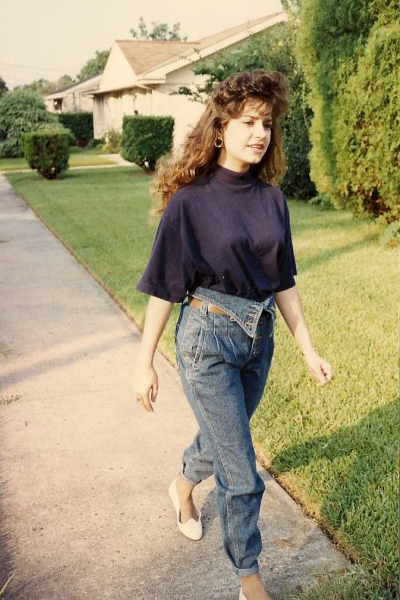 My interest in this topic was sparked (aside from a general fascination with all things related to 80s fashion) by a recent re-viewing of the music video for Glass Tiger's 1987 hit "Someday." (man, do I love You Tube) There are so many different 80s fashions moments and gems in this video that it is hard to know where to start or end, but I am going to limit my comments to the aforementioned sleeve rolling. Before diving into the specifics, watch the video below to set the mood.
T-Shirt Roll
Ok, so not only is lead singer Alan Frew's t-shirt bright a—pink (so fetching with the gold-adorned beret), but you will notice that at the 0:17-0:19 mark of the video that he has neatly rolled up the sleeves of his t-shirt. This is not a t-shirt sleeve roll that serves a particular function, say like the cigarette holding roll of the 50s motorcycle, greaser-guy. This is a pure fashion roll – just because it looks so cool. The key to the t-shirt sleeve roll is the width of the roll. You want to stay just under an inch in width – 2 turns to achieve one full roll. So, the next time you are heading out on Saturday to pick up a few things from the grocery store, be sure to roll your sleeves – your neighbors will love you for it (or laugh at you, whatever).
Jean Jacket Sleeves
Let's turn now to the jean jacket. It's a shame that the couple in the video plot line of "Someday" don't get together – they are made for each other. They roll their jean jackets' sleeves in exactly the same way. Relationships have been formed on much less a foundation than that to be sure. The two take a different approach to the collar, but let's save 80s collars for another day. In general, there were two approaches to the jean jacket sleeve roll, 1) button the sleeve and then roll to get a tight roll (as shown on woman in video), and 2) roll the sleeve unbuttoned for a looser, cooler look. Your sleeves – your roll.
Pegged Jeans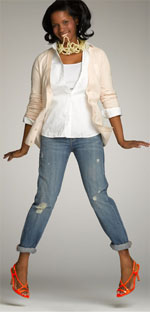 Finally, the pegged jean, also known as the "tight roll." This was not just rolling up your jeans – it involves folding over any excess fabric first and then rolling (that's where the "tight" comes in, you see). This is a great thing to do when trying to come up with an easy insta-80s look for an 80s party. Pictures are worth more than any explanation so enjoy the photos below, but just in case you need a how-to, I found this helpful step-by-step guide: http://www.youtube.com/watch?v=Id3e8R-Gp_I
01.06.09: 80s Fashion Update – When perusing my new J. Crew catalog yesterday evening, I stumbled across the ultimate nod to 80s fashion. If you have this new catalog (the resort wear one), please turn to page 30 and enjoy this very 80s fashion moment. Yes, they have pegged the jeans on the model in the picture. And, they didn't just stop with the pegging. They added a sidebar note for the unindoctrinated with instructions for replicating this look. They didn't use the term "pegging" or "pegged," but we all know what it is. See this look on the J Crew site here.
Pic Right: Showing J. Crew's 2009 interpretation of the very 80s tendency to roll denim whenever possible.
So, when kicking it 80s style, just remember to Roll It – Roll It Good.