Winter 2009/2010: 80s Makeup Trends
Now, I love the 80s as much as any other girl who lived them. (Okay, I'm lying—I love them way more than most.) Even so, this resurgence of 80s makeup makes me nervous. Yellow eyelids? Bright blue lashes? Some things fall out of fashion for a reason. (And some things never do—NPR recently reported on new-found evidence that Neanderthals—the real ones, not the ones at the back of your junior-high English class—used shiny face makeup! Let's say a silent prayer of thanks for Shu Uemura blotting papers, shall we?)
Anyway. Turns out that designers are toning down the drama of 80s makeup looks. Wise move. Plus, they're settling on just a couple facial focal points, instead of glamming up every element of the face.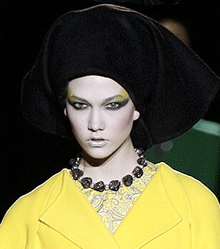 Fall '09 runways offered proof that in the 21st century, a little 1980s goes a long way.
The Return of Yellow Eye Shadow
Yellow eye shadow's back—can you believe it?—but a sheerer, golden yellow this time, paired with a mostly bare face (see right). The eyes have lost none of their 80s fun, though, with dark liner (on the inner rims of the lids again too, yay!) and shadow coming to a full and dramatic stop. And speaking of sheer, those frosted lips are reinterpreted in bronzy peach or nude with a little gloss. And red (or fuchsia) lips are sheer too, not opaque like last time around. As for colored mascara, that's renewed with subtler shades, like eggplant and navy.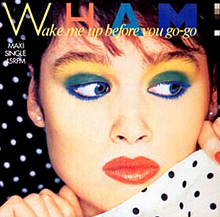 This judicious use of 80s-style makeup is more or less in context with the clothes and hair of today. Because let's remember the context of the 80s, shall we? Everything was big and bold. Shoulder pads on power suits, for starters. Big hair, with bangs moussed or sprayed like the tail of a surprised skunk (not that this was necessarily a bad look; I'm just sayin'). Big disc earrings with wavy painted stripes. Big, big, big.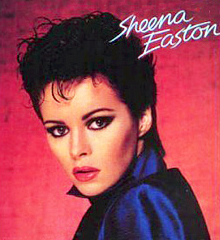 And 80s makeup, of course, was all about bold. Dark eyeliner, bushy brows (thanks, Brooke!), blue, green or white shiny eye shadow, triangles of blush a la Sheena Easton. And bright fuchsia lips that got darker toward the coordinated lip liner, or lips so overly frosted that they all but disappeared in a sheen. All that bold makeup was necessary so a woman's face wouldn't get lost in the forest of bigness.
But that's not true today. Hair is sleeker. Shoulder pads are (mostly) being given a rest for awhile. Fabric cuts and lines are closer and simpler.
So I am taking a cue from the trend-makers and trying just one aspect of my beloved 80s makeup at a time. And since Revlon's Zinc Pink lipstick is but a memory, my choice is those sheer, shiny eyes with dramatic liner.
But admit it—didn't your heart beat a little bit faster at the mention of Zinc Pink? Yeah. Mine too.
How To on Yellow Eye Shadow: