The ultimate underdog, Marty McFly in 1985's Back to the Future travels back to 1955 via a totally rad, souped-up DeLorean and changes his family's fortunes forever. This classic 80s movie character makes the perfect costume because it is easily identifiable and easy to pull together with things you likely already have. The key to the Marty McFly look is the layering of the top pieces – 4 layers by our count! So, rev up the flux capacitor and go back to the future for your next 80s party or Halloween.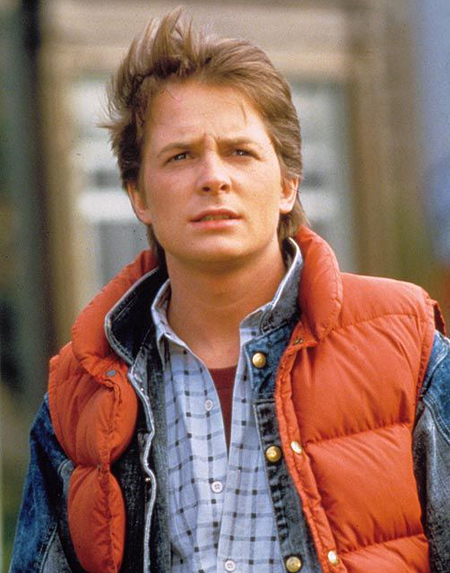 Marty McFly Costume:
Jeans
Blue denim jacket (pop that collar)
Red or orange down puffy vest
Red t-shirt
Button down shirt
White Nike or other tennis shoes
Calvin Klein underwear
Skateboard or electric guitar as a prop
OR, you could take the SUPER easy route and grab this totally awesome tee that creates the whole look for you. Throw this puppy on with some jeans and carry a skateboard, and you are ready to conquer both time travel and Halloween.
The ultimate prop would be to arrive in style in your own DeLorean, but that might be a little out of reach, so the skateboard should do nicely! Watch the movie trailer below to see this costume in action.
Watch the original "Back to the Future" theatrical trailer:
Reader Submitted Photos:

Photo Credit: Steven Kirk