September 3, 2011 Malibu, CA It was a beautiful day in Southern California as I drove through Malibu on my way to Nick Richards' house for our interview. As I pulled into the drive, I was greeted with a sign on the gate that reads "Boogie Wonderland." I took that to be a great start.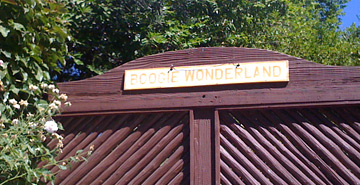 I found Nick relaxed at home with family and friends in his beautiful retreat. After being greeted by the very friendly New Foundland, we moved to the outside patio to talk. Deon Estus, bassist for Wham! and now Boys Don't Cry, joined us as well. Click here to read our interview with Deon. I had such a good time talking with Nick and Deon; we covered a ton of fascinating music history, including mafia involvement in the music industry and Lemmy of Motorhead's price for appearing in the video for "I Wanna be a Cowboy" (a bottle of vodka). As the owner of the Maison Rouge Recording Studios in London throughout most of the 80s, Nick saw the 80s music scene from both sides, both as a studio owner as well as a hit star in his own right and has great stories from both. LT80s: Nick started the interview by telling me about the house itself and its very 80s history. The house belonged to Tommy Lee, drummer of Motley Crüe, and Pamela Anderson in the mid 90s. Nick: I'll just explain, this house was made very famous. You can check it out on YouTube. There's a film Cribs. Tommy Lee and Pamela Anderson built the house. This is where Tommy had his study, and Pamela had her swings. . . They sold it to somebody who turned it into a rehab. He went broke, and I bought it off him about three years ago. It's quite a well-known, famous house. If you go, "We live in Tommy's old house," they go, "Oh, I know the house." We still get fans coming up to the door looking for [him]. "Is Tommy here?" It's terribly funny. LT80s: We then moved on to talking about what Nick is up to now and how he has been able to turn post 9/11 Visa troubles into opportunity for himself and his fellow English 80s pop stars. Nick: To bring you up-to-date with exactly what happened, because it's quite an interesting story, we lived here in the 90's; my wife and I. Three of our children were born here. We went back to the UK in '99, which was the biggest mistake of our lives, basically. We came back in 2007, and they wouldn't give me my Visa back. We went through top lawyers. It was a nightmare. I came up with this idea to help, because obviously I've got four kids in public schools here in Malibu. I put this 80's All-Star Party together to help the public schools. It ended up being a really huge event. We had Berlin and Martha Davis and The Motels join me. Members from INXS came on. My very best friend in the world is the lead guitarist with Culture Club. He wrote all the songs for Culture Club, Roy Hay. Deon, of course, I bumped into. Suddenly we turned this into an 80's All-Star Party situation. It just so happened that a congressman was at the show, and his ears perked up. Suddenly, these 80's All-Star Parties were my ticket to get a brand new Visa, which a congressman, which you can imagine has to be kept nameless, he's sorting out for me. People that haven't been able to get into the country from England who have got criminal records, who are big 80's pop stars, now have to go through me. LT80s: With all this renewed interest, Boys Don't Cry has a new album together. When asked about a release date, Nick indicated that they will tie in the release with other big band news. Nick: The big news is that basically I have helped, and I've got to be very careful here . . . let's just say, because of me, Boy George is going to be able to enter the USA again. Culture Club are going to be reforming; brand new album, brand new tour. Big farewell, huge mega tour like Duran Duran, but they don't break up. We will be their very special guests on this tour. That's when we'll put out the new album, so probably next summer I would think. We'll wait until then. There's no point in putting it out until then because it will all make sense, or it will be a mixture of a "Very Best Of" plus new material. I haven't really decided which way to go with it yet. I own all my own stuff, always have done. LT80s: We then stepped back a little and talked about the early days of Boys Don't Cry and the recording of their enormous hit, "I Wanna Be a Cowboy." Nick: . . . my main business was [that] I owned a very, very successful recording studio complex in London during the '80s. We did a little Wham!, Duran Duran, Tears for Fears. You name it, it goes on forever. Basically, I always wanted to be a pop star, but never was. Boys Don't Cry was the studio in-house band. That's what Boys Don't Cry was, which was me and anybody I wanted to be in it at the time. On a very quiet Sunday, which was very rare, we recorded – I'd been watching Spaghetti Westerns all my life, and I was walking around the studio going, "I want to be a cowboy." Someone said, "That's a good title for a song." We literally recorded and mixed that tract all in about five hours. All the guitars were one take, and we just used what we wanted. The biggest argument, which is always a funny story, the biggest argument of the whole thing was while we were mixing it. What I used to do [was] to help the tape-ups get their first engineering job. I would let them have a go engineering it. This guy, Chris Potter, we had this huge row because I wanted the guitars so loud in the mix. He was, "This is insane." It ended up pretty damn loud, which is what I liked. Funny enough, in the other studio at the time, the Everly Brothers were in there making their comeback album that they had in '85, because it was actually recorded in '85. Phil Everly was the very first person to hear "I Wanna Be a Cowboy." Of course, I thought it was a quite embarrassing record. It was so stupid. But what suddenly got me; he sat in there, listened to the song, and started laughing his head off. I thought, Christ, the Americans get this.
So I had this little label [called Legacy Records], and we made some white copies of "I Wanna Be a Cowboy." This first mix, it was a 12" mix, it was six minutes and six seconds long. We never edited it, we didn't do anything, we just left it. A great friend of mine called Paul Oakenfold used to promote our 12" records at nightclubs in London for us. That was his job in those days. He ended up leaving a copy of "I Wanna Be a Cowboy." It was a white label, with no information on it at all, at the Limelight Club in New York. It so happened one night they were playing it, they liked it. One night a guy from Profile Records, the head of A&R at Profile Records, was in there, heard the song, and loved it. It took him four months to trace it back to me in London. I get this phone call from Gary Pini. He's a lovely, lovely, guy. I still know him today. He said, "Hi, I'm Gary Pini from New York City Profile Records." I never heard of Profile Records. He said, "Are you the guy behind "I Wanna Be a Cowboy"?" "Yeah." He said, "We'd like to put it out in the States." I thought, Well, you're a nutter. He said, "How much you got?" I said, "You can have it." I said, "If it's a hit," ha, ha, ha, ha, ha, " . . . obviously, we'll talk money for an album." I didn't hear anything again. "I'm gonna send you the master." Didn't hear for months. On my birthday, April 3, 1986, I'm in the studio at the bar, probably, as usual. We had a licensed bar and restaurant built into the complex. It was very cool. It's such a social place. Bands would come down there just to hang out at a private bar, and whatever. I get this phone call. He says, "Hey, this is Gary Pini." He said, "Congratulations." I said, "Thanks, it's my birthday." He said, "No, no, no. "I Wanna Be a Cowboy" has entered the Billboard Hot 100 at 98 with a bullet." Blimey. What does that mean? He said, "A bullet means it's gonna go up again." I didn't think anything of it. Apparently the big news was, it was the first Indie single to chart at Billboard for 17 years, and that's why it was big news. We didn't think anything of it, and every Wednesday night, he'd phone the new chart position. It kept going up. Blimey, what was going on there? This is hysterical. Up, and up, and up, it started going. Then, of course, the Dallas Cowboys started using it. TV started using it every time the Cowboys had a touchdown. "I Wanna Be a Cowboy," the whole bloody thing. Then we got really lucky. Dick Clark's American Bandstand. Dick fell in love with the song, and started closing the show with "I Wanna Be a Cowboy" for four consecutive weeks, which was unheard of. http://youtu.be/s05jcrJw0as LT80s: Nick then talked a little about the video for the song and MTV's thoughts on the video at the time. Nick: Anyway, Martha Quinn was telling this fascinating story. When they first saw the video of "I Wanna Be a Cowboy," they [MTV] hated it because it wasn't rock and roll, even though I had Lemmy from Motorhead playing the Lee Van Cleef character in the video. Which is a great story, because I had actually bought the Bronze Record's catalog out because they'd gone broke, so for the time being, I owned the Motorhead catalog as part of Legacy Records. Lemmy did it for a bottle of Vodka – he did for a bottle of Smirnoff. Martha was telling me they hated the video, but they had to play it because the song had just gone Top 40. They had 200,000 requests for it that weekend, so they had to playlist it. It's funny, because they actually hated the video. A lot of English ponce's going around in cowboys, and…it wasn't their cup of tea, but of course they had to play it, and off it went. By the time it had reached 12 on the Billboard Chart, the major labels were very, very pissed off. They weren't happy about us at all. They did not want to see an Indie label being this successful, and they balked it. We know now, much later on, what happened. LT80s: There was more going on in the music industry at the time. Nick explained the mafia's involvement in the music business and how his single was mixed up in the emerging power struggle.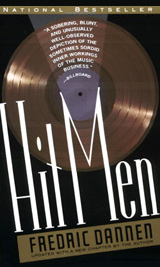 Nick: What actually happened, and it's all in a book. You can read about this in a book called Hit Men. The FBI started investigating the payola going on at radio stations between major labels. The major labels [worked] with the Mafia. The major labels dropped the Mafia like a lead balloon, so they were all out of work. No one was played on any radio stations, nobody; Michael Jackson, nobody. Little Profile Records made a phone call. They said, "You guys are all out of work. We couldn't afford you in a million years, normally. How much are you gonna charge?" They went, "We're not gonna charge you a thing." They said, "Because we're gonna show the major labels just how powerful we are." They took on "I Wanna Be a Cowboy" for free. This is the Mafia, right? In those days, you could not go Top 10 at Billboard without these people. You can just forget it. [It was all about] who was paying the most to get the plays. As you know, by the time it goes Top 40, it actually has to really sell. Between 50 and 200 it's all airplay, but then it's sales. It's going all the way. There's no doubt about it; this record is going all the way. The majors don't like this. They, then, did a deal with all the major wholesalers saying, "If you don't stock 'I Wanna Be a Cowboy' anymore, you don't get the new Madonna record." "You don't get the new blah, blah, blah." This all happened. So "Cowboys," within the industry, became an incredibly famous record because it caused a lot of shit to the major labels. It's incredibly ironic that the very next single Profile put out was "Walk This Way" by Run DMC. Suddenly, little Profile had "Walk This Way" and "I Wanna Be a Cowboy" flying through the charts like crazy. Profile became unbelievably rich, and wealthy, and whatever. Of course, they sold out. So it's a very, very famous song within the industry, and what happened, and how it happened. Basically, of course, without the FBI deciding to investigate what was going on within the industry "I Wanna Be a Cowboy" would never have made it in a trillion years. It would have been a big hit in all the gay discotheques around America, and that would have been it. This is what I tell people: the luck that goes behind any record ever happening, ever, is extraordinary. It really is. There's always something that just makes it different from anybody else's. Some bit of luck, somebody falling over it, whatever it is to get that moving. LT80s: We finished up the interview by talking about his London recording studio, Maison Rouge. Nick: I remember Billboard ringing me up one day to talk about the studio. I thought they were gonna talk about "I Wanna Be a Cowboy." They wanted to talk about the studio. They said, "We're looking at the Top 40 in the Billboard Top 100 right now." They said, "Your studio has 18 of the Top 40 records this month recorded at your studio." It was amazing what was going on. We did all the Power Station stuff. Funny enough, we were booked up and Nile Rodgers couldn't mix it with us. They went to New York to mix it, and called it the Power Station, because that's what the studio was called. They had no name for the band. John Taylor, from Duran Duran, was a great friend of mine. He loved the studio. He lived quite near it, as well. Duran Duran had been given the Bond movie, A View to a Kill. He had to bring John Barry down to see the studio, to see if John would record it there. John Barry wrote the Bond music. He also wrote the theme to Zulu and Born Free. Some of the greatest music ever written. It was so funny, because he was a bit of a drinker. We'd done our research on what he drinks, and it was a very special brandy; very hard to get. John and Simon Le Bon bring him into the studio and walk him into the bar. My wife had filled the entire bar with bottles of this special brandy. He walked into the bar and went, "We'll start tomorrow." [Laugh] We ended up doing two Bond movies with him; there's a ka-trillion Maison Rouge studio stories like that. I bought it in '82, and sold it in '91. The reason I sold it, probably a year or two early, but a great friend of mine who's in a band – I'd helped put a band called Mike and the Mechanics together with Mike Rutherford and some friends of mine, including Adrian Lee, who was one of my keyboard players. Adrian was a bit of a computer nerd. He called me up in 1989. He said, "Nick, I want to show you something." I went over to his house in North London, he said, "Listen to this." Fuck me, it sounded as good as the Maison Rouge. I said, "How much does this cost you?" He said, "Three grand." I thought, Okay. The day of the big studio may be near closing.

Unless you were owned by Trevor Horn or by a major record company, I thought, We're gonna be in trouble here. Even in the '80s we were charging $2,000 a day, lockout, every day, in all four rooms. I remember Tears for Fears booking Studio One out for six weeks, lockout, just to record one song, "Sowing the Seeds of Love" at two grand a day. They just lock it out. Those days are . . . We're in trouble here. A year and a half later, a very famous record producer called Robin Millar – you might not know who he is, but he produced all the Sade albums and bands like Big Country and Black. He's a very, very, very big producer. Strange guy, he was trying to buy out as many Indie studios as he could. He owned three at the time. Branson used to try and buy me out all the time. He's a great friend of mine. We had this terribly funny lunch once a year on his houseboat on the river Thames. He'd call me up, "Nick it's that time." He'd sit there, and try and buy me out. Every year I'd go, "Nope. See you next year." Anyway, Robin Millar walked in with a suitcase full of cash, and a lot of it, knowing all the time, I think my days are numbered here. I'd like to leave it on top of the world. I took the money. He went broke within a year. LT80s: As we were wrapping up the interview, Nick received a phone call from Roy Hay of Culture Club. His ring tone was none other than "I Wanna Be a Cowboy. " After hanging up, he joked, "You notice my ringtone, here? . . . It's the only one I could afford." We are so thrilled to have been able to sit down with Nick and chat about his experience in the 80s music scene and learn what he's up to now. He was such a great guy. You can follow the happenings of Boys Don't Cry on Twitter and on Facebook. Thanks, Nick!