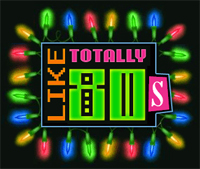 So, have you been a righteous dude or babe this year? Hoping that Santa will put some bitchin' 80s themed presents under your tree? And, of course, it's the time of year for, like, hot apple cider (and hot toddies), carol singing, and thirty varieties of cookies. (But if Mom thinks I'm putting on that gnarly reindeer sweater again for the family card photo, she can totally think again. I'm so sure, Mom!) Crank up these tubular holiday tunes to get in the mood for the season. There were, like, a bazillion of totally radical holiday songs, so I chose my top dozen and listed some more at the bottom of the page. Give them a listen while you deck your halls, wrap your gifts, and trim your tree. You could even make a special holiday mix tape for that 80's-loving boy or girl on your list.

12. "Rockin' Around the Christmas Tree" by Mel Smith and Kim Wilde
This single was recorded for Comic Relief, a British charity that aids international famine, in 1987. You'll recognize Kim Wilde as the singer of hits like "Kids in America" and "You Keep Me Hanging On." If Mel Smith seems unfamiliar, then you're not British; he was a famous sketch comedic actor in Great Britain and is a current stage actor. Peggy Lee first recorded this playful Christmas classic in 1958. http://youtu.be/HtxcLF5O2HE

11. "Rock and Roll Christmas" by George Thorogood and the Destroyers
I challenge you to listen to this song and not do the twist in your computer chair. Impossible! This early eighties Christmas video features some cool sax playing and great dancing by the crew at MTV. (I see you, Alan Hunter!) http://youtu.be/cnnj-N_Vc0I

10. "Funky, Funky Christmas" by New Kids on the Block
This boy band had the girls swooning with their syncopated choreography and mild-mannered funk. I love this 1989 Christmas tune (off their double platinum album "Merry, Merry Christmas") as performed on the Arsenio Hall show. Also check out the mournfully sweet "I'll Be Missing You Come Christmas" and "This One's for the Children" from the same album. http://youtu.be/9jf-GVIxy9c

9. "Grandma Got Run Over by a Reindeer" by Elmo & Patsy
This silly hit had us gleefully singing along in the early eighties. Poor Grandma, who'd been drinking too much eggnog and forgot her medication, met disaster at the hands of Santa. It's full of awesome lines like "incriminating Claus marks on her back" and "They should never give a license to a man who drives a sleigh and plays with elves." The song was first written and performed in 1979, but the video was released in 1983 and the album came out in 1984, so I'm calling this one a legitimate child of the eighties. http://youtu.be/MgIwLeASnkw

8. "Christmas in Hollis" by Run-DMC
In 1987, Run-DMC gifted us with this holiday gem about Christmas on Hollis Avenue in Queens. Check out the Wizard on the naughty/nice Santa computer. And that elf is TOTALLY naughty! It was part of the album "A Very Special Christmas" that benefitted the Special Olympics. Since '87, a new version of this benefit album has been released yearly. http://youtu.be/OR07r0ZMFb8

7. "Christmas Is the Time to Say I Love You" by Billy Squier
This 1981 video is worth watching alone for the clips of MTV VJ's like Martha Quinn and Mark Goodman, but the song is exuberant holiday fun. It makes me so nostalgic for the early days of MTV. http://youtu.be/xG9QyKxYUxw

6. "I Saw Mommy Kissing Santa Claus" by John Mellencamp
Also part 1987's "A Very Special Christmas" album, this tune is perfect for John Mellencamp's boyish southern voice. It's so adorable in every way, and it almost makes me forget the angstful confusion that earlier versions of this song created in me when I was a little kid. Also, HOW CUTE is that little girl singing at the end? http://youtu.be/zsat4e8jgHA

5. "Frosty the Snowman" by Leon Redbone and Dr. John
This 1988 version of the classic song is totally fabulous. You would have to be a total Grinch to not dig these dudes' folksy, scratchy voices in this bouncy retelling of Frosty's story. Bumpity bump-bump, bumpity bump-bump… http://youtu.be/efUoP8_t7Xs

4. "Jingle Bell Rock" by Hall and Oates
Prepare to snicker at this way-corny 1985 song and video. Hee hee. Clearly, Daryl and John were having a blast when they acted in it. Interesting factoid: there are both "Daryl" (below) and "John" versions of this song, both recorded in 1985. I'm on team Daryl for this one. http://youtu.be/njGQlQkM5QQ

3. "Do They Know It's Christmas?" by Band Aid
Bob Geldolf and Midge Ure organized this musical gathering of famous musicians to benefit victims of famine in Ethiopia. We bought the 45's to give as Christmas gifts in 1984, and we still love the song today. Side note: Watching the video just now solved a decades-old mystery for me. I always sang "There's a world outside your window, and it's a world of stratosphere…" and thought the lyrics were kinda bizarre. Silly me – it's "a world of dreaded fear!" http://youtu.be/bjQzJAKxTrE

2. "2000 Miles" by The Pretenders
Oh, I'm crazy about this song. It's glorious wonderful-ness helps ease the aural horror of Mannheim Steamroller that I'm occasionally subjected to in December. (*shudder*) I love Chrissy Hynde's rich voice, I love the melody, I love the sentiment. This 1983 tune is a year-round treat, but absolutely lovely at this time of year. http://youtu.be/vKgjyutgbwk

1. "Last Christmas" by Wham!
This 1984 encapsulates the joy of the season so perfectly that it just makes me smile. Sure, it's about unrequited love and angst, but whatever. George Michaels' expressive eyes, the blowdried hairdos, those 80s fashions, and that high-production, catchy melody are sweet little holiday treasures. http://youtu.be/E8gmARGvPlI Have a totally awesome Christmas!

Some more 1980s songs for your stocking: