Your 80s New Year's Resolutions
By Julie Anderson
After exchanging mix tapes with your friends, you're admiring your new checkerboard Swatch while squeezed into your acid washed Guess Jeans. Your Member's Only jacket is hanging in a place of honor in the closet and your gold Add a Bead necklace is around your neck. In other words, your holidays were totally bitchin'.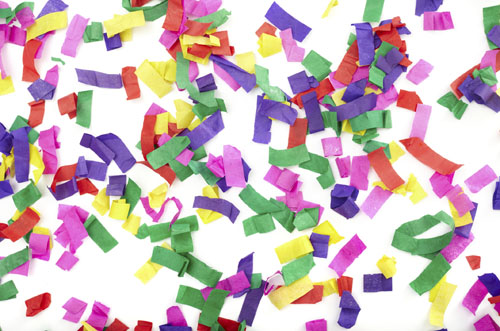 On to the New Year! Let's resolve to make it the best one yet, or at LEAST as good as 1984 was. For your resolution inspiration, look no further than these musical gems from the 1980s.
1. A Lucrative Career
Opportunities (Let's Make Lots of Money) by the Pet Shop Boys (1985)
You've got the brawn, I've got the brains, and we're totally sick of being broke. This is our year to hit the big time – I just KNOW it.
2. Improved Personal Appearance
i by ZZ Top (1983)
Vintage clothes are the bomb, but you're fooling no one with your holey sweatpants, funky old sneakers, and stretched out T's. Give them a decent burial and hit the mall, dude. If not for your own dignity, do it for the babes. They'll be CRAZY about you.
3. Be Assertive
Control by Janet Jackson (1986)
Do you have a domineering father? A wildly popular brother? A pushy record company that's all uptight about possible wardrobe malfuntions? Get back in the driver's seat this year with these tips from Janet (that's Miss Jackson, if you're nasty.)
4. Learn a Musical Instrument
Play Guitar by John Cougar Mellencamp (1983)
Been putting off learning an instrument? You're not getting any younger, you know. Saxophone's great and all, but John Cougar has an ever better suggestion for you.
5. Be a Responsible Citizen
Don't Drive Drunk by Stevie Wonder (1984)
This song, part of the soundtrack for the movie "The Woman in Red," has a no-brainer lesson that still bears repeating. Driving can be fun, drinking can be fun, but Stevie knew it was NEVER okay to mix the two.
6. Get in Shape
Let's Get Physical by Olivia Newton-John (1981)
Getting buff is on just about everybody's wish list, right? Olivia's mega-hit can motivate you right on through the fitness club's doors. (Side note: The dude on the bike machine at the beginning looks completely naked, doesn't he? I guess he's wearing a flesh-tone thong of some sort. Racy stuff for 1981, fer sure.)
7. Accept Yourself
The Greatest Love of All by Whitney Houston (1986)
Whitney belted out this ballad, originally recorded by George Bensen in 1977, and it struck home with so many of us. Sure, it's fallen victim to a bazillion corny and lewd jokes, but the message is a powerful and sincere one.
8. Find a Career You Love
I Wanna Be a Cowboy by Boys Don't Cry (1986)
Stuck behind a computer all day when you long for days on the open range? This is the year to pursue your career dreams, whether they be on horseback, in a frou-frou pet salon, or on a cruise ship. You CAN make it happen.
9. Ditch the Self-Defeating Habits
New Attitude by Patti Labelle (1982)
Feeling low, like life's a bad dream? Let Patti inspire you to dump your slump. Find a new attitude (and perhaps a startling new hairdo) for the New Year.
10. Be a Good Friend
That's What Friends Are For by Dionne Warwick and Friends (1985)
Gladys Knight, Elton John, and Stevie Wonder joined Dionne for this feel-good ballad that benefitted AIDS research. It can be easy to let friendships slide amid our daily bummers and whatnot, but take time to keep those old connections alive. Friends who are there for the good times and bad times make life ever so much sweeter.
11. Hang on to the Good Stuff
Don't Change by INXS (1982)
Maybe your life totally rocks. Maybe you have awesome friends, a lucrative job you love, a sexy bod, and your head is on straight. Appreciate it, baby, and don't change a thing for me!
I'd like to wish you a neon-bright New Year filled with piles of cash, health, beauty, laughter, and tubular eighties fun. From all of us at LT80's, Happy New Year!