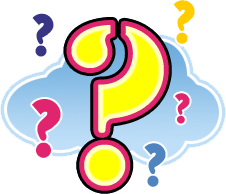 So, you enjoyed music in the eighties, huh? Consider yourself somewhat of an expert on Depeche Mode and the Thompson Twins? Are you, like, the go-to person for 80s musical trivia in your circle of friends? Test your knowledge with our radical New Wave quiz. Answer key is below. (Duh!)
1. Siouxie and the Banshee's song "Peek-a-boo" was on the 1988 album called:
A. Peepshow
B. Peek-a-boo
C. Hyaena
D. Kaleidoscope
2. In what video were the lead singer's jerky marionette-style movements and eye twitches inspired by real-life footage of epilepsy sufferers?
A. "Whip It" by Devo
B. "Wild Wild West" by Escape Club
C. "Sledgehammer" by Peter Gabriel
D. "Once in a Lifetime" by the Talking Heads
3. This striking short-haired singer was born on Christmas day, 1954. She later won an Academy Award for her song "Into the West" from the 2010 film The Lord of the Rings: The Return of the King. Who is she?
A. Grace Jones
B. Annie Lennox
C. Sheena Easton
D. Belinda Carlisle
4. On August 1, 1981, which video was the first ever played on MTV?
A. "Video Killed the Radio Star" by the Buggles
B. "Rapture" by Blondie
C. "De Do Do Do, De Da Da Da" by the Police
D. "Another One Bites the Dust" by Queen
5. The song "I Melt With You" was featured in the 1983 movie Valley Girl. Which group performed this classic eighties hit?
A. Modern English
B. The Fixx
C. Soft Cell
D. The Psychedelic Furs
6. What song would was most likely to get you in trouble if your mom heard you singing along with it?
A. "Something So Strong" by Crowded House
B. "No One Is to Blame" by Howard Jones
C. "Our House" by Madness
D. "Add It Up" by the Violent Femmes
7. What band performed "Don't You (Forget About Me)" on the soundtrack of the 1985 movie The Breakfast Club?
A. The Human League
B. Simple Minds
C. Tears for Fears
D. Thompson Twins
8. Which song is NOT about self-pleasuring?
A. "Darling Nikki" by Prince
B. "She Bop" by Cyndi Lauper
C. "Tempted" by Squeeze
D. "The Keys to Her Ferrari" by Thomas Dolby
9. Who sang, "If I strip for you, will you strip for me?"
A. Adam Ant
B. Boy George
C. Thomas Dolby
D. Robert Smith
10. Daniel Ash and Kevin Haskins were in the band Bauhaus, which formed in 1978. From 1982-1984, they were both in the group Tones on Tail. Ash and Haskins were then part of ANOTHER band that formed in 1985. It was:
A. The Church
B. Love and Rockets
C. Gene Loves Jezebel
D. Echo and the Bunnymen
11. Who performed "Slave to Love" on the soundtrack of the steamy 1986 movie 9 ½ Weeks?
A. The Human League
B. David Bowie
C. Bryan Ferry
D. Robert Palmer
---
Answers
1-A, 2-D, 3-B, 4-A, 5-A, 6-D, 7-B, 8-C, 9-A, 10-B, 11-C