Live Aid was a two-part fundraising concert that took place on July 13, 1985. Bob Geldolf (who starred in the 1982 movie "Pink Floyd The Wall" and was lead singer of The Boomtown Rats) and Midge Ure (of Thin Lizzy and Ultravox) organized the mega-event to raise money for the Ethiopian famine. They billed it as a "global jukebox." 72,000 fans in the United Kingdom attended a concert at Wembley Stadium in London, while 100,000 fans went to its counterpart at John F. Kennedy Stadium in Philadelphia. It totally rocked.
Those of us who weren't lucky enough to see one of the two huge concerts in person watched it with 1.9 billion others on television. ABC, MTV, and BBC, as well as a handful of radio stations, broadcast the shows live. Live Aid was a world phenomenon. Surely there isn't an 80s kid alive who doesn't know the tune to USA for Africa's "Feed the World," am I right? It was HUGE.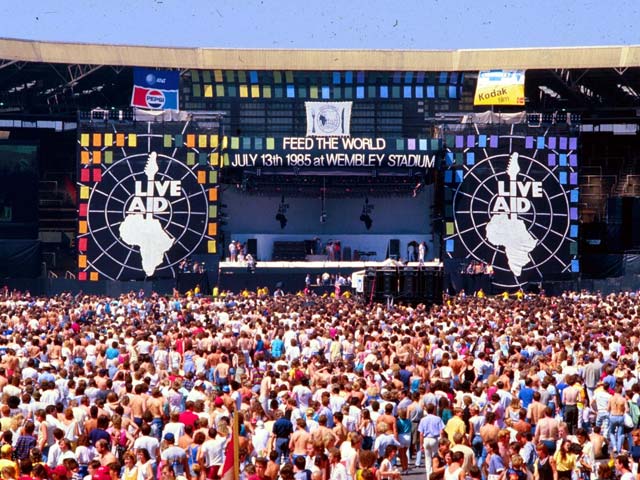 The Live Aid story really began in October 1984. Geldolf and Ure wanted to record a charity single to benefit those affected by famine in Ethiopia. They cobbled together Band Aid, a group of forty-five superstars that included Freddie Mercury, Bono, Phil Collins, and Paul McCartney. That winter, Band Aid released "Do They Know It's Christmas?", a song penned by Geldolf and Ure. The single went straight to #1, sold a million copies in the first week alone, and raised millions of American bucks (and British pounds, and all sorts of other currencies) for Ethiopian famine relief. I can attest that the 45 single of "Do They Know It's Christmas?" was THE hot gift to give your school friends for Christmas that year. After the hugely successful effort, Geldolf and Ure looked to a new project.

Enter Live Aid.
Geldof, Ure, and concert promoter Harvey Goldsmith, along with countless others, organized musicians on both sides of the Atlantic for the historic Live Aid concert. Performers ranged from Elton John to The Beach Boys to Madonna to Sting. Scanning the list of luminaries, it seems that EVERYBODY took part in it.
There were a few stars that didn't get to shine that night, such as Billy Joel, Paul Simon, Rod Stewart, Bruce Springsteen, and Cyndi Lauper. Scheduling difficulties, sadly, made it impossible for some singers to make the concert.
During the televised concerts, viewers were asked to call in and donate using their credit cards or to mail checks to a specified address. Folks around the world happily opened their wallets on July 13, 1985 to take part, and then settled back into their couches to enjoy the awesome shows.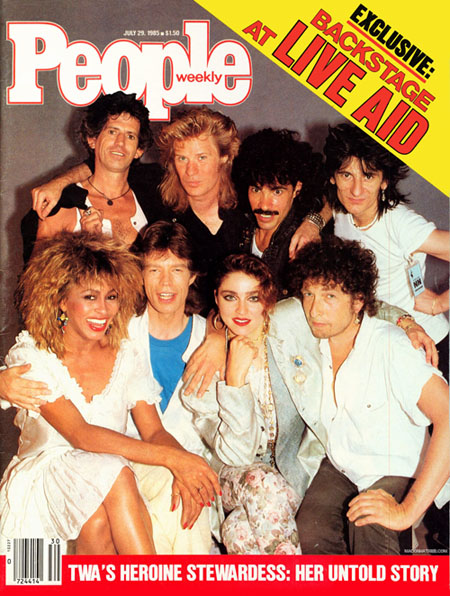 Here is Simple Minds in Philadelphia performing the song we know and love from 1985's "The Breakfast Club":
And here's Phil Collins performing "In the Air Tonight," his hit single from 1983's "Risky Business":
Some of the countless highlights include:
A twofer from Phil Collins, who performed at Wembley Stadium before jetting on the Concorde to then perform at JFK.
While on the Concorde, Collins bumped into Cher, who knew nothing about the concert. She headed straight for Philadelphia when the plane landed, though, and sang in the finale.
Bono pulled two girls onstage to dance with him during U2's performance of "Bad". Lucky girls. Check out their interview starting at about 6:45:
Led Zeppelin reunited for the show.
A crowd of 72,000 singing along with Freddie Mercury for the intro to "Bohemian Rhapsody". AWESOME:
A few people voiced criticism of the project. Some, including Fox TV host Bill O'Reilly, noted concerns that money raised may have fallen into the hands of corrupt governments, where it did little to aid the desperately hungry. Bob Dylan expressed the wish that some of the money be used to help Americans in need, a sentiment that garnered him a bit of controversy. Anarcho-punk band Chumbawamba released "Pictures of Starving Children Sell Records" in 1986 as a direct attack on Live Aid.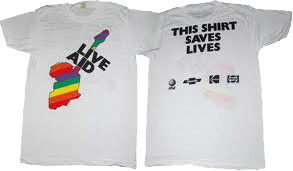 Scandal and criticisms aside, Live Aid was a monumental financial success that sent millions to Africa. The final result of all that hard work? Over $280 million for Ethiopian famine relief. Like "Do They Know It's Christmas?" it raised awareness of famine in Ethiopia, and it helped pave the way for other benefit concerts such as 1985's Farm Aid and 1986's Conspiracy of Hope Tour for Amnesty International. Live Aid still holds the record for the most watched television show in history. Plus, it was a totally bitchin' concert! Check out these remembrances written by a Philadelphia attendee and prepare to turn green with envy, and then scroll through IMDb's list of fascinating Live Aid trivia. If you're so inclined, you can purchase DVD sets of Live Aid on sites such as Amazon and relive the whole fabulous experience.
Here's the video for "Feed the World," the event's finale, performed by USA for Africa. Note that it includes some who weren't there for the actual concert, such as Cyndi Lauper, Billy Joel, and Bruce Springsteen. A fabulous song, and a terrific testament to the giving spirit of 1985. Enjoy!