Bowling for Soup sure picked the right year to celebrate in its song "1985."  Now, I know that I once proclaimed, on this very site, that 1983 was the best year in music ever. And last fall, Rolling Stone magazine called 1984 "pop's greatest year." But 1985's got some game as well.
So why, thirty years on, are we still preoccupied with 1985? Well, 1985 was the year of…
Defining the Decade:
Quintessential 80s tracks were released in 1985. I'm talking about your "Money for Nothings," your "Can't Fight This Feelings," your "Don't You (Forget About Me)s." Also unleashed on an unsuspecting world in '85: Starship's "We Built This City," the song Blender magazine once infamously put at the tippity-top of its "50 Worst Songs Ever" list– which I always thought was a little harsh. Worst song ever? I don't even think it's the worst song of 1985! (How about "Possession Obsession," the one Hall and Oates song sung by Oates? And don't get me started with Eddie Murphy's "Party All the Time"… you're trying to say "We Built This City" is worse than that pile of steaming crud?)
Making Names:
'Til Tuesday, Sade, a-ha, and someone named Whitney Houston released debut albums in the U.S. in 1985. Also, even though they all had recorded albums previously, 1985 was also the year that New Edition, Depeche Mode, Hooters, Mr. Mister, Tears for Fears and Wham! were able to "make it big."
Building Legacies:
Established acts made sure these young whippersnappers didn't hog too much of the airwaves. Old friends who made some noise in 1985 included Hall and Oates ("Out of Touch"), Prince ("Raspberry Beret"), Foreigner ("I Want To Know What Love Is"), Kool and the Gang ("Fresh"), Stevie Wonder ("Part-Time Lover"), Commodores ("Nightshift"), John "Still-Cougar" Mellencamp ("Lonely Ol' Night"), and most importantly, "Weird" Al ("Like a Surgeon"). Even Aretha Franklin zoomed back into the Top Ten with "Freeway of Love."
And speaking of the Queen of Soul, sisters were likewise doing it for themselves in 1985: Tina Turner ("We Don't Need Another Hero"), Sheena Easton ("Strut"), Annie Lennox ("Would I Lie to You?" with Eurythmics), Pat Benatar ("We Belong"), and Chaka Khan ("I Feel 4 You") all graced the charts that year. But it was Madonna who soared way, way over the borderline into super-duper-stardom, thanks to songs such as "Material Girl," "Into the Groove," and "Dress You Up" (coincidentally released around the same time her nude pictures surfaced).
Being Nice:
Everyone apparently took charity pills in 1985, as evidenced by USA for Africa's "We Are the World," the Live Aid extravaganza, and the foundation of Farm Aid. On a related note, this was also the year a bunch of artists united against apartheid to form… Artists United Against Apartheid. (Clever name, eh?)
Riding Waves:
Bruce Springsteen released his Born in the U.S.A. album in 1984, but the album also found glorious days well into 1985; in fact, the Boss was nominated for a Song of the Year Grammy in 1984 (for "Dancing in the Dark") and 1985 (for "Born in the U.S.A."). Other artists who rode waves of 1984 popularity into 1985 include Billy Ocean, Bryan Adams, and Chicago. And speaking of wave-riding…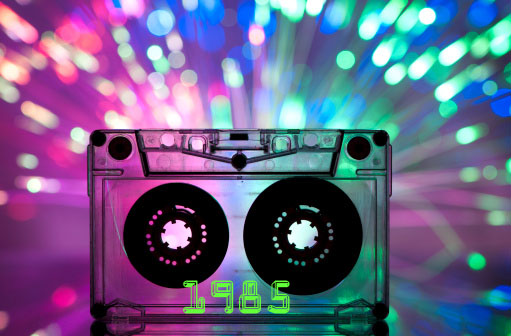 One-Hit-Wondering:
Fantastic flash-in-the-panners Karina and the Waves ("Walking on Sunshine") made… uh, waves in 1985, as did Animotion ("Obsession"), Murray Head ("One Night in Bangkok"), Teena Marie ("Lovergirl"), Scritti Politti ("Perfect Way"), and Paul Hardcastle ("19"). Sing it with me now: "Na-Na-Na-Na-Nineteen, Na-Nineteen!"
Avoiding Sophomore-Slumps:
Survivor lived up to its name by grinding past the success of "Eye of the Tiger," with great songs such as "High on You" and "The Search Is Over." Elsewhere on the pop charts, Howard Jones ("Things Can Only Get Better") and Corey Hart ("Never Surrender") were also able to shed the "one-hit wonder" tag. Fun fact: everyone remembers Hart for "Sunglasses at Night," but "Never Surrender" actually climbed higher on the Billboard charts (#3, as opposed to #7 for "Sunglasses").
…Listening to Movies:
Jeez, did EVERY film from 1985 have a song on the radio? Back to the Future, A View to a Kill, Breakfast Club, St. Elmo's Fire, Mad Max: Beyond Thunderdome, The Goonies, White Knights, Vision Quest, Rocky IV, even Spies Like Us, even The Legend of Billie Jean… they all spawned radio-friendly songs. But the soundtrack king of 1985 had to be Beverly Hills Cop, which churned out FIVE hits. And check this out: THREE instrumental songs– "Axel F," "The Love Theme to St. Elmo's Fire" and "Miami Vice Theme"– all appeared on the pop charts in 1985. What a wacky year!
Teaming Up:
1985 was the year of the supergroups, including Power Station (Robert Palmer + the Taylors from Duran Duran), The Firm (Bad Company singer + Jimmy Page) and Dionne and Friends, who came together for "That's What Friends Are For." (Incidentally, music legends Elton John, Stevie Wonder, and Gladys Knight sang with Dionne on that track… and she called the group "Dionne and Friends"? That always sounded so dismissive to me: "Oh, don't mind them… they're just my friends…")
Going Solo:
Sting and David Lee Roth left successful bands to put out solo albums in 1985. Other solo acts who soared in 1985 include former Eagle-mates Don Henley ("Boys of Summer") and Glenn Frey ("You Belong to the City"); former Who-blokes Roger Daltrey ("After the Fire") and Pete Townshend ("Face the Face"); and former Creedence Clearwater Revivalist John Fogarty ("Centerfield"). Mick Jagger took a break from the Rolling Stones with his debut solo album (which included the song "Just Another Night"), and even Springsteen sax-man Clarence Clemons released "You're a Friend of Mine," his duet with Jackson Browne. (And notice, Dionne Warwick, he didn't promote the song as "Clarence and Friend.")
Having Our Phil:
Sure, he previously had hits on the radio, both alone and with Genesis, but 1985 marked the beginning of Phil Collins Domination. Not only did he release his No Jacket Required album (which included "Sussudio" and "Don't Lose My Number," among others), but he also sang on two duets: "Easy Lover" (with Philip Bailey) and "Separate Lives" (with Marilyn Martin). Plus, Miami Vice helped nudge "In the Air Tonight" back into the spotlight. And the next year, Phil re-teams with Genesis for the Invisible Touch album. Thus, the paradox of the 80s: people say the decade is all about glamor and glitz, but it was the balding Brit in the baggy pants who had more radio play than anyone.
So… even though it's now been thirty years burning down the road, 1985 still shines as an extraordinary year in pop music. And you know what? I don't even care if my two kids in high school tell me that I'm uncool; I am still absolutely preoccupied with 1985… and proud of it.