By Lori Ferraro
There are several television shows of my youth that, when mentioned, I can't help but go flying back in time, plopped on the couch in front of our big, boxy, wood-grained TV set.
Like I will replay a scene from The Love Boat (with guest star Charro) in my head, or silently sing The Facts of Life theme song. And you can't even bring up The Cosby Show without me dancing like a fool a la the opening credits.
Speaking of dancing, one show when mentioned makes me want to crawl and slither like a python or throw on a metallic bodysuit and leg warmers.
That show is of course…Solid Gold.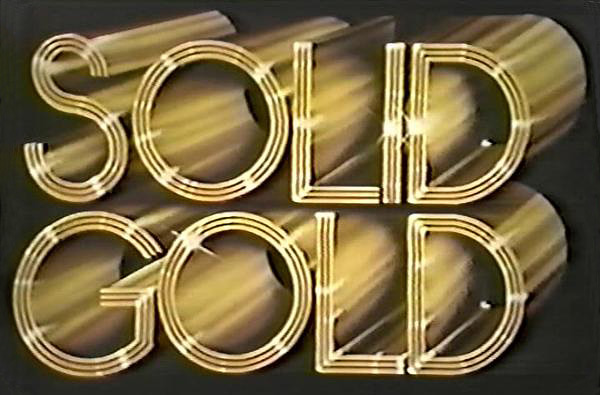 Solid Gold made its debut in 1980 with hosts Dionne Warwick and Marty Cohen. It was a countdown show featuring the hits of the week, "live" performances from pop stars, the occasional visit from Wayland Flowers and Madame, and a whole lot of this:
The hosts I recall were Andy Gibb and Marilyn McCoo, Nina Blackwood even hosted toward the end of the series after she left MTV. But the true stars of the show were of course the Solid Gold Dancers!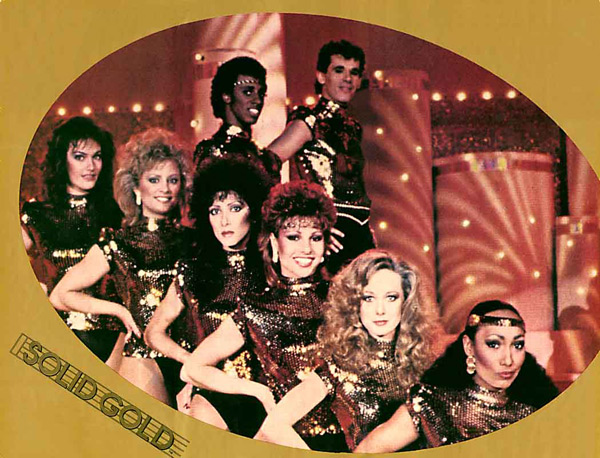 The Solid Gold Dancers were truly gifted—they could dance to the most undancable songs in the world — think "Love on the Rocks" by Neil Diamond or "We Built This City" by Starship.
They could also turn 30-seconds of a song into the most dramatic dance/aerobicise/story/sexy time you've ever seen.
Oh to be a Solid Gold Dancer…the fashions, the leotards, the headbands.
Imagine if this group paired up with Casey Kasem and had to count down 40 songs — what an emotional, dramatic, sweaty ride that would have been!
Of course I loved Solid Gold. For the musical guests, the fashions, the flashy over the top sets/smoke machines/disco balls and oh yeah…the music.
But mostly, I loved it for that group of dancers who I can't fathom the show without – their slinky, dramatic presence made the show what it was. Which was…
SOLID GOLD!! Filling up my life with music.
SOLID GOLD!! Putting rhythm in my soul.
There's a song that's unreeling,
To fit the way that I'm feeling;
My head keeps spinning to music,
Spinning to gold…