By Mark Dursin
The gang at Cheers routinely groaned when Cliff Clavin would share one of his "little known facts" (e.g. "It's a little known fact that the tan became popular during the Bronze Age"). But the pontificating postman was merely preparing his drinking buds for life in the erudite 80s — the decade when Trivial Pursuit debuted, when Alex Trebek first condescended to contestants on Jeopardy, when Jack Palance would share fascinating fables punctuated with four simple, chilling words, "Believe it or not!"
But there is one 80s-related factoid that even the thinktank of Clavin, Trebek, and Palance couldn't wrap their considerable brains around–namely, that Bruce Springsteen has never had a number one song.
Yes, Bruce has had number one albums — eleven, in fact, more than anyone in history besides the Beatles (who had nineteen) and Jay-Z (who has thirteen). And yes, he's had a bunch of top ten singles. And yes, technically, Manfred Mann's version of Bruce's "Blinded by the Light" went to number one.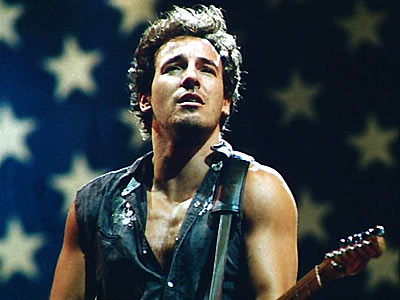 Still . . . Despite having a career that spans four decades, despite selling out arenas the world over, despite being rock-and-roll's beloved living legend, Bruce never had the honor of hearing the late, great Casey Kasem announce that he has "the number one song in the land."
Not that Bruce hasn't come close. Thirty years ago, in June 1984, "Dancing in the Dark" reached number two and seemed poised to usurp the top spot from Duran Duran's "The Reflex." But in an unprecedented maneuver, the number three song, Prince's "When Doves Cry," sprung over Springsteen to take the throne.
The real injustice is not that Springsteen never reached number one (he seems to be doing just fine), but that so many — shall we say — less memorable acts have. Consider: back in the summer of 1984, after spending five weeks atop the charts, "When Doves Cry" was finally knocked off the summit . . . not by "Dancing in the Dark" but by Ray Parker Jr.'s "Ghostbusters."
Now, "Ghostbusters" is a catchy song from a mega-popular movie. But it's no "Thunder Road" or "Glory Days" or even "Brilliant Disguise." And Ray Parker Jr., though a talented musician and seemingly swell guy, is no Springsteen.
Let me put it this way: If you're a promoter, and you have a chance to book either Ray Parker Jr. or Bruce Springsteen . . . who ya gonna call?
The following are nine more acts from the 80s who fall into the category of "You Mean These Guys Have a Number One Song and Bruce Springsteen Doesn't? Life's Not Fair."
Stars on 45 (for "Stars on 45," 1981) — A medley of disco-fied rock songs (including "Venus" and a handful of Beatles tunes) usurped the top spot on the charts from Kim Carnes' "Bette Davis Eyes"– all the proof anyone needs that the early 80s were a curious time. The fact that you probably don't have the faintest recollection of this song (I certainly didn't) shows that these non-Stars didn't deserve to be number one, or forty-five, or one-hundred-and-forty-five.
Ready for the World ("Oh Sheila," 1985) — This song is largely remembered for what it's not — i.e. not a Prince song and not about Sheila E. Personally, I also remember it for not being something else — i.e. any good. (Alli at Like Totally 80s disagrees with me on that point.)
Deniece Williams (for "Let's Hear It for the Boy," 1984) — A hummable song, sure, but for my money, it should not have been the best song in the land. I don't even think it was the best song from Footloose. ("Holding Out for a Hero" only reached 34 on the Billboard charts? Are you kidding me with that?) But I have to be nice to Deniece, especially since I just found out that she and Johnny Mathis sang "Without Us," the theme to "Family Ties." ("Sha-la-la-la.") And speaking of Family Ties . . .
Billy Vera and the Beaters ("At this Moment," 1987) — I almost didn't include them on this list, because I legitimately like both the song and the story behind it: originally released in 1981, "At This Moment" only reached 79 on the Billboard charts and would have fallen into complete obscurity had not a TV guy decided it would be a great backdrop for the Michael J. Fox/ Tracy Pollan romance. And since its re-release, the song has had staying power: you can still hear it on "light rock" stations today. So, after taking all that into account, I thought, "You know, maybe Billy Vera and the Beaters do deserve some props." But then I remembered that we live in a world that a band called the Beaters has a number one song . . . and Springsteen doesn't. That did it for me.
Gregory Abbott ("Shake You Down," 1987) — This song, though loathsome and limp, did teach me something about male/female relationships, back when I was sixteen. At the time the song was climbing the charts, I hated it, as did all my male friends. But my female friends loved it. And so I learned a valuable truth: if men are born with the chromosome that prevents them from ever asking for directions, women are born with the chromosome that allows them to like sappy-pappy Gregory Abbott songs. Somehow it all evens out.
As a Cliff-Clavin-esque aside: Gregory Abbott's "Shake You Down" reached number one in January 1987; about seven months later, Bob Seger had a number one song with "Shakedown." But here's the thing: "Shakedown" is Seger's ONLY number one song. That's right: possibly the worst song in Seger's entire discography is the only one to go to number one. (Hit it, Jack Palance: "Believe it . . . or not!")
Kim Wilde ("You Keep Me Hanging On," 1987) AND Atlantic Starr ("Always," 1987) AND Lisa Lisa and Cult Jam ("Head to Toe," 1987) — When I think Summer 1987, I think U2, R.E.M., Beastie Boys, and Whitesnake. In my mind, just a glorious time. Then I checked the facts. For a stretch in June 1987, the number one songs were an unnecessary re-make, followed by a corny, lightweight ballad, followed by the weakest offering by Lisa Lisa. (Sorry, but it's true.) The lesson, as always, when it comes to anything having to do with your childhood: don't check the facts.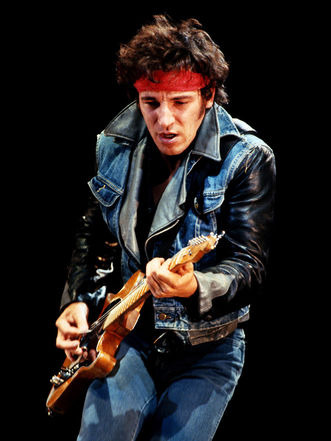 Will to Power ("Baby, I Love Your Way/ Freebird Medley" a.k.a. "Free Baby," 1988) — So many things wrong with this group having a number one song. First, they're a one-hit wonder, and they didn't even write their one hit; instead, they mashed together classic songs by Peter Frampton and Lynyrd Skynyrd. Next, the name "Will to Power" is a Nietzschean philosophy about having the ambition and the desire to succeed — and yet it seems this group's greatest ambition was to sponge off the success of two other superior artists. Finally, the biggest crime: Frampton only reached number twelve with "Baby, I Love Your Way," and Skynyrd only reached nineteen with "Freebird" — and somehow, this group added both together to get a number one. As I said, so many things wrong with this . . .
Before I sign off, one last reminder: This list isn't about besmirching the acts listed herein. (Well, maybe Stars on 45 and Will to Power deserve some besmirching.) Rather, the list is meant to highlight the unfairness of Bruce Springsteen not having a number one song, while other less iconic acts do. I don't mean to suggest the artists on this list are unworthy; they're just not more worthy than Springsteen.
Now, one could argue that these artists must have done something right to reach the number one spot in the first place. And while that's true, no act on this list could sustain its popularity into a career that even resembles anything close to the one Springsteen has had. And that's the real trick. These acts were Employees of the Month . . . but they weren't The Boss.