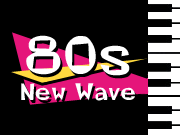 It's about as easy to pin down what truly constitutes 80s new wave music as it is to say Kajagoogoo five times fast. The rebellious lovechild of 70s punk and powerpop, the new wave hits of the 80s evolved from bands like the Ramones and Blondie into synthpop bliss, postpunk, rockabilly, and more. Yes, the definition of "new wave" is as nebulous as a Flock of Seagulls haircut. But one thing's for sure, the music scene was forever changed thanks to these anticorporate, experimental, and revolutionary rock icons.
While there's no one best new wave song that defines the era, one of the most memorable was Video Killed the Radio Star by the Buggles. It was the first video MTV broadcast back in 1981, setting the stage for new wave hits of the 80s to take over television like spandex took over Bananarama. But that was just the tip of the iceberg-shaped hairstyles. While there were the highly commercialized, oft-televised 80s new wave songs like "Take On Me" by A-ha or "Hungry Like the Wolf" by Duran Duran, there was also an underbelly.
This underbelly rose from the ashes so dark, so mysterious, and so tortured that women dress up in corsets and wave their arms through the air to celebrate it to this day. Of the new wave hits of the 80s, goth gave birth to a subculture that's still enveloping its followers in blankets of sorrow. From the macabre to the mopey, bands like The Cure, Depeche Mode, and Siouxsie and the Banshees opened the floodgates of expressing oneself through multiple piercings, ghoulish hairstyles, and tortured despair.
Whether you think the quintessential 80s new wave band was The Cure or Echo and the Bunnymen, I know this much is true: The new wave hits of the 80s didn't just rock this town. They rocked it inside out.
> Read About Influential New Wave Bands (Duran Duran, INXS, The Cure, DEVO, Tears for Fears, The Smiths, New Order, R.E.M., Depeche Mode, and Yaz)