The New Wave music genre gave us many amazing bands. One of the most interesting aspects of New Wave was the fact that it was so open-ended in terms of style. This meant that a wide range of groups were able to contribute to the genre thanks to it lacking a certain musical homogeneity. The most important aspects of New Wave weren't a strict adherence to specific songwriting rules but rather an attitude and spirit that combined aspects of punk and pop with a slick production sheen and more thought-provoking lyrics than were typically found in 80's radio playlists.
Let's take a look at a few of the bands that helped to define the 80's New Wave genre:
Duran Duran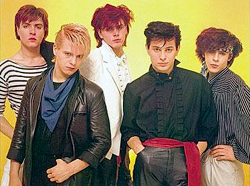 It is impossible to have escaped the 80's alive without grooving to at least one of Duran Duran's songs. Based in England, Simon Le Bon, Nick Rhodes, John Taylor, Andy Taylor and Roger Taylor burst onto the scene in 1981 after having worked hard throughout the end of the 70's on their showmanship and highly polished image. The result was a package seemingly custom-made for the video age, and Duran Duran became one of the first bands to really ride the MTV wave towards mega-stardom.
Their first single to make headway on both the American and British charts was 'Girls On Film', a raunchy track whose accompanying video was alternately banned or heavily censored around the world. The notoriety achieved through this controversy helped the band's second album, titled "Rio", to bring 80's New Wave to the mainstream. Along with the title track, "Rio" contained hits such as "Hungry Like The Wolf" which is often considered the greatest New Wave song ever recorded. Audiences around the world ate up Duran Duran's elegantly coiffed hair and 80's fashion sense, vaulting them to the heights of the industry in a very short span of time.
Following up on "Rio" proved to be a difficult task for the band, and while their next hit single "The Reflex" became a dance club staple, after the middle of the decade the fortunes of Duran Duran began to drift – along with the interests of the band's members. As some left the group and others focused on producing rather than writing new tracks, Duran Duran began to release albums only sporadically. Their James Bond theme song "A View To A Kill" hit number one in 1985, but while the group remained a strong concert draw their sales numbers began a gradual decline from which they would not recover until the 1990's. However, few can deny the power of Duran Duran's music to define 80's New Wave for an entire generation of fans.
The Cure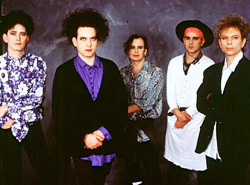 Not all New Wave bands took the same path towards fame and fortune. When The Cure was put together by band leader Robert Smith in 1976 in England, the original musical focus of the group was on a dark and melodic sound that would help them to define what later became known as the Goth genre. However, Smith was not interested in being pigeonholed by the gloomy and depressing lyrics of his early work and by 1982 he had become interested in writing the type of 80s New Wave song that could help The Cure reach a wider audience.
After putting out a number of singles that confirmed their poppier direction, The Cure would hit the charts with two albums in succession, "The Top" in 1984 and "The Head On The Door" the following year. The New Wave listeners they had been seeking sat up and took notice of the unique band, which still often wore the uniform of their early Goth image while performing. It was 1987's release of "Kiss Me, Kiss Me, Kiss Me" that would truly bring them the international stardom that was their destiny, largely thanks to singles such as "Just Like Heaven" and "Why Can't I Be You?" The "Disintegration" album would follow in 1989 and spawn the perennial New Wave hit of the 80s "Lovesong" which written by Smith for his bride to be as a wedding present.
Despite the loss of two longtime band members in the early 1990's, The Cure would go on to find reasonable success until 1995, when the shifting tastes of the music industry ended their ability to score high on the pop charts. However, the cultural winds would once again blow in The Cure's direction after the new millennium thanks to a new generation of disaffected young musicians finding solace and inspiration in the band's music.
INXS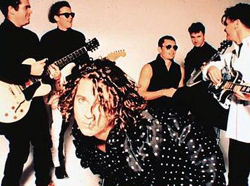 The New Wave genre's inclusion of straight ahead rock music tinged with pop sensibilities was most deftly captured by the band INXS. Hailing from Australia and lead by the incredibly charismatic singer Michael Hutchence, the band spent the early part of the 80's touring almost constantly and releasing albums largely for the Australian market. The success of the track "The One Thing" in 1982 helped them to convince record companies that they were capable of international acclaim, and it opened up their career prospects to the point where stardom was waiting just on the doorstep.
In 1983 the band recorded what some consider the greatest New Wave song, "Original Sin", with legendary producer and disco pioneer Nile Rogers. In 1985 the album "Listen Like Thieves" managed to score the group their very first top 5 single on the Billboard charts with "What You Need". Over the course of the next two years, INXS would grow by leaps and bounds as musicians, and the culmination of this creative explosion would be the landmark release "Kick." Four of the singles from that album would crack the American top 10, including 'New Sensation', the rocker "Devil Inside," the hauntingly powerful ballad "Never Tear Us Apart" and of course their first number one smash "Need You Tonight," the best New Wave song the band would ever produce.
"Kick" was a monster, and it would cap INXS' 80s output. The band would score subsequent hits in the 1990's before being torn apart by the untimely and scandalous death of Hutchence in 1997.
Devo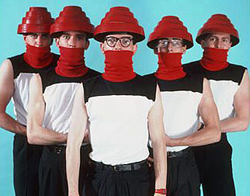 Some of the New Wave acts of the 1980s were just plain weird. Devo is a perfect example. Formed in 1976 in the hotbed of rock and roll that was Ohio, Devo spent a large part of their early existence mocking what their perceived as the "de-evolution" of the society around them. The Mothersbaugh brothers, Mark and Bob would together with Gerald and Bob Casale and Alan Myers develop a unique sound that elegantly encapsulated the oddness of New Wave that the major media chose to emphasize when first reporting about the genre.
Devo's greatest New Wave song was unquestionably "Whip It," which was culled from their third album "Freedom Of Choice" in 1980. "Whip It" was at the same time sexually risqué and lyrically puzzling, and it was paired with one of the more memorable early-80's music videos to have survived that era of visual experimentation. The album also contained the track "Girl U Want," which would inspire a number of musical groups throughout the coming years.
Aside from "Whip It," Devo are most often remembered for their elaborate stage costumes that included yellow plastic suits and reddish-orange "power dome" hats that resembled concentric beehives. To this day, this remains a popular Halloween costume amongst New Wave aficionados. The band's dedication to pushing audiences through an elaborate stage show ties in with their roots as performance artists and helped them to stand out from other novelty acts of their time.
Yaz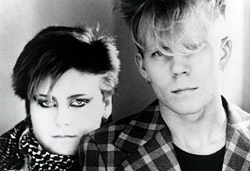 If the world were perfectly fair, Yaz would be a household name, and not just as a brand of birth-control pills. Alas, Yaz remains relatively unknown in the mainstream US music world.
Known as Yazoo in the UK, Yaz was a dream duo—Vince Clarke on synthesizer and Alison Moyet (pronounced "moy-ay") on vocals. Moyet's voice is a force of nature. Even when she's belting out notes that Idol contestants can only dream of, she sounds like she's hardly even using half her power. As for Clarke's musical chops, he was Depeche Mode's original keyboardist and songwriter and, after Yaz broke up, went on to form Erasure, so 'nuff said. These two musicians together were heaven.
Their first album, 1982's Upstairs at Eric's, produced "Situation" and "Only You," two songs that belong in the history books as flawless examples of 80's synth-pop. Their second album, 1983's You and Me Both, didn't produce any individual hits of similar caliber, but it was a hit in Europe and still outstanding stuff—catchy, not fluffy.
And then, in 1983, Yaz was done. Moyet pursued a solo career and Clarke became one-half of the synth-pop duo Erasure. But boy oh boy, Yaz was a terrific band.
The Smiths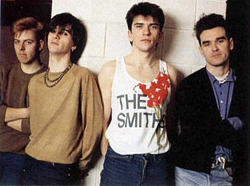 The Smiths were only around from 1982 to their 1987 disbanding. But that was more than enough time for this lyrics-driven band to make a new-wave name for itself. Their commercial popularity was mostly in their native England, where their 1984 album, The Smiths, peaked at number 2. The group remained largely an underground and college sensation in the US, a country they never toured on a grand scale.
The Smiths had two remarkably strong personalities among its five members. These two, guitarist Johhny Marr and lyricist/singer Morrissey, crafted pitch-perfect pop, but their personalities did not mesh well. Marr was the consummate British guitarist in the vein of Keith Richards, while Morrissey was, well Morrissey. His on-stage antics included wearing a hearing aid (which he did not actually require) and a pocket full of flowers. His lyrics, at turns hilarious and heart-wrenching, managed to ignite more than one scandal.
These two members' conflicts helped contribute to the breakup of the band. Morrissey has gone on to pursue a successful solo career, while Marr formed Electronics with former New Order frontman Bernard Sumner. Of the other three members of The Smiths–Craig Gannon, Andy Rourke, and Mike Joyce–Rourke and Joyce sued Marr and Morrissey in the early 90's, claiming Marr and Morrissey cheated them out of a large percentage of the band's earnings.
New Order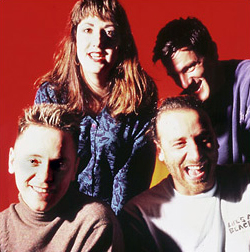 New Order was a fresh new name for a well-loved brooding British band, Joy Division. Joy Division's vocalist, Ian Curtis, committed suicide in 1980, and the surviving members of the band; Bernard Sumner, Peter Hook, and Stephen Morris, re-named themselves New Order. They were soon joined by a fourth member, Gillian Gilbert.
New Order immersed itself in the New York City club scene and soon positioned itself as a dance-music powerhouse. The band is widely regarded for its groundbreaking contributions to alternative rock and dance music. Their 1983 song, "Blue Monday" still holds up as an infectious, dare-you-not-to-dance tune, and it holds the record for best-selling 12-inch single of all time.
New Order's history came to an end with more of a whimper than a bang, with Gilbert leaving in 2005 and Hook in 2007. Sumner, Morris, and Phil Cunningham, who joined New Order in 2005, renamed their band yet again, this time to Bad Leiutenant.
R.E.M.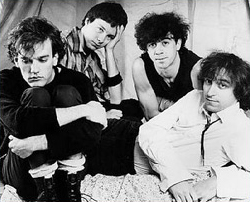 If there were a soundtrack for the 1980s, for many of us, it would be recorded by R.E.M. (Can anyone forget Brenda Walsh listening to "Losing My Religion" over and over again when she and Dylan broke up on the original Beverly Hills, 90210?) This band of four musicians from Athens, Georgia has been bringing us memorable music since they were founded in 1980. Their brilliant combination of jangling guitar, complex lyrics, and grunge sensibility inspired everyone from The Indigo Girls to The White Stripes.
R.E.M.'s first album, 1983's "Murmur," helped them become college-radio darlings. Years of heavy touring, plus their 1987 breakout hit, "The One I Love" propelled them to worldwide success. When the band re-signed with Warner Bros. in 1996, their reported $80 million deal set a record at the time.
R.E.M.'s lead singer, Michael Stipe, is famous as much for his political causes as his voice. Original drummer Bill Barry left the group in 1997 following a health scare. Stipe and the other two members, Mike Mills (bass guitar) and Peter Buck (guitar) have continued R.E.M.'s legacy, with slightly more modest success.
The Human League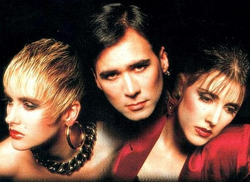 Although The Human League formed in the late 70s, this English New Wave band became internationally known with their hit single "Don't You Want Me," which was released in 1981. The Human League is known for their synthpop sound, and their contributions to the electropop genre have influenced many current performers from Moby to Madonna, and even a cookie commercial.
Originally, The Human League was strictly electronic. However, that musical direction wasn't providing much success for the band on the charts. Vocalist and songwriter Philip Oakey insisted that the band evolve their music to become more pop-influenced, and, in turn, more radio-friendly. Unfortunately, then-member Martyn Ware didn't agree. Tempers flared, arguments occurred, and when the dust settled, Ware and one other member were no longer in The Human League. Even though Oakey got his way, he was now left with an impending tour and a mighty small band. Luck prevailed: thanks to a visit to nightclub in the ten days before the tour began, Oakey found and recruited two teenage girls to be his backing vocals. These girls, Susan Ann Sulley and Joanne Catherall, are still in the band today, and now taking lead-singer billing with Oakey.
The song "Don't You Want Me" off of The Human League's 1981 album Dare sold two million copies worldwide and the album went triple platinum. Although Philip Oakey was skeptical of that single at first, he definitely had faith in his band's vision as a whole. His ideas and electro-pop songs have been classics since the early 80s. The Human League embraced the electronic side of music and it paid off. In a 2001 interview, Oakey acknowledged this and parodied a headline from 1980, stating "The Human League: one day all music will be made like this! And it is!"
LT80s Note: We had the pleasure of seeing The Human League perform last year (2011) at the Totally 80s concert at the Hollywood Bowl. Click here to see their set list and our review of the show.
Submitted by MaDonna Flowers of T-Shirts.com, an online company with great 80s tees.
Depeche Mode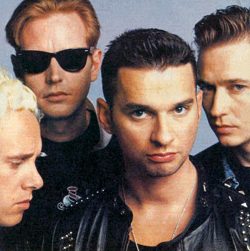 Ask a thirty-something from the USA about Depeche Mode and you'll likely hear the words "Goth" or "dark." But ask a similarly aged peer in Europe and what you hear might surprise you. On that side of the pond, the band was seen as heart-throb pin-up types. Which is not to say Depeche Mode was not a significant band over there—on the contrary, it's ended up being one of that country's most influential bands ever—but they just had a very different popular vibe.
Depeche Mode's "dark" cred in the US stems from its brooding ballads like "Somebody," sexually tinged songs like "Master and Servant" and no-holds-barred discussions of negative emotions, like "Blasphemous Rumours" or "People are People." All these songs appear on their 1984 album, Some Great Reward, which effectively introduced them to the US. Take into account lead singer David Gahan's low, expressive voice, and it's easy to see why the band was embraced as complex, brooding Goths by a country who met them for the first time with this collection.
Depeche Mode's first album, Speak & Spell, was released in 1981. Soon after, songwriter and keyboardist Vince Clarke left to form Yazoo with Alison Moyet. The other members; Gore, David Gahan, Andrew Fletcher, and Alan Wilder, continued recording and touring, even after a major bump in the road due to Gahan's troubles with drugs in the early nineties.
Alan Wilder left the band in 1995. Since then, Depeche Mode has continued touring and recording, with their most recent album, Sounds of the Universe, released in 2009.
Tears For Fears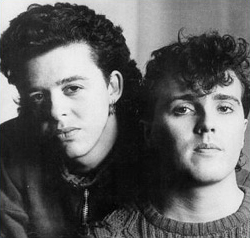 Some bands used their New Wave cred to launch their careers into the pop music stratosphere. British band Tears For Fears started out a little later than some of their contemporaries, not releasing any albums as a group until 1982 when "The Hurting" hit music store shelves and did well based on the strength of the single "Mad World." Complex in terms of both composition and theme, the music of Tears For Fears explored a different side of the New Wave genre than what was popular at the time. This was demonstrated by the track "Shout," a top 5 success for the band but one which was aggressive and dour compared to the more typical upbeat New Wave sound.
For more New Wave information, check out: