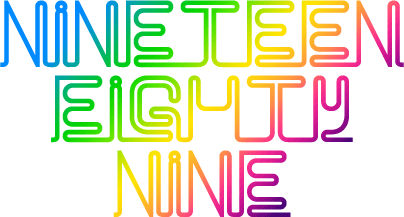 In many ways, 1989 provided the perfect bookend to this decade that saw so much change. It continued the social, political and technological changes that mark the 1980s. The Berlin Wall came down, the first GPS satellite was put into orbit, and the first black governor in the US was elected. Progress indeed. On the darker side, we suffered through Hurricane Hugo, the Tiananmen Square massacre, and the Exxon Valdez oil spill. The music charts were dominated by the likes of Paula Abdul, Richard Marx and Milli Vanilli, each with more than one #1 hit that year. 1989 is the year that brought us "Christmas Vacation," which if nothing else happened all year would be enough. The big screen was crowded with sequels with new iterations of Lethal Weapon, Ghostbusters, Back to the Future, Indiana Jones, and Karate Kid. The Simpsons made it to the small screen for the first time (and are still going strong) and Daniel Radcliffe was born.
In the words of Bill and Ted, it was "most excellent."
Jump directly to your area of interest using these links:
History & Politics  .  Music  .  Television  .  Movies  .  Sports  .  People Who Died  .  People Who Were Born
Back to 80s Time Capsules
---
History & Politics
Race riots occur in Overtown, Miami.
The Stockton massacre: Patrick Edward Purdy kills 5 children, wounds 30 and then shoots himself in Stockton, California.
George H. Bush succeeds Ronald Reagan as the 41st President of the United States of America.
American Olympic medalist Bruce Kimball is sentenced to 17 years in prison for killing 2 teenagers in a drunk driving accident.
Ron Brown is elected chairman of the Democratic National Committee, becoming the first African American to lead a major United States political party.
The first of 24 Global Positioning System (GPS) satellites is placed into orbit.
Iranian leader Ayatollah Ruhollah Khomeini encourages Muslims to kill The Satanic Verses author Salman Rushdie (a British-Indian writer), placing a US $3-million bounty on his head, and breaks off diplomatic relations with the United Kingdom.
United Airlines Flight 811, a Boeing 747 bound to New Zealand from Honolulu, Hawaii, rips open during flight, sucking 9 passengers and crew out of the first class section.
Time, Inc. and Warner Communications merge, forming Time Warner.
Gun control: U.S. President George H. W. Bush bans the importation of certain guns deemed assault weapons into the United States.
Stanley Pons and Martin Fleischmann announce that they have achieved cold fusion at the University of Utah.
A 1,000 ft diameter Near-Earth asteroid misses the Earth by only 400,000 miles.
Exxon Valdez oil spill: In Alaska's Prince William Sound the Exxon Valdez spills 240,000 barrels (11 million gallons) of oil after running aground.
Trisha Meili is savagely attacked while jogging in New York City's Central Park; as her identity remains secret for years, she becomes known as the "Central Park Jogger."
Seven crew members die after a gun turret explodes on the U.S. battleship Iowa.
Nintendo begins selling the Game Boy.
Disney-MGM Studios at Walt Disney World opens to the public for the first time.
The Tiananmen Square massacre takes place in Beijing on the army's approach to the square, and the final stand-off in the square is covered live on television.
Actress Zsa Zsa Gabor is arrested in Beverly Hills, California after slapping a motorcycle police officer.
United Airlines Flight 232 (Douglas DC-10) crashes in Sioux City, Iowa, killing 112; due to extraordinary efforts by the pilot and crew, 184 on board survive.
A federal grand jury indicts Cornell University student Robert Tappan Morris, Jr. for releasing a computer virus, making him the first person to be prosecuted under the 1986 Computer Fraud and Abuse Act.
In Beverly Hills, California, Lyle and Erik Menendez shoot their wealthy parents to death in the family's den.
Yusef Hawkins is shot in the Bensonhurst section of Brooklyn, New York, sparking racial tensions between African Americans and Italian Americans.
Hurricane Hugo makes landfall in South Carolina, causing $7 billion in damage.
U.S. televangelist John Nunes is found guilty of embezzling $158 million.
The Loma Prieta earthquake, measuring 7.1 on the Richter scale, strikes the San Francisco-Oakland region of Northern California, killing 63. Occurring during the warm up for the third game of the 1989 World Series (Oakland Athletics vs. San Francisco Giants), this was the first major earthquake in the U.S. to be broadcast on live television as it happened. The highest concentration of fatalities, 40, occurred in the collapse of the Cypress Street Viaduct on the Nimitz Freeway (Interstate 880), where a double-decker portion of the freeway collapsed, crushing the cars on the lower deck.
Douglas Wilder wins the governor's seat in Virginia, becoming the first elected African American governor in the United States.
East Germany opens checkpoints in the Berlin Wall, allowing its citizens to freely travel to West Germany for the first time in decades. The next day, celebrating Germans began tearing the wall down.
The wreck of the Lady Elgin (a steamboat) is discovered off Highland Park, Illinois by Harry Zych.
Serial killer Ted Bundy is executed in Florida's electric chair.
France celebrates the 200th anniversary of the French Revolution.
Back to Top  .  Back to 80s Capsules
---
Music
Look Away – Chicago
My Perogative – Bobby Brown
Every Rose Has Its Thorn – Poison
Miss You Much – Janet Jackson
When I See You Smile – Bad English
Eternal Flame – The Bangles
Sowing the Seeds of Love – Tears for Fears
Toy Soldiers – Martika
Heaven – Warrant
Don't Wanna Lose You – Gloria Estefan
Soldier of Love – Donny Osmond
Hangin' Tough – New Kids on the Block
Right Here Waiting – Richard Marx
Lost in Your Eyes – Debbie Gibson
Iko Iko – Belle Stars
Back to Top  .  Back to 80s Capsules
---
Television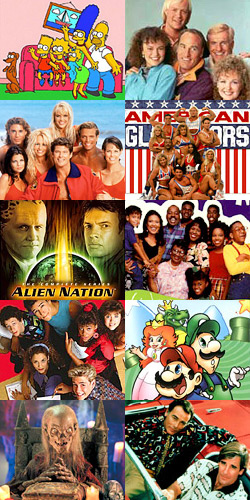 The Simpsons [cartoon]
The Simpsons are very politically incorrect family who live in Springfield. Homer works with pride in a nuclear power plant run with more regard for profit that safety. His wife, Marge, is a kind of supermom. Bart, the oldest of the Simpson kids, is an underachiever and prancster "and proud of it." Lisa, the middle child, is serious, responsible and the genius of the bunch. Maggie, the baby, can't talk yet. Together the Simpsons (and other members of the town) get themselves into some crazy adventures.
Saved by the Bell
Starring: Mark-Paul Gosselaar, Mario Lopez, Dustin Diamond, Tiffani Thiessen, Lark Voorhies, & Elizabeth Berkley
Zach Morris is the cool, preppy trouble maker. A.C. Slater is the kind hearted jock. Screech Powers is the smart and funny nerd. Kelly Kapowski is the teen dream with whom Zach is obsessed. Lisa Turtle is the gossiping fashion lover. Jessie Spano is the femenine straight A student. Together they get into mis-adventures at Bayside High School.
Baywatch
Starring: David Hasselhoff
This series follows the adventures of a team of lifeguards on a crowded resort beach. Veteran lifeguard Mitch Buchannon watches over the younger lifeguards as they keep the beaches safe for vacationers. Frequently he must take action to save them from the raging seas and from the raging tempers that sometimes flare up between the young guards in this stressful job.
Family Matters
Starring: Reginald VelJohnson, JoMarie Payton, Kellie Shanygne Williams, Darius McCrary, & Jaleel White
The Winslow family is a pretty normal family except for one thing, their neighbor Stephen Urkel. A genius and klutz, Steve makes some really weird inventions while driving the Winslow's insane.
American Gladiators
Two teams (one male, one female) compete in games of physical strength against the "Gladiators" – very athletic body builders who attempt to halt the contestants from scoring points in any of the competitions. Events include, The Assault, Joust, The Wall, Breakthrough and Conquer, Hang Tough, Powerball, and many others, all culminating in the final event, "The Eliminator", a difficult obstacle course race.
MTV Unplugged
In this concert series, major pop music talents play their biggest hits without the benefit of electronic instruments and use only basic acoustic ones. This often produces a dramatically different sound for their songs as they are performed.
Quantum Leap
Starring: Scott Bakula & Dean Stockwell
Doctor Sam Beckett led a group of top scientists into the desert to research his theory that a man could time travel within his own lifetime. Unfortunately, in order to save his funding, he was forced to enter the accelerator prematurely and vanished. He awoke to find himself in someone else's body with partial amnesia. Sam's only contact from home is Al, who appears as a holographic image only he can see and hear. Setting right things which once went wrong, Sam leaps from life to life, hoping each time that this is the final leap home.
Tales from the Crypt
Tales of horror based on the gloriously gruesome EC horror comics of the 1950's, hosted by an animatronic skeleton called The Crypt Keeper.
Coach
Starring: Craig T. Nelson, Jerry Van Dyke, Shelley Fabares, & Bill Fagerbakke
Hayden Fox, head coach of a university football team, eats, sleeps and lives football. His partner Christine, however, does not share his passion for the sport, which frequently causes friction in their relationship. While Hayden often fits the stereotype of dumb jock (as do his co-workers Luther and Dauber), he sincerely cares about his friends and family, and tries his best to make things work out.
Alien Nation
Starring: Gary Graham & Eric Pierpoint
A flying saucer crashed in the Mojave Desert and its inhabitants turned out to be alien slaves, bred to be super intelligent, strong, and controllable by their Overseers. These Tenctonese, or "Newcomers", have been assimilated (sort of) into the population of Los Angeles. One of them, George Francisco, is a police detective with a human partner, Matthew Sikes. George and Matt fight crime together, while learning to respect the other's culture, and question his own. They also fight prejudice, as personified by the Purists, and fear, in the form of the unseen Overseers, who seek to regain control over their slaves.
The Super Mario Bros. Super Show! [cartoon]
Mario, his brother Luigi, Princess Toadstool, and her advisor Toad go from land to land try to save it from the sinister Bowser Koopa and his band of goombas, troopas, and other villians from the video game.
Back to Top  .  Back to 80s Capsules
---
Movies

Batman
Starring: Michael Keaton, Jack Nicholson, & Kim Basinger
The Dark Knight of Gotham City begins his war on crime with his first major enemy being the clownishly homicidal Joker.
Indiana Jones and the Last Crusade
Starring: Harrison Ford & Sean Connery
When Dr. Henry Jones Sr. suddenly goes missing while pursuing the Holy Grail, eminent archaeologist Indiana Jones must follow in his father's footsteps and stop the Nazis.
Lethal Weapon 2
Starring: Mel Gibson, Danny Glover, & Joe Pesci
Riggs and Murtaugh are on the trail of South African diplomats who are using their immunity to engage in criminal activities.
Look Who's Talking
Starring: Kirstie Alley, John Travolta, & the voice of Bruce Willis as Mikey
Mollie, a single mom, is searching for the perfect father for her new son, Mikey. Mikey, (unbeknownst to her) seems to have a better idea of the men she should date and who would make a good father figure! If only she could understand him.
Honey, I Shrunk the Kids
Starring: Rick Moranis, Marcia Strassman, Matt Frewer, Thomas Wilson Brown, Jared Rushton, Amy O'Neil, Robert Oliveri, & Kristine Sutherland
Wayne Szalinski is a crazy scientist who invents a miniaturizing machine that is so powerful it only blows things up. When the kid next door hits a baseball through the window and it lands in the path of the machine's laser, it begins working. While retrieving the baseball, the machine accidently shrinks Wayne's two kids plus the two neighbor kids down to 1/4-inch tall. Not knowing what just happened, Wayne accidentally sweeps them up and puts them out with the garbage. Now the kids must travel through the thick grass back to the house, while braving giant bugs, sprinklers and a lawn mower.
Back to the Future Part II
Starring: Michael J. Fox, Christopher Lloyd, Tea Thompson, Thomas F. Wilson, Elisabeth Shue, & Jeffrey Weissman
Doc, Marty and Jennifer take the time-traveling DeLorean into the year 2015 to straighten out the future of the McFly family. Unfortunately, Biff Tannen steals the time machine and gives his younger self a book containing 50 years of sports statistics, which the young Biff uses to amass an enormous gambling fortune and transform idyllic Hill Valley into a living hell. To restore the present, Doc and Marty must return to the events of their previous adventure in 1955 and retrieve the book.
Ghostbusters II
Starring: Bill Murray, Dan Aykroyd, Harold Ramis, Ernie Hudson, Sigourney Weaver, Rick Moranis, & Annie Potts
Five years later, the Ghostbusters have been plagued by lawsuits and court orders, and their once-lucrative business is bankrupt. However, when Dana begins to have ghost problems again, the boys come out of retirement only to be promptly arrested. The Ghostbusters discover that New York is once again headed for supernatural doom, with a river of ectoplasmic slime bubbling beneath the city and an ancient sorcerer attempting to possess Dana's baby and be born anew. Can the Ghostbusters quell the negative emotions feeding the otherworldly threat and stop the world from being slimed?
Driving Miss Daisy
Starring: Jessica Tandy, Morgan Freeman, & Dan Aykroyd
An old Jewish woman and her African-American chauffeur in the American South have a relationship that grows and improves over the years.
Parenthood
Starring: Steve Martin, Dianne Wiest, Dennis Dugan, Mary Steenburgen, Rick Moranis, Paul Linke, Jason Robards, Tom Hulce, Martha Plimptom, Keanu Reeves, & Joaquin Phoenix
The Buckmans are a midwestern family all dealing with their lives: estranged relatives, raising children, pressures of the job, and learning to be a good parent and spouse.
Dead Poets Society
Starring: Robin Williams, Ethan Hawke, & Robert Sean Leonard
English professor John Keating inspires his students to a love of poetry and to seize the day.
When Harry Met Sally . . .
Starring: Billy Crystal & Meg Ryan
Harry and Sally have known each other for years, and are very good friends, but they fear sex would ruin the friendship.
The War of the Roses
Starring: Michael Douglas, Kathleen Turner, & Danny DeVito
A married couple try everything to get each other to leave the house in a vicious divorce battle.
The Little Mermaid
Ariel, youngest daughter of King Triton, is dissatisfied with life in the sea. She longs to be with the humans above the surface, and is often caught in arguments with her father over those "barbaric fish-eaters". She goes to meet Ursula, the Sea Witch, to strike a deal, but Ursula has bigger plans for this mermaid and her father.
Steel Magnolias
Starring: Sally Field, Dolly Parton, Shirley MacLaine, Daryl Hannah, Olympia Dukakis, Julia Roberts, Tom Skerritt, Sam Shepard, & Dylan McDermott
In a small parish in modern-day Louisiana, a close-knit circle of friends' lives come together at Truvy's Beauty Parlor.
Christmas Vacation
Starring: Chevy Chase, Beverly D'Angelo, Juliette Lewis, Johnny Galecki, Randy Quaid, & Miriam Flynn
The Griswold family's plans for a big family Christmas predictably turn into a big disaster.
Turner & Hooch
Starring: Tom Hanks
A detective must adopt the dog of a dead man to help him find the murderer.
Born on the Fourth of July – Tom Cruise – The biography of Ron Kovic. Paralyzed in the Vietnam war, he becomes an anti-war and pro-human rights political activist after feeling betrayed by the country he fought for.
Uncle Buck
Starring: John Candy, Jean Louisa Kelly, Gaby Hoffmann, Macaulay Culkin, Amy Madigan, & Laurie Metcalf
Bachelor and all round slob, Buck, babysits his brother's rebellious teenage daughter and her cute younger brother and sister.
Field of Dreams
Starring: Kevin Costner, Ray Liotta, James Earl Jones, Amy Madigan, & Gaby Hoffmann
An Iowa corn farmer, hearing voices, interprets them as a command to build a baseball diamond in his fields; he does, and the Chicago Black Sox come.
Harlem Nights
Starring: Eddie Murphy & Richard Pryor
"Sugar" Ray is the owner of an illegal casino, who contend with the pressures of vicious gangster and corrupt policemen who want to see him go out of business. In the world of organized crime and police corruption in the 1920s, any dastardly trick is fair!
Pet Sematary
Starring: Dale Midkiff, Fred Gwynne, Denise Crosby, & Brad Breenquist
The Creed family has moved to a nice little community, but shortly after the move, their son is killed. Grief-stricken, the father learns of a cemetery where you can bury your loved ones and then they come back to life. He takes his son to this place, and the boy is revived. It seems all is well again until the son kills a person. That is when the father learns, "Not everything that comes back is the same." Now, he has to find a way to stop his son before he kills the whole town.
The Abyss
Starring: Ed Harris, Mary Elizabeth Mastrantonio, & Michael Biehn
A civilian diving team are enlisted to search for a lost nuclear submarine and face danger while encountering an alien aquatic species.
Star Trek V: The Final Frontier
Starring: William Shatner, Leonard Nimoy, DeForest Kelley, James Doohan, George Takei, Walter Koenig, & Nichelle Nichols
Capt. Kirk and his crew must deal with Mr. Spock's half brother who hijacks the Enterprise for an obsessive search for God.
Major League
Starring: Tom Berenger, Charlie Sheen, Corbin Bernsen, James Gammon, Wesley snipes, Dennis Haysbert, Rene Russo, & Bob Uecker
The new owner of the Cleveland Indians puts together a purposely horrible team so they'll lose and she can move the team. But when the plot is uncovered, they start winning just to spite her.
See No Evil, Hear No Evil
Starring: Richard Pryor & Gene Wilder
A man is murdered. Two men witness it. A blind man who hears the killer, and a deaf man who sees her. The police don't think they're credible witnesses, but the killers don't want to take any chances. The two men must now work together to save themselves and bring the killers to justice.
Bill & Ted's Excellent Adventure
Starring: Keanu Reeves, Alex Winter, & George Carlin
Ted "Theodore" Logan and Bill S. Preston esquire won't graduate if they don't do well in their history presentation. This would be both bogus and uncool! A dude called Rufus comes from the future in a telephone box to help them, as their lives are apparently rather important to the future of mankind! They travel through time doing some interesting research for their history presentation, and generally being excellent to each other!
The 'burbs
Starring: Tom Hanks, Carrie Fisher, Bruce Dern, Wendy Schaal, & Corey Feldman
An overstressed suburbanite and his paramilitaric neighbor struggle to prove their paranoid theory that the new family in town is a front for a cannibalistic cult.
License to Kill
Starring: Timothy Dalton, Carey Lowell, Robert Davi, Talisa Soto
James Bond leaves Her Majesty's Secret Service to stop an evil drug lord and avenge his best friend, Felix Leiter.
Weekend at Bernie's
Starring: Andrew McCarthy, Johnathan Silverman, & Terry Kiser
A pair of losers try to pretend that their murdered employer is really alive, but the murderer is out to "finish him off."
Road House
Starring: Patrick Swayze & Sam Elliott
Dalton is the Cooler in bars; He backs up and directs the bouncers. He takes a job in a Road House that has gotten far too rough. His attempts to clean things up put him in conflict with Brad Wesley, the town bully and rich person. Things heat up.
The Dream Team
Starring: Michael Keaton, Christopher Lloyd, Peter Boyle, Stephen Furst, & Dennis Boutsikaris
Dr. Weitzman works with patients in a sanitarium. Convinced that all that his "group" needs is a some fresh air and some time away from the sanitarium, he pursuades the administration to allow him to take them to a ballgame. Unfortunately, he accidentally stumbles across a crime in progress and ends up in hospital. The group are stranded in New York City, forced to cope with a place which is often more bizarre than their sanitarium.
Do the Right Thing
Starring: Ossie Davis, Danny Aiello, Giancarlo Esposito, & Spike Lee
On the hottest day of the year on a street in the Bedford-Stuyvesant section of Brooklyn, everyone's hate and bigotry smolders and builds until it explodes into violence.
All Dogs Go to Heaven
A dog returns from the dead looking for revenge on his killer using an orphan girl who can talk to animals.
Glory
Starring: Matthew Broderick, Denzel Washington, Morgan Freeman, & Cary Elwes
Robert Gould Shaw leads the US Civil War's first all-black volunteer company, fighting prejudices of both his own Union army and the Confederates.
Sex, Lies and Videotape
Starring: James Spader, Andie MacDowell, Peter Gallagher, & Laura San Giacomo
A sexually repressed woman's husband is having an affair with her sister. The arrival of a visitor with a rather unusual fetish changes everything.
Lean on Me
Starring: Morgan Freeman
The dedicated, but tyrannical, Joe Clark is appointed as principal of a decaying inner city school and he is determined to improve it.
The Karate Kid Part III
Starring: Ralph Macchio, Pat Morita, Martin Kove, Thomas Ian Griffith, & Robyn Lively
Kreese, his life in tatters after his karate schools was defeated by Daniel and Mr Miyagi, visits Terry, a friend from Vietnam. Terry is a ruthless business man and a martial arts expert, and he vows to help Kresse take revenge on Daniel and Mr Miyagi.
Back to Top  .  Back to 80s Capsules
---
Sports
Clint Malarchuk, hockey goaltender for the Buffalo Sabres, suffers an almost fatal injury when another player accidentally slits his throat in one of the most gruesome sports injuries of all time.
San Francisco 49ers defeat the Cincinnati Bengals 20-16 at Super Bowl XXIII.
The Calgary Flames win the Stanley Cup: The Calgary Flames of the National Hockey League (NHL) win their first and only Stanley Cup with a 4-2 victory over the Montreal Canadiens.
Record-setting baseball player Pete Rose agrees to a lifetime ban from the sport following allegations of illegal gambling, thereby preventing his induction into the Baseball Hall of Fame.
In WrestleMania V, Hulk Hogan defeats Randy Savage to become the WWF Champion.
The Oakland Atheletics sweep the World Series, beating the San Francisco Giants.
Sunday Silence wins the Kentucky Derby with a time of 2:05.00.
Emerson Fittipaldi (for Patrick Racing, Inc.) wins the Indy 500.
Boris Becker defeats Stefan Edberg to win Men's Singles & Steffi Graf defeats Martina Navratilova to win Lady's Singles at Wimbledon.
Greg LeMond (United States) wins the Tour de France.
Boris Becker defeats Ivan Lendl to win Men's Singles & Steffi Graf defeats Martina Navrátilová to win Women's Singles at the US Open.
Rusty Wallace #27 won the NEXTEL Cup (formerly Winston Cup).
Back to Top  .  Back to 80s Capsules
---
People Who Died
Salvador Dali (b. 1904) – Surrealist painter – known for his melting clocks & animals with long, multi-jointed, spindly legs; some of his works include: The Persistence of Memory, The Temptation of St. Anthony, The Disintegration of the Persistence of Memory, Soft Construction with Boild Beans, & A Dream Caused by the Flight of a Bee around a Pomegranate a Second Before Awakening
John Cassavetes (b. 1929) – Actor / Director / Writer – as Victor P. Franko in The Dirty Dozen, Guy Woodhouse in Rosemary's Baby, & Johnny North in The Killers
Maurice Evans (b. 1901) – Actor – as Maurice, Samantha's father on Bewitched; The Puzzler on Batman; Dr. Zaius in Planet of the apes, & Rosemary's friend Hutch in Rosemary's Baby
Jack Starrett (b. 1936) – Actor / Director – as Gabby Johnson in Blazing Saddles, Deputy Galt in First Blood, & Swick in The River
Lucille Ball (b. 1911) – Actress / Entertainer – famous for I Love Lucy & known as the "Queen of Comedy
Sergio Leone (b. 1929) – Italian film director – known for his Spaghetti Western films, and his recognizable style of juxtaposing extreme close-up shots with extreme long shots, as in the opening scene of The Good, the Bad and the Ugly
Gilda Radner (b. 1946) – Comedian / Actress – Part of the original cast of Saturday Night Live
Dik Browne (b. 1917) – Cartoonist – creator of Hagar the Horrible & Hi and Lois
Victor French (b. 1934) – Actor – as Isaiah Edwards on Little House on the Prairie, Mark Gordon in Highway on Highway to Heaven, & police chief Ror Mobey on Carter Country
Jim Backus (b. 1913) – Actor – as Thurston J. Howell on Giligan's Island, James Dean's father in Rebel Without a Cause, & the voice of Mr. Magoo
Mel Blanc (b. 1908) – Voice Actor – as Bugs Bunny, Daffy Duck, Porky Pig, Barney Rubble, Ysemite Sam, Tweety Bird, Pepe Le Pew, Foghorn Leghorn, Marvin the Martion, Tasmanian Devel, among others
Laurence Olivier (b. 1907) – Stage & Screen Actor – as Heathcliff in Wuthering Heights, Larry Durant in 21 Days, Maxim de Winter in Rebecca, Fitzwilliam Darcy in Pride and Prejudice, King Henry V in Henry V, Hamlet in Hamlet, Richard III in Richard III, Marcus Licinius Crassus in Spartacus, Othello in Othello, Dr. Christian Szell in Marathon Man, Prof. Abraham Van Helsing in Dracula (1979), & Zeus in Clash of the Titans
Amanda Blake (b. 1929) – Actress – as Miss Kitty on Gunsmoke
Irving Berlin (b. 1888) – Composer / Lyricist – one of the most prodigious and famous American songwriters in history; some of his classics are "God Bless America," "White Christmas," "Alexander's Ragtime Band," & "There's No Business Like Show Business"
Graham Chapman (b. 1941) – Comedian / Actor – on of the six Monty Python members – as King Arthur in Monty Python and the Holy Grail & Brian in Monty Python's Life of Brian
Betty Davis (b. 1908) – Actress – as Margo Channing in All About Eve, Baby Jane Hudson in What Ever Happened to Baby Jane?, Margaret Elliot in The Star, Regina Giddens in The Little Foxes, Leslie Crosbie in The Letter, Julie Marsden in Jezebel, Joyce Heath in Dangerous, & Mildred Rogers in Of Human Bondage
Scott O'Dell (b. 1898) – Children's Author – wrote Island of the Blue Dolphins
Frances Bavier (b. 1902) – Actress – as Aunt Bee on The Andy Grfith Show & Mayberry R.F.D.
Back to Top  .  Back to 80s Capsules
---
People Who Were Born
Corbin Bleu – Actor / Singer – as Austin in Catch That Kid, Izzy Daniels in Jump In!, & Chad Danforth in the High School Musical movies
Jake Lloyd – Actor – as young Anakin Skywalker in Star Wars Episode I: The Phantom Menace
Daniel Radcliffe – Actor – as Harry Potter in the Harry Potter films
Chris Brown – R&B and pop singer
Lil' Romeo – Rapper / Actor
Hayden Panettiere – Actress – as Juliette Barnes on Nashville, Claire Bennet on Heroes, Britney Allen in Bring It On: All or Nothing, Channing Walsh in Racing Stripes, Sheryl Yoast in Remember the Titans, Elizabeth 'Lizzie' Spaulding on The Guiding Light, voice of Dot in A Bug's Life, & Face for Neutrogena
Michelle Wie – Teen golf phenom who turned professional at 16
Jordin Sparks – Singer – Winner of American Idol season 6 (2007). At 17, this makes her the youngest winner in American Idol history.