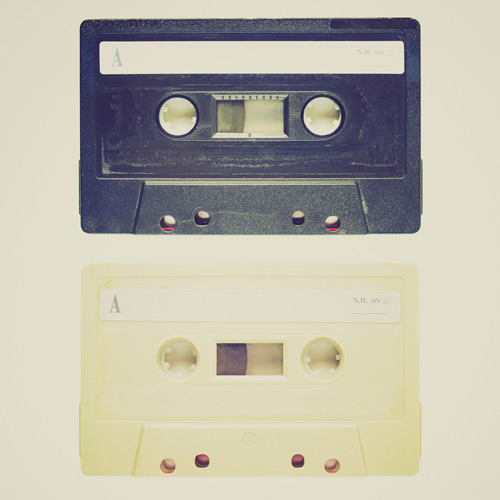 Recently, we asked Twitter and Facebook followers about their fave 80s movie soundtracks.
We got some great responses, because, after all, there were tons of bodacious soundtracks in the 80s. Here's a rundown of the most bitchin' movie scores of the 80s, with many thanks for all the tweets and Facebook votes that helped us compile it.
A FOUR-WAY TIE FOR SIXTH PLACE!
6: Valley Girl
1983's Valley Girl is about the blossoming romance between Julie, a girl from the San Fernando Valley of Los Angeles, and Randy, a punk from Hollywood. It's an 80s-style Romeo and Juliet story, bedazzled with a radical new wave score.
The Valley Girl soundtrack has the one song most likely to make 80s girls get all swoony and say, "Ohhhh, I love that song!" I'm referring to Modern English's I Melt with You, of course. LT80s had the extreme pleasure of both seeing Modern English in concert recently as well as sitting down with lead singer Robbie Grey for a chat.
Other highlights from the Valley Girl soundtrack include Josie Cotton's Johnny, Are You Queer?, Bonnie Hayes's Girls Like Me, the Plimsouls' A Million Miles Away, and the Payolas' Eyes of a Stranger.
Check out the movie trailer for rad soundtrack snippets as well as clips of a super-cute 80s Nicolas Cage as Randy:
6: St. Elmo's Fire
In 1985, we were treated to a contender for "the ultimate Brat Pack movie." This coming-of-age drama starred Emilio Estevez, Rob Lowe, Andrew McCarthy, Demi Moore, Judd Nelson, Ally Sheedy, and Mare Winningham. (It also featured Andie Macdowell, aka she-of-the-fabulously-curly-hair-I'll-always-covet.) The characters are fresh graduates from Georgetown and are working on finding their places in the world. Romantic entanglements ensue. (Like, duh!)
The soundtrack included the song Give Her a Little Drop More by jazz trumpeter John Chilton and Shake Down by Billy Squier. Love Theme from St. Elmo's Fire was a #15 Billboard hit. We also loved Just For a Moment (aka Love Theme from St. Elmo's Fire with lyrics), performed by Amy Holland and Donny Gerrard.
John Parr's St. Elmo's Fire (Man in Motion), however, was the #1 song from the movie that 80s kids everywhere know and love. If you loved this song, be sure to check our recent interview with John Parr.
6: Flashdance
1983's Flashdance was a natural choice for best soundtrack. The movie features music "videos" embedded in its dance-centric plot. Jennifer Beals portrayed Alex, a welder with dreams of being a professional dancer. Alex falls in love with her steel mill boss, saves her friend Jeanie from the sleazy Zanzibar club, eats lobster like a ravenous animal in a tuxedo bib (and not much else), and auditions for a coveted spot at the Conservatory.
Maniac, by Michael Sembello, was nominated for an Oscar. Other gems from the soundtrack include Lady, Lady, Lady, sung by Joe Esposito, Gloria and Imagination sung by Laura Branigan, and I'll Be Here Where the Heart Is, sung by Kim Carnes.
Flashdance… What a Feeling, performed by Irene Cara, deservedly won an Academy Award. It's impossible to not love this video: the fast-moving taped feet, the exuberant lyrics, and that spectacular dive across the floor!
6: Top Gun
Rounding out our sixth-ranked soundtracks is Top Gun. This 1986 drama starred Tom Cruise as Maverick, the reckless Navy pilot, and Anthony Edwards as Goose, Maverick's friend and RIO, or Radar Intercept Officer. (Like, whatever that is. I thought he was a navigator, but what do I know…)
Kelly McGillis played Charlie, Maverick's love interest and one of his instructors at Fighter Weapons School. Val Kilmer was the Iceman, a rival pilot despised by Maverick because he was able to chomp his teeth in an irritatingly threatening manner.
The Top Gun soundtrack is TOTALLY bitchin'. I don't even know how to pick a favorite here. I love Berlin's dreamy-hot Oscar-winning Take My Breath Away. Kenny Loggin's Playing with the Boys, also known as "beach volleyball song", was another huge hit. Great Balls of Fire by Jerry Lee Lewis and You've Lost that Lovin' Feeling by the Righteous Brothers are part of the fab soundtrack as well.
Danger Zone by Kenny Loggins hit #2 on the Billboard charts. Now there's a fabulous commercial for the Naval flight program, amirite? Interestingly, Bryan Adams and Toto were both in the running to perform this song for the movie, but Kenny won out.
5: Fast Times at Ridgemont High
Ah, yes, Fast Times. A little wiki-sleuthing reveals that Cameron Crowe went undercover at a high school in San Diego and then penned the script for Fast Times. So, one might gather that there's a grain or two of truth in the 1982 goofball teen comedy.
Fast Times starred Jennifer Jason Leigh as Stacy and Brian Backer as Mark, two San Fernando Valley high school kids with older friends (played by Phoebe Cates and Robert Romanus) that give plenty of questionable romantic advice. Throw in stoner Jeff Spicoli (Sean Penn), history teacher Mr. Hand (Ray Walston), and Stacy's brother Brad (Judge Reinhold) for a totally memorable cast.
Since it was a fun teenager movie, Fast Times at Ridgemont High had a totally radical soundtrack. Highlights from the soundtrack include Fast Times at Ridgemont High by Sammy Hagar, So Much in Love by Timothy B. Schmit, Speeding by the Go-Gos, and I Don't Know (Spicoli's Theme) by Jimmy Buffett.
The most enduring and lovable song from the movie, for me, is Jackson Browne's Somebody's Baby.
AND A THREE-WAY TIE FOR FOURTH PLACE!!!
4: Dirty Dancing
This rollicking, romantic, retro 1987 movie made us simultaneously swoon for Patrick Swayze (or Jennifer Grey, depending on your perspective) and yearn to dance old-school.
That soaring moment when Baby runs into Johnny's arms for the flying eagle pose! The rowdy, racy dance scenes! Those limber hips rolling all over the place! And, of course, Johnny's setting the record straight: "NOBODY puts Baby in a corner." Oh, Johnny.
Dirty Dancing was set in the 1960s at a summer family resort in New York state. Many of the songs were genuinely from the sixties, including Stay by Maurice Williams and the Zodiacs and Hey Baby by Bruce Channel. There are also a few timeless originals on the soundtrack, notably Hungry Eyes by Eric Carmen and She's Like the Wind by Patrick Swayze.
The climactic song of the movie, however, has got to be (I've Had) the Time of My Life by Bill Medley and Jennifer Warnes. Oh, Baby.
4: The Lost Boys
Before Twilight and True Blood bit into our national consciousness, we had plenty of hot modern vampire action in the 80s. 1987's The Lost Boys starred Jason Patric as the newbie vamp, Kiefer Sutherland as the undead gang leader, Jami Gertz as the object of affection, and the Coreys (Haim and Feldman) as comic relief. These eighties vampires weren't cape-wearing, operatic castle skulkers; they were motorcycle-riding, leather-jacket wearing badasses.
Just the clarify, the movie's tagline was "Sleep all day. Party all night. Never grow old. Never die. It's fun to be a vampire."
It follows then, that the soundtrack was similarly rockin'. INXS and Jimmy Barnes performed Good Times and Laying Down the Law, Roger Daltrey covered Don't Let the Sun Go Down on Me, and Echo and the Bunnymen provided a way-cool rendition of People are Strange. Lou Gramm's Lost in the Shadows (The Lost Boys) is mondo bitchin', too.
The soundtrack's signature song, Cry Little Sister (Theme from "The Lost Boys") performed by Gerard McMann, best sums up the movie's coolly sinister feel:
4: Pretty in Pink
As the first of two John Hughes movies on our soundtrack countdown, 1986's Pretty in Pink starred Brat Packers Molly Ringwald as Andie and Andrew McCarthy as Blane, along with Jon Cryer as lovable, kooky Duckie. Andie is a working class girl and Blane is a rich kid, but Cupid's arrow finds them both anyway. Blane's snobby friend Steff, played by James Spader, tries his best to derail the blossoming romance, but it's the Duck man who gets his heart broken in the end. Andie, hurt but standing tall after Blane pushes her away, creates her own Cinderella gown out of two vintage dresses and heads to the prom to confront her schoolmates and her future.
Check out this fascinating page of trivia about Pretty in Pink – I loved learning about all the stars who were considered for the roles. Jodie Foster or Justine Bateman as Andie? Robert Downey Jr. as Duckie?
But I digress – on to that bitchin' soundtrack! Pretty in Pink by the Psychedelic Furs is coolly fabulous and the video is full of great movie clips. INXS's Do Wot You Do, Echo and The Bunnymen's Bring on the Dancing Horses, The Smiths' Please, Please, Please Let Me Get What I Want and New Order's Shellshock also appear on the movie's score, but one hit song from the movie reached #4 on the U.S Billboard charts. If You Leave by Orchestral Manoeuvres in the Dark is bittersweet and beautiful:
3: Purple Rain
Prince was and is utterly fabulous. There are just no two ways about it. It follows that any and all of his creative projects, including Purple Rain, are awesome. Part of his allure was that he exuded this wild, mystical, super-sexed vibe 24/7. His band and backup singers seemed like this amazing entourage of similarly-styled cool kids who were all part of his fantasy musical party-family. I got the impression that all of Prince's days were spent in a fabulous alternate reality of wildly intense experiences with a crazy-cool cast of characters.
(Okay, I still have that impression. IS IT TRUE, PRINCE? And would you, like, take me with u…?)
Ahem.
1984's Purple Rain was filmed in Minneapolis and stars Prince ("The Kid" in a dysfunctional family) and Appolonia as lovers in a tumultuous romance. But plot, schmot, Purple Rain is all about the music. The movie score won both an Academy Award and a Grammy. We're talking mega-hits by Prince like When Doves Cry, Let's Go Crazy, Darling Nikki, and Take Me With U, as well as Morris Day & the Time's Jungle Love, which I find infectiously awesome in every way.
(psssst – guess which soundtrack got my vote…)
2. The Breakfast Club
John Hughes, director of teen mega-hits like Ferris Bueller's Day Off and Sixteen Candles, hit another one out of the park with 1985's The Breakfast Club. Like St. Elmo's Fire and Pretty in Pink, The Breakfast Club featured prominent members of the Brat Pack: Ally Sheedy, Emilio Estevez, Judd Nelson, Anthony Michael Hall, and Molly Ringwald.
The plot centered around a single day of high school detention for the five students, all of whom are from different social strata. They seem to have nothing in common at first. They confront stereotypes. They find common ground and even (gasp!) romance, all in a single day of punitive shared confinement.
We loved it, obviously. We could relate to all the characters – the princess, the rebel, the jock, the geek, and the basket case. The soundtrack included Fire in the Twilight by Wang Chung, Waiting by Elizabeth Daily, and We Are Not Alone by Karla DeVito, but there's one shining star from the movie score that 80s kids hold dear to our hearts. It's Simple Minds' Don't You (Forget About Me).
Drum roll please…
And the number one 80s movie soundtrack, according to a landslide vote by Like Totally 80s Facebook friends and Twitter followers, is none other than…
1. Footloose
Yeah, Baby. In 1984, we all wanted to cut footloose. Kevin Bacon starred as Ren McCormack, the teen who brought dancing back to the repressed town of Bomont. Uptight preacher John Lithgow had somehow convinced everyone that dancing led to all sorts of evil behavior, so it was banned in the town. Ren fights back against the ban, falls in love with the preacher's daughter (Ariel, played by Lori Singer), and succeeds in holding a senior prom for the dance-deprived teenagers.
The Footloose soundtrack glows with danceable, feel-good all-American hits like I'm Free by Kenny Loggins, Holding Out for a Hero by Bonny Tyler, Let's Hear It for the Boy by Deniece Williams, and Almost Paradise by Mike Reno of Loverboy and Ann Wilson of Heart. 1999's re-release on CD included four new songs, among them Hurts So Good by John Mellencamp and Waiting for a Girl Like You by Foreigner.
So, yeah, LT80's friends totally got this one right. The Footloose soundtrack is, indeed, completely awesome. (But, Prince? I still care about u. Call me.)
In the meantime, let's give credit where credit is due. Here's Kenny Loggins performing Footloose, a song nominated for both an Academy Award and a Golden Globe in 1985.