The 80s were all about glitter and shine; and what's shinier than gold? It makes perfect sense, then, that gold chains would be all the rage in the mid-80s. Perhaps Spandau Ballet said it best in their 1983 hit, Gold:
Gold
Always believe in your soul
You've got the power to know
You're indestructible
Always believe in, because you are
Gold
This particular fashion trend transcended gender, and guys were just as likely to sport a gold chain as girls. We all had one.
Let me start by explaining what "gold chain" meant in the 80s. The chain to have was a flat chain like this one. These chains varied in width, but were typically between an eighth and a quarter inch wide. We did not wear then long and drapey (that was reserved for your Add-a-Bead necklace). Instead, gold chains typically fell right at your clavicle/collar bone (see the examples below for a guide to the length). A little searching reveals that they are called herringbone chains, which makes sense given their design, although I certainly never knew that at the time.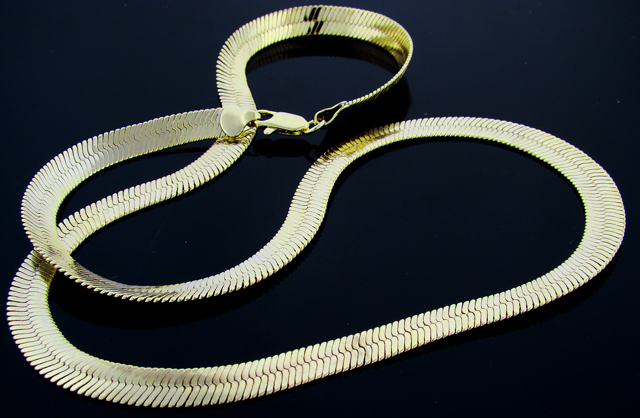 I got mine for my 14th birthday in the fall of 1986. Unfortunately, I can't find a good picture of me in it, which is strange since I wore it ALL THE TIME, at least for a while. Instead, I'll share the following pictures of the gold chain in action taken from various yearbooks.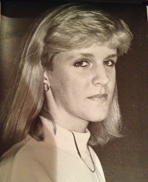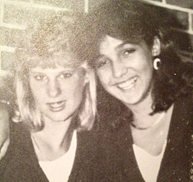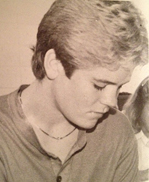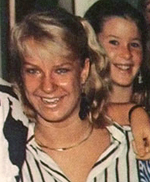 Note in the pictures above that the gal on the left has her gold chain on the outside of her turtleneck. The turtleneck-chain combo was a fashion standard and particularly favored by the guys in my high school, even as late as 1989.
There was a guy in my junior high that took the look to its outer limits by adding a big ole gold eagle to his. Paul, if you're out there reading this today, kudos to you for your fearlessness. That was a mighty bold statement. I just wish that I had photographic evidence so that we could all appreciate it awesomeness. I guess if I still remember the thing 27 years later, it served its purpose well.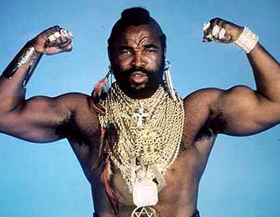 There were other incarnations of the 80s' obsession with gold chains. Run DMC, and Mr. T for that matter, certainly took the look to its extremes. Sir Mix-A-Lot sang about the importance of having gold in his 1988 song also entitled, strangely enough, Gold:
I'm sportin more gold than a rock n roll freak
Mix is my name bustin rhymes is my game
Don't disrespect me cause I kill then I take your chain
But, their look was a little too much for the everyday 80s teen, and most of us stuck to the more sedate, albeit still glittering look of the single chain.
Did you proudly wear a gold chain like this in the 80s? Do you have photographic evidence? Please email us pictures.