By Julie Anderson
The 1980s had some undeniably bitchin' fashions. Acid wash denim, parachute pants, neon everything, and stirrup pants come to mind easily, right? But, there's one 80s fashion trend trend that might seem a bit out-of-place amid all that glitz and those linebacker-padded shoulders – that is, unless you lived through it.
Overalls, dude.
Totally.
Overalls were casual and playful, sporty and relaxed. Perhaps not the most figure-flattering items in our closets, but remember – these were the days of big shirts and baggy sweater dresses. Clothing didn't have to hug our forms to be cool.
Unconvinced? We'll start easy. Then, as now, overalls were totally acceptable on kids. I love this adorable 1983 picture of little Jess and her cousin. Those embellished Osh Koshes and matching heart turtleneck would still totally fly today: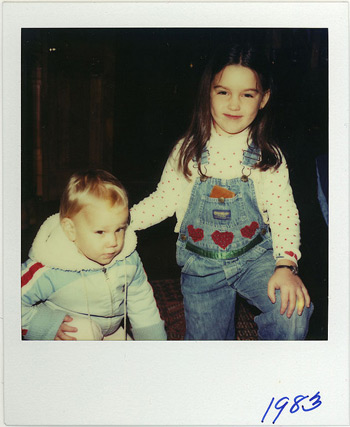 Photo credit: Jessica LeClair
Moving on, here's a vintage pic featuring not only stylin' Guess overalls, but black Wayfarers, pleated Bermuda shorts, and a Benetton rugby. 80s casual fashion, cranked up to ELEVEN: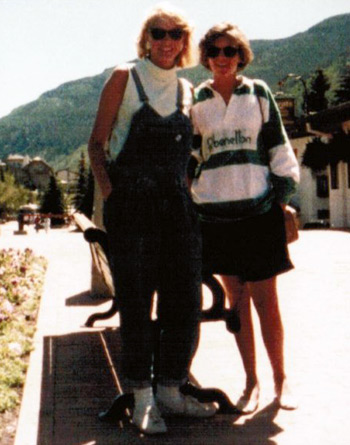 Photo credit: Like Totally 80s
But ladies still wore (and wear) overalls! This vintage Guess overall skirt is completely wearable today: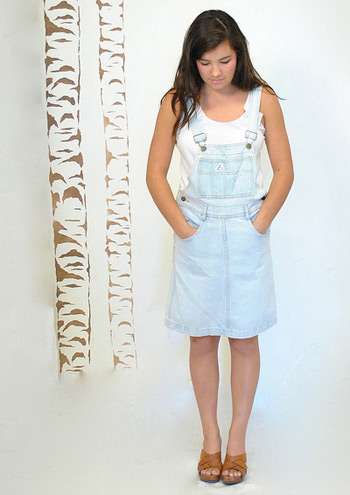 Photo credit: vintage urban renewal
With a bolder, brighter look, here's Jennifer and her friend Susie modeling some fab fashions from '85.
Kelly green overalls + loads of bracelets + heavy eye-makeup = RADICAL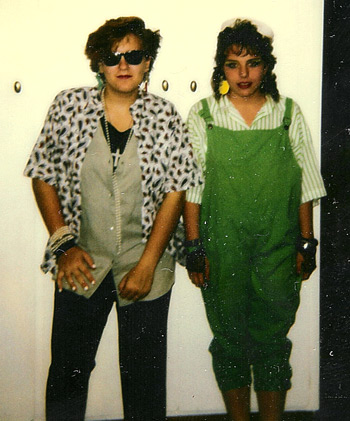 Photo credit: Zombie Normal
And look how beautiful Demi Moore was in the final scene of 1986's "About Last Night" in her baggy overalls:
Now, I know what you're thinking. You're thinking it's all well and good for girls to wear overalls, but teenage boys of the eighties wouldn't be caught dead in them.
Ohmygod, some dudes LOVED overalls!
Check out this dapper fellow. Now THAT'S how a guy wears overalls, people. I can't tell if those are black Reeboks or jazz shoes, but he's totally rocking the look. Note the popped collars on layered shirts: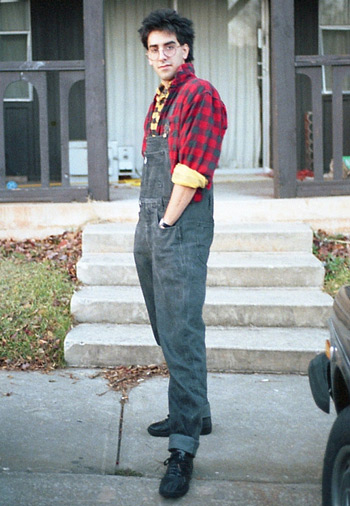 Photo credit: dugn
And who could forget Jon Knight of New Kids on the Block?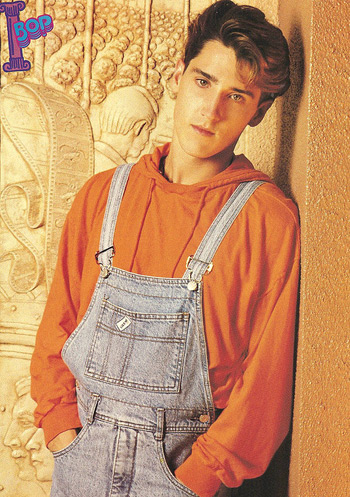 Photo credit: xnkotbx
Are you feeling the overalls love now? I totally am. As the icing on your overalls cake, may I present one of the catchiest songs ever, 1982's "Come on Eileen" by Dexys Midnight Runners? Be patient through the first images you see in the video, and you'll be rewarded with stylin' overalls and bouncy music that will put a bit ol' 80s smile on your face:
Want more overalls? Check out LOVELYiSH's article "Are Overalls Stylish? Plus: A Gallery Of Celebs Wearing The Trend."