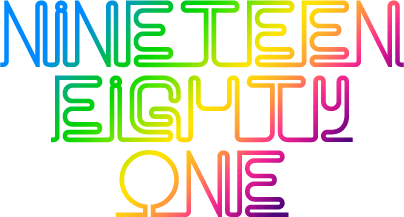 The glamour and excitement typified by the 80s really kicks into gear in 1981. Charles and Diana marry, MTV launches and IBM releases the original 5150 IBM PC. Music and technology are changing at a rapid pace. The American hostages in Iran are finally released after 14 months of captivity, the first heart-lung transplant is performed an the first female Supreme Court Justice is appointed. Amid so much progress and change, however, there were darker moments. The first recognized cases of AIDS appear and Pope John Paul II is shot.
In music and television, Luke and Laura tie the knot on General Hospital and "Jessie's Girl" and "Kiss on My List" dominate the airwaves. At the box office, Raiders of the Lost Ark, Chariots of Fire, Arthur, and On Golden Pond had us packing into the theaters. The 80s are now truly underway.
Jump directly to your area of interest using these links:
History & Politics  .  Music  .  Television  .  Movies  .  Sports  .  People Who Died  .  People Who Were Born
Back to 80s Time Capsules
---
History & Politics
United States and Iranian officials sign an agreement to release 52 American hostages after 14 months of captivity.
The first De Lorean DMC-12 automobile, a stainless steel sports car with gull-wing doors, rolls off the production line in Dunmurry, Northern Ireland.
A fire at the Las Vegas Hilton hotel-casino kills 8 and injures 198.
Rupert Murdoch buys The Times and The Sunday Times for £12 million.
After 19 years hosting the CBS Evening News, Walter Cronkite signs off for the last time.
Three workers are killed and 5 injured during a test of the Space Shuttle Columbia. However it went on to launch for two missions, STS-1 & STS-2.
U.S. President Ronald Reagan is shot in the chest outside a Washington, D.C. hotel by John Hinckley, Jr.. Two police officers and Press Secretary James Brady are also wounded.
The first combined heart-lung transplant in the world is performed at Stanford's Medical Center.
Pope John Paul II is shot and nearly killed by Mehmet Ali Ağca, a Turkish gunman, as he enters St. Peter's Square in Rome to address a general audience (2 days after Christmas in 1983, Pope John Paul goes to the prison to meet and forgive his would-be assassin).
The Centers for Disease Control and Prevention report that 5 homosexual men in Los Angeles, California have a rare form of pneumonia seen only in patients with weakened immune systems (the first recognized cases of AIDS).
Lady Diana Spencer marries Charles, Prince of Wales.
MTV (Music Television) is launched.
The Professional Air Traffic Controllers Organization (PATCO) goes on strike. Ronald Reagan fires 11,359 of those striking air-traffic controllers who ignored his order for them to return to work.
The original Model 5150 IBM PC with a 4.77 MHz Intel 8088 processor was released in the United States at a base price of $1,565.
U.S. President Ronald Reagan appoints the first female U.S. Supreme Court Justice, Sandra Day O'Connor.
Simon and Garfunkel perform The Concert in Central Park, a free concert in New York in front of approximately a half a million people.
Iran-Contra scandal: Ronald Reagan signs the top secret National Security Decision Directive 17 (NSDD-17), giving the Central Intelligence Agency the authority to recruit and support Contra rebels in Nicaragua.
The first American test-tube baby, Elizabeth Jordan Carr, is born in Norfolk, Virginia.
A jury of architects and sculptors unanimously selects Maya Lin's design for the Vietnam Veterans Memorial from 1,421 other entries.
France abolishes capital punishment.
Back to Top  .  Back to 80s Capsules
---
Music
Betty Davis Eyes – Kim Carnes
Endless Love – Diana Ross / Lionel Richie
Lady – Kenny Rogers
(Just Like) Starting Over – John Lennon
One That You Love – Air Supply
9 to 5 – Dolly Parton
Queen of Hearts – Juice Newton
Kiss on My List – Hall & Oates
Being With You – Smokey Robinson
Celebration – Kool & the Gang
Back to Top  .  Back to 80s Capsules
---
Television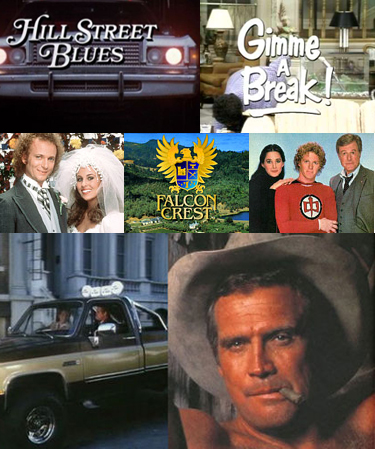 The Fall Guy
Starring: Lee Majors, Douglas Barr, & Heather Thomas
Colt Seavers is a stuntman, who when he is in a financial crunch, works as a bounty hunter. He is aided by his cousin Howie, who has gone to practically every college and studied every course for a semester, and his protégé Jody.
The Greatest American Hero
Starring: William Katt & Robert Culp
Ralph Hinkley was minding his own business, a teacher on a field trip with his high school students, when the bus he's driving mysteriously drives itself out into the desert. A startled Ralph is soon visited by aliens, who had decided to endow him with superhuman powers to fight the battle against injustice and crime. To this end, they gave him a special suit and an instruction manual. Unfortunately, Ralph managed to lose the instruction manual, and the aliens have a nasty habit of never being around when you need them.
Hill Street Blues
Story of an overworked, under-staffed police precinct in an anonymous inner city patterned after Chicago. We follow the lives of many characters, from the lowly beat and traffic cops to the captain of the precinct himself.
Falcon Crest
Starring: Jane Wyman, Margaret Ladd, Susan Sullivan, Robert Foxworth, William R. Moses, Lorenzo Lamas, Abby Dalton, & Chao Li Chi
Set in the vineyards of California, this prime-time soap opera featured the conflict between two families: the Channings, headed by ruthless family matriarch Angela Channing, and the Giobertis, led by Chase and Maggie Gioberti.
General Hospital
Luke and Laura get married; the soap-opera is the highest-rated hour in daytime television history.
Back to Top  .  Back to 80s Capsules
---
Movies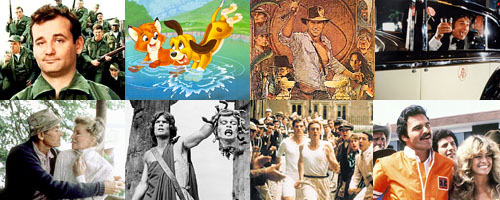 Raiders of the Lost Ark
Starring: Harrison Ford & Karen Allen
Renowned archeologist and expert in the occult, Dr. Indiana Jones, is hired by the U.S. Government to find the Ark of the Covenant, which is believed to still hold the ten commandments. Unfortunately, agents of Hitler are also after the Ark. Indy, and his ex-flame Marion, escape from various close scrapes in a quest that takes them from Nepal to Cairo.
On Golden Pond
Starring: Katharine Hepburn, Henry Fonda, & Jane Fonda
The loons are back again on Golden Pond and so are Norman Thayer, a retired professor, and Ethel who have had a summer cottage there since early in their marriage. This summer their daughter Chelsea — whom they haven't seen for years — feels she must be there for Norman's birthday. Chelsea and her fiance are on their way to Europe the next day but will be back in a couple of weeks to pick up the fiance's son. When she returns Chelsea is married and her stepson has the relationship with her father that she always wanted. Will father and daughter be able to communicate at last?
Superman II
Starring: Christopher Reeve
Superman agrees to sacrifice his powers to marry Lois, unaware that three Kryptonian criminals he inadvertently released are conquering Earth.
Arthur
Starring: Dudley Moore
Arthur is a happy drunk with no pretensions at any ambition. He is also the heir to a vast fortune which he is told will only be his if he marries Susan.
Airplane!
Starring: Kareem Abdul-Jabbar, Lloyd Bridges, Peter Graves, Julie Hagerty, Robert Hays, Leslie Nielsen
Ex-Navy pilot Ted Striker has been nervous about flying ever since THAT incident during the war. He's on a flight which would cause anyone concern: he seems to be the only sane person aboard. Of course, everything that could possibly go wrong on this flight will go wrong… what do you expect with a co-pilot who doesn't realize he's a basketball star, and an air traffic controller with a substance abuse.
Stripes
Starring: Bill Murray, Harold Ramis
Two friends who are dissatisfied with their jobs decide to join the army for a bit of fun.
The Cannonball Run
Starring: Burt Reynolds, Roger Moore, Farrah Fawcett, Dom DeLuise, Dean Martin, Sammy Davis Jr., Jack Elam
A wide variety of eccentric competitors participate in a wild and illegal cross-country car race.
For Your Eyes Only
Starring: Roger Moore & Carole Bouquet
Agent 007 is assigned to hunt for a lost British encryption device and prevent it from falling into enemy hands.
Chariots of Fire
The story of two British track athletes, one a determined Jew, and the other a devout Christian who compete in the 1924 Olympics.
Time Bandits
A young boy accidently joins a band of dwarves as they jump from time-period to time-period looking for treasure to steal.
Clash of the Titans
Starring: Laurence Olivier, Harry Hamlin
A film adaptation of the myth of Perseus and his quest to battle both Medusa and the Kraken monster to save the Princess Andromeda.
Absence of Malice
Starring: Paul Newman, Sally Field
Michael Colin Gallagher, the son of a long dead Mafia boss, is a simple liquor warehouse owner. Frustrated in his attempt to solve a murder of a union head, a prosecutor leaks a false story to reporter Megan Carter that Michael is a target of the investigation, hoping that this will provoke Michael to tell them something for protection. As his life begins to unravel, others are hurt by the story. Knowing nothing to trade to the prosecutors, Michael must regain control of his life on different ground.
Reds
Starring: Warren Beatty & Diane Keaton
A radical American journalist becomes involved with the Communist revolution in Russia and hopes to bring its spirit and idealism to the United States. A Love Story told inside period politics at the height of the Russian Revolution.
The Fox and the Hound
Two friends, Tod the fox & Copper the hunting dog, that didn't know they were supposed to be enemies.
Taps
Starring: Timothy Hutton, Sean Penn & Tom Cruise
Military cadets take extreme measures to insure the future of their academy when its existence is threatened by local condo developers.
Excalibur
The myth of King Arthur brought once again to the screen.
Back to Top  .  Back to 80s Capsules
---
Sports
Indianapolis 500: Bobby Unser wins for a third time for both he as a driver and Roger Penske as a car owner, but the race sanctioning-body USAC temporarily strips him of victory over an accusation of illegally passing other cars under a caution period (see racing flags). After the team's appeal, Unser's win is reinstated on October 8.
Major League Baseball goes on strike, forcing the cancellation of 38 percent of the schedule, but play resumes with the All-Star Game in Cleveland's Municipal Stadium.
A Minor League baseball game between the Rochester Red Wings and the Pawtucket Red Sox at McCoy Stadium in Pawtucket, Rhode Island, becomes the longest professional baseball game in history: 8 hours and 25 minutes/33 innings.
The Philadelphia Eagles were defeated by the Oakland Raiders, 27–10. The Raiders became the first wild card playoff team to win a Super Bowl.
New York Islanders win the Stanley Cup.
Pleasant Colony wins the Kentucky Derby with a time of 2:02.00.
John McEnroe defeats Björn Borg to win Men's Singles & Chris Evert Lloyd defeats Hana Mandlikova to win Lady's Singles at Wimbledon.
John McEnroe defeats Björn Borg to win Men's Singles & Tracy Austin defeats Martina Navrátilová to win Women's Singles at the US Open.
Bernard Hinault (France) wins the Tour de France.
Darrell Waltrip #11 won the NEXTEL Cup (formerly Winston Cup).
Back to Top  .  Back to 80s Capsules
---
People Who Died
Bill Haley (b. 1925) – One of the 1st American rock & roll musicians – His group Bill Haley & His Comets had the hit song "Rock Around the Clock."
Joe Louis (b. 1914) – Heavyweight boxer – nicknamed "The Brown Bomber"
Bob Marley (b. 1945) – Jamaican singer / musician – "I Shot the Sheriff," "No Woman, No Cry," "Jammin," & "Redemption Song"
Jenny Maxwell (b. 1941) – Actress – played Ellie Corbett alongside Elvis in Blue Hawaii
William Wyler (b. 1902) – Movie Director – Mrs. Miniver, The Best Years of Our Lives, Ben-Hur, Wuthering Heights, The Little Foxes, The Heiress, Roman Holiday
Vera-Ellen (b. 1921) – Actress / Dancer – Known for her dance partnerships w/ Fred Astaire, Gene Kelly & Donald O'Connor – Appeared in White Christmas
William Holden (b. 1918) – Actor – Golden Boy, Streets of Laredo, Sabrina, Love is a Many-Splendored Thing, The Bridge on the River Kwai, Casino Royale, The Towering
Inferno, S.O.B.
Jack Albertson (b. 1907) – Actor – as Grandpa Joe in Willy Wonka & the Chocolate Factory, Ed Brown in Chico & the Man, John Cleary in The Subject Was Roses, Manny Rosen in The Poseidon Adventure, Vic Davis in Top Banana, & Dr. J. Wilson Shields in Man of a Thousand Faces
Natalie Wood (b. 1938) – Actress – as Susan Walker in Miracle on 34th Street, Anna Muir as a child in The Ghost and Mrs. Muir, Judy in Rebel Without a Cause, Maria in West Side Story, Gypsy Rose Lee in Gypsy, & Maggie DuBois in The Great Race
Hoagy Carmichael (b. 1899) – Composer / Actor – Wrote melody to "Stardust" & collaborated with Johnny Mercer on "Lazybones," "Skylark," & "In the Cool, Cool, Coll of the Evening" and acted in To Have and Have Not, Young Man with a Horn, & The Best Years of Our Lives.
Hans Adolf Krebs (b. 1900) – German physician/biochemst who won a Nobel Prize for identifying 2 metabolic cycles: the urea cycle & the citric acid cycle aka the Krebs cycle.
Back to Top  .  Back to 80s Capsules
---
People Who Were Born
Elijah Wood – Actor – as Frodo in The Lord of the Rings Trilogy, The Good Son, The Adventures of Huck Finn, The Ice Storm, The Faculty, Eternal Sunshine of the Spotless Mind, Sin City, & voice of Mumble in Happy Feet
Jonny Lang – Blues guitarist / Singer
Justin Timberlake – Singer / Actor – Solo artist, member of boy band 'N Sync, as himself on The New Mickey Mouse Club, Frankie Ballenbacher in Alpha Dog, & voice of King Arthur in Shrek the Third
Kelly Rowland – Singer – solo artist & member of Destiny's Child
Paris Hilton – Heiress / Socialite / Singer
Josh Groban – Singer
Bryce Howard – Actress – as Ivy Walker in The Village, Story in Lady in the Water, & Gwen Stacy in Spider-Man 3; Also the daughter of Ron Howard.
Julia Stiles – Actress – as Kat Stratford in 10 Things I Hate About You, Sara Johnson in Save the Last Dance, Desi Brable in O, Becky Jackon in A Guy Thing, Paige Morgan in The Prince and Me, & Nicky in the series of Bourne (Identity) movies
Bethany Joy (Lenz) Galeotti – Actress / Singer – as Haley James Scott aka "Tudor girl" on One Tree Hill
Gretchen Bleiler – American snowboarder – Won Silver at the 2006 Winter Olympics in the women's halfpipe
Michael Pitt – Actor – Murder by Numbers, The Dreamers, Silk
Hayden Christensen – Actor – as Anakin Skywalker aka Darth Vader in Star Wars Episodes I-III
Jessica Alba – Actress – as Max on Dark Angel, Sue Storm in Fantastic Four, Nancy Callahan in Sin City, & Sam in Into the Blue
Jamie-Lynn Sigler – Actress – as Meadow Soprano on The Sopranos
Natalie Portman – Actress – as Mathilda in The Professional, Padme/Queen Amadalia in Star Wars: Episodes I-III, Samantha in Garden State, & Evey Hammon in V for Vendetta
Chris Evans – Actor – as Johnny Storm in Fantastic Four, Ryan in Cellular & Steve Rogers/Captain America in the Captain America & Avengers films
Summer Glau – Actress – as River Tam on Firefly/Serenity, Tess Doerner on The 4400, Crystal Burns on The Unit, & Cameron Phillips on Terminator: The Sarah Connor Chronicles
Chad Michael Murray – Actor – as Lucas Scott on One Tree Hill, Nick Jones in House of Wax, & Austin Ames in A Cinderella Story
Rachel Bilson – Actress – as Summer Roberts on The O.C.
Beyonce Knowles – Singer / Actress – Solo artist, member of Destiny's Child, Foxxy Cleopatra in Austin Powers in Goldmember, & Deena Jones in Dreamgirls
Jonathan Taylor Thomas – Actor – as Randy Taylor the middle child on Home Improvement & the voice of young Simba in The Lion King
Jennifer Hudson – Singer / Actress – finalist on 3rd season of American Idol & as Effie White in Dreamgirls
Alexis Bledel – Actress – as Rory Gilmore on The Gilmore Girls, Winifred 'Winnie' Foster in Tuck Everlasting, Becky in Sin City, & Lena in The Sisterhood of the Traveling Pants
Nicole Richie – Socialite / Actress / Singer / Daughter of Lionell Richie
Serena Williams – American Tennis player
Zachery Ty Bryan – Actor – as Brad Taylor the eldest son on Home Improvement
Akon – Hip Hop / R&B / Reggae singer
Michael Fishman – Actor – as D.J. Conner on Roseanne
Ivanka Trump – Model / Businesswoman / Daughter of Donald & Ivana Trump
Britney Spears – Singer (". . . Baby One More Time," "Oops! . . . I Did It Again," & "Toxic") & member of The New Mickey Mouse Club
Amy Lee – Lead singer for Evanescence
Emilie de Ravin – Actress – as Claire Littleton on LOST, Tess Harding on Roswell, & The Demon Curupira on BeastMaster
Sienna Miller – Actress – as Nikki in the remake of Alfie & Francesca Bruni in Casanova