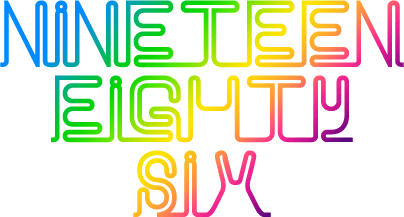 Timbuk 3 said it best in one of the year's top songs, "The future's so bright, I gotta wear shades." 1986 was marked by both advances and setbacks. Technology advances helped the Soviet Union launch the Mir Space Station and had the UK and France building the Chunnel. Sadly, it also saw the Space Shuttle Challenger disaster and the explosion of one of the nuclear reactors at Chernobyl. We saw Fergie get married to the Duke of York and 5 million people join hands in Hands Across America. Robert Palmer had us "Addicted to Love" and Kenny Loggins took us to the "Danger Zone." Ferris Bueller took a day off while the Chicago Bears won Super Bowl XX. 1986 saw the birth of Lindsay Lohan and the Olsen twins and the deaths of Donna Reed and Cary Grant.
Learn all about the year that celebrated the first MLK Day and take Mr. Ocean's advice, "When the Going Gets Tough, The Tough Get Going."
Jump directly to your area of interest using these links:
History & Politics  .  Music  .  Television  .  Movies  .  Sports  .  People Who Died  .  People Who Were Born
Back to 80s Time Capsules
---
History & Politics
The first Hispanic-American astronaut, Dr. Franklin Chang-Diaz, goes into space.
The first PC virus, Brain, starts to spread.
The United Kingdom and France announce plans to construct the Channel Tunnel or "Chunnel."
The first federal Martin Luther King Day, honoring Martin Luther King Jr., is observed on Jan 20.
Space Shuttle Challenger disintegrates 73 seconds after launch, killing the crew of 7 astronauts including schoolteacher Christa McAuliffe.
Comet Halley reaches its perihelion, the closest point to the Sun, during its second visit to the solar system in the 20th Century.
The Soviet Union launches the Mir space station.
An article in the New York Times charges that Kurt Waldheim, former United Nations Secretary General and candidate for president of Austria, may have been involved in Nazi war crimes during World War II.
Hailstones weighing 2.2 lb (880 g) fall on the Gopalganj district of Bangladesh, killing 92.
A treaty ends the Three Hundred and Thirty Five Years' War between the Netherlands and the Isles of Sicily.
Geraldo Rivera opens Al Capone's secret vault on The Mystery of Al Capone's Vault, discovering only a bottle of moonshine.
In Ukraine, one of the reactors at the Chernobyl nuclear plant explodes, creating the world's worst nuclear disaster. 31 are killed directly by the incident, many more die from cancer in later years, many thousands more are exposed to significant amounts of radioactive material, and vast territories in Ukraine and Belarus are rendered uninhabitable.
Hands Across America: At least 5,000,000 people form a human chain from New York City to Long Beach, California, to raise money to fight hunger and homelessness.
Jonathan Pollard pleads guilty to espionage for selling top secret United States military intelligence to Israel.
The Statue of Liberty is reopened to the public after an extensive refurbishing, just in time for its centennial dedication.
In London, Prince Andrew, Duke of York marries Sarah Ferguson at Westminster Abbey.
In Edmond, Oklahoma, United States Postal Service employee Patrick Sherrill guns down 14 of his co-workers before committing suicide.
Desmond Tutu becomes the first black Anglican Church bishop in South Africa.
U.S. President Ronald Reagan signs the Goldwater-Nichols Act into law, making official the largest reorganization of the United States Department of Defense since the Air Force was made a separate branch of service in 1947.
Fox Broadcasting Company is launched.
Iran-Contra Affair:

The Lebanese magazine Ash-Shiraa reports that the United States has been selling weapons to Iran in secret in order to secure the release of 7 American hostages held by pro-Iranian groups in Lebanon.
National Security Council member Oliver North and his secretary start shredding documents implicating them in selling weapons to Iran and channeling the proceeds to help fund the Contra rebels in Nicaragua.
U.S. President Ronald Reagan announces that as of December 1 former Senator John Tower, former Secretary of State Edmund Muskie, and former National Security Adviser Brent Scowcroft will serve as members of the Special Review Board looking into the scandal (they became known as the Tower Commission). Reagan denies involvement in the scandal.

Democrats regain control of the United States Senate for the first time in 6 years.
Back to Top  .  Back to 80s Capsules
---
Music
That's What Friends Are For – Dionne Warwick & Friends
Say You, Say Me (Title Song from "White Nights") – Lionel Richie
I Miss You – Klymaxx
On My Own – Patti LaBelle / Michael McDonald
Broken Wings – Mr. Mister
Addicted to Love – Robert Palmer
Danger Zone – Kenny Loggins
Take Me Home Tonight/Be My Baby – Eddie Money
Stuck With You – Huey Lewis & the News
Sara – Starship
When the Going Gets Tough, The Tough Get Going – Billy Ocean
Burning Heart – Survivor
Kyrie – Mr. Mister
Heartbeat – Don Johnson
The Future's So Bright (I Gotta Wear Shades) – Timbuk 3
Back to Top  .  Back to 80s Capsules
---
Television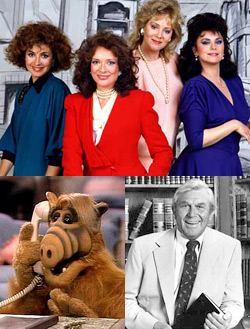 ALF
Starring: Max Wright, Anne Schedeen, Andrea Elson, Benji Gregory, & Paul Fusco as the voice of ALF
The Tanners are an average American family. One day, they discover that they have a visitor. He's small, he's furry, he's arrogant, and he's an alien from the planet Melmac. Unsure what to do, they name him ALF: Alien Life Form. Alf soon decides that as much as he misses his home planet, there's a lot to be said for Earth. After all, the Tanners are willing to concede anything as long as he doesn't announce his presence. Oh yeah, the Tanners also have a cat, which looks rather tasty.
Matlock
Starring: Andy Griffith
Criminal defense attorney Ben Matlock seeks to prove the innocence of his client as he takes on his/her case, of which most involve murders.
Designing Women
Starring: Dixie Carter, Delta Burke, Annie Potts, Jean Smart, & Meshach Taylor
Outspoken feminist Julia Sugarbaker runs a design firm out of her Atlanta home, along with her shallow ex-beauty queen sister, Suzanne, divorced mother Mary Jo, and naive country girl Charlene. Black ex-con Anthony helps deliver furniture for the business and voices his unique opinion on whatever the women are discussing.
Back to Top  .  Back to 80s Capsules
---
Movies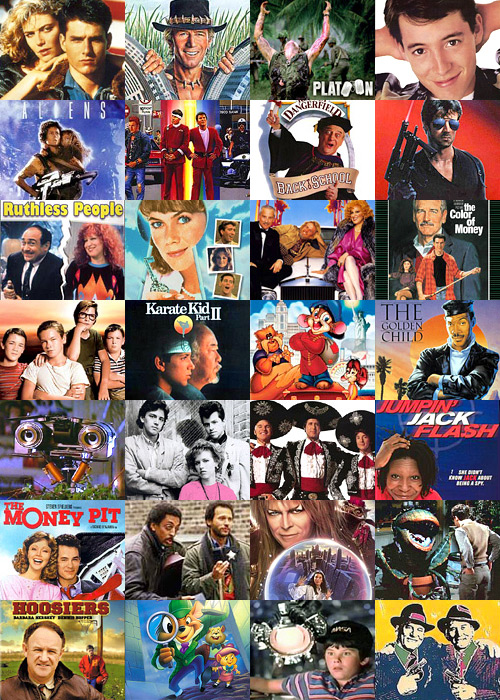 Top Gun
Starring: Tom Cruise, Kelly McGillis, Val Kilmer, Anthony Edwards, & Tom Skerritt
The macho students of an elite US Flying school for advanced fighter pilots compete to be best in the class, and one romances the teacher.
Crocodile Dundee
Starring: Paul Hogan & Linda Kozlowski
An American reporter goes to the Australian outback to meet an eccentric crocodile poacher and invites him to New York City.
Platoon
Starring: Tom Berenger, Willem Dafoe, Charlie Sheen, & Forest Whitaker
A young recruit in Vietnam faces a moral crisis when confronted with the horrors of war and the duality of man.
The Karate Kid Part II
Starring: Ralph Macchio & Pat Morita
Daniel accompanies his mentor to Okinawa who is off to see his dying father and confront his old rival, while Daniel inadvertently makes an enemy of his own.
Star Trek IV: The Voyage Home
Starring: William Shatner, Leonard Nimoy, DeForest Kelley, James Doohan, Walter Koenig, George Takei, & Nichelle Nichols
To save Earth from an alien probe, Kirk and his crew go back in time to retrieve the only beings who can communicate with it, humpback whales.
Back to School
Starring: Rodney Dangerfield
To help his discouraged son get through college, a fun loving and obnoxious rich businessman decides to enter the school as a student himself.
Aliens
Starring: Sigourney Weaver
The only survivor of the Nostromo, Ripley is discovered in deep sleep half a century later by a salvage ship. When she is taken back to Earth, she learns that a human colony was founded on the same planet where the aliens were first found. After contact with the colony is lost, she finds herself sent back to the planet along with a team of warriors bent on destroying the alien menace forever, and saving any survivors — if any remain.
The Golden Child
Starring: Eddie Murphy
A private detective specializing in missing children is charged with the task of finding a special child that dark forces want to eliminate.
Ruthless People
Starring: Danny DeVito, Bette Midler, Judge Reinhold, & Helen Slater
A couple, cheated by a vile businessman, kidnap his wife in retaliation, without knowing that their enemy is delighted they did.
Ferris Bueller's Day Off
Starring: Matthew Broderick, Alan Ruck, Mia Sara, Jeffrey Jones, & Jennifer Grey
A high school wise guy is determined to have a day off from school, despite of what the principal thinks of that.
Down and Out in Beverly Hills
Starring: Nick Nolte, Bette Midler, & Richard Dreyfuss
See what happens when a dirty bum meets the filthy rich.
The Color of Money
Starring: Paul Newman & Tom Cruise
A former pool player returns to the game and takes on a young protégé.
Stand by Me
Starring: Wil Wheaton, River Phoenix, Corey Feldman & Jerry O'Connell
After the death of a friend, a writer recounts a boyhood journey to find a body of a missing boy.
Cobra
Starring: Sylvester Stallone & Brigitte Nielsen
City cop is on the trail of a serial killer.
An American Tail
While emigrating to the United States, a young Russian mouse gets separated from his family and must relocate them while trying to survive in a new country.
Peggy Sue Got Married
Starring: Kathleen Turner & Nicolas Cage
Peggy Sue faints at a High school reunion. When she wakes up she finds herself in her own past, just before she finished school.
Short Circuit
Starring: Ally Sheedy, Steve Guttenberg, & Fisher Stevens
Number 5, one of a group of experimental military robots, undergoes a sudden transformation after being struck by lightning. He develops self-awareness, consciousness, and a fear of the reprogramming that awaits him back at the factory. With the help of a young woman, Number 5 tries to evade capture and convince his creator that he has truly become alive.
Pretty in Pink
Starring: Molly Ringwald, Jon Cryer, Andrew McCarthy, James Spader, & Annie Potts
Young Andie is one of the not-so-popular girls in high school. She usually hangs out with her friends Iona or Duckie. Duckie has always had a crush on her, but now she has met a new guy from school, Blane. He's one of the rich and popular guys but can the two worlds meet?
Three Amigos
Starring: Chevy Chase, Steve Martin, & Martin Short
Three unemployed actors accept an invitation to a Mexican village to replay their bandit fighter roles, unaware that it is real thing.
Little Shop of Horrors
Starring: Rick Moranis
A nerdish florist finds his chance for success and romance with the help of a giant man-eating plant who demands to be fed.
The Money Pit
Starring: Tom Hanks & Shelley Long
A young couple struggles to repair a hopelessly dilapidated house.
Running Scared
Starring: Billy Crystal & Gregory Hines
They've got 30 days to clean up Chicago before they retire to Paradise . . . Losing their police car, their suspect and having their cover blown is a real bad start.
Labyrinth
Starring: David Bowie & Jennifer Connelly
Fifteen-year-old Sarah is left home alone to baby sit her little 1/2 brother Toby. But the baby keeps crying and Sarah, while telling him the story of her favorite book, the Labyrinth, to make him sleep, inadvertently conjures from a fantasy world the Goblin King who steals the child and brings him to his castle in the middle of a labyrinth. Sarah has to rescue him before midnight, or the baby will became a goblin.
Jumpin' Jack Flash
Starring: Whoopie Goldberg
Terry works for a bank, and uses computers to communicate with clients all over the world. One day she gets a strange message from an unknown source. The message is coded. After decoding the message, Terry becomes embroiled in an espionage ring. People are killed, and Terry is chased. Throughout she remains in contact with this unknown person, who needs Terry to help save his life.
Hoosiers
Starring: Gene Hackman, Barbara Hershey, & Dennins Hopper
A coach with a checkered past and a local drunk train a small town high school basketball team to become a top contender for the championship.
The Great Mouse Detective
Basil, the rodent Sherlock Holmes, investigates the kidnapping of a toy-maker and uncovers its link to his archenemy, Professor Ratigan.
Tough Guys
Starring: Burt Lancaster & Kirk Douglas
Two elderly gangsters are released from prison only to find they have trouble fitting in as old men who still take no guff from anyone.
A Room with a View
Starring: Maggie Smith, Helena Bonham Carter, Denholm Elliott, & Julian Sands
When Lucy Honeychurch and chaperone Charlotte Bartlett find themselves in Florence with rooms without views, fellow guests Mr. Emerson and son George step in to remedy the situation. Meeting the Emersons could change Lucy's life forever but, once back in England, how will her experiences in Tuscany affect her marriage plans?
Flight of the Navigator
Starring: Joey Cramer, Sarah Jessica Parker & Paul Reubens as the voice of Max
In 1978, a boy is moved 8 years into the future (1986) and has an adventure with the alien ship.
Back to Top  .  Back to 80s Capsules
---
Sports
The Chicago Bears win Super Bowl XX.
Irish race mare Dawn Run wins the Cheltenham Gold Cup at Cheltenham, England, becoming the first racehorse to complete the Champion Hurdle, Cheltenham Gold Cup double.
Greg LeMond (United States) wins the Tour de France.
The New York Mets win the Major League Baseball World Series, beating the Boston Red Sox in 7 games.
Mike Tyson wins his first world boxing title by defeating Trevor Berbick in Las Vegas.
Montreal Canadiens win the Stanley Cup.
Ferdinand wins the Kentucky Derby with a time of 2:02.80.
Bobby Rahal (for Truesports) wins the Indy 500.
Boris Becker defeats Ivan Lendl to win Men's Singles & Martina Navratilova defeats Hana Mandlikova to win Lady's Singles at Wimbledon.
Ivan Lendl defeats Miloslav Mečíř to win Men's Singles & Martina Navrátilová defeats Helena Suková to win Women's Singles at the US Open.
Argentina beats West Germany 3-2 to win the FIFA World Cup.
Dale Earnhardt #2 won the NEXTEL Cup (formerly Winston Cup).
Back to Top  .  Back to 80s Capsules
---
People Who Died
Donna Reed (b. 1921) – Actress – as Donna Stone on The Donna Reed Show & Mary Bailey in It's a Wonderful Life
Phil Lynott (b. 1949) – Lead singer & bassist of Thin Lizzy
L. Ron Hubbard (b. 1911) – Writer & founder of Scientology
Gordon MacRae (b. 1921) – Actor / Singer – The Desert Song, Oklahoma!, Carousel
Crew of the Space Shuttle Challenger:

Greg Jarvis (b. 1944)
Sharon Christa McAuliffe (b. 1948)
Ronald McNair (b. 1950)
Ellison Onizuka (b. 1946)
Judith Resnik (b. 1949)
Francis R. Scobee (b. 1939)
Michael J. Smith (b. 1945)

Frank Herbert (b. 1920) – Author – best known for Dune and its 5 sequels
Richard Manuel (b. 1943) – Musician – Singer, pianist & drummer for The Band
Georgia O'Keefe (b. 1887) – Artist – known for paintings in which she synthesizes abstraction and representation in paintings of flowers, rocks, shells, animal bones and landscapes.
James Cagney (b. 1899) – Actor – Yankee Doodle Dandy, The Public Enemy, White Heat, Mister Roberts, & Seven Little Foys
Harold Arlen (b. 1905) – Composer – wrote "Over the Rainbow," "I've Got the World on a String," "Let's Fall in Love," & "Stormy Weather"
Otto Preminger (b. 1906) – Film director – Laura, The Cardinal, & Anatomy of a Murder
Broderick Crawford (b. 1911) – Actor – All the King's Men, Born Yesterday, & as "Chief" Dan Matthews on the TV police drama Highway Patrol
Robert Alda (b. 1914) – Film & Broadway actor – Guys and Dolls (theater), The Girl Who Knew Too Much; also the father of Alan Alda
Sterling Hayden (b. 1916) – Dr. Strangelove or: How I Learned to Stop Worrying and Love the Bomb, The Killing, The Godfather, The Asphalt Jungle
Benny Goodman (b. 1909) – Jazz musician & big band leader known as "King of Swing" & "Patriarch of the Clarinet"
Cary Grant (b. 1904) – Actor – Bringing Up Baby, His Girl Friday, The Philadelphia, Penny Serenade, To Catch a Thief, Holiday, & North by Northwest
Vincente Minnelli (b. 1903) – Film director – An American in Paris, Brigadoon, Kismet, Gigi, Madame Bovary, Father of the Bride, & Designing Woman
Hank Greenberg (b. 1911) – Professional baseball player who played for the Detroit Tigers & the Pittsburgh Pirates
Cliff Burton (b. 1962) – Musician – Bassist for Metallica
Keenan Wynn (b. 1916) – Actor – Kiss Me, Kate; The Man in the gray Flannel Suit; Dr. Strangelove, as Alonzo P. Hawk in the Flubber movies (The Absent-Minded Professor & Son of Flubber); Herbie Rides Again; The Shaggy D.A.; Finian's Rainbow; Piranha; Orca; & was a regular on Dallas as Digger Barnes
Forrest Tucker (b. 1919) – Actor – The Yearling, Sands of Iwo Jima, Rock Island Trail, The Abominable Snowman, & Thunder Run
Gia Carangi (b. 1960) – Supermodel
Scatman Crothers (b. 1910) – Musician, Singer, Actor & Dancer
Kate Smith (b. 1907) – Singer – best known for her rendition of "God Bless America."
Paul Frees (b. 1920) – Voice actor – Disney's Professor Ludwig von Drake, the Pillsbury Doughboy, the 7-Up bird Fresh-Up Freddie, Froot Loops bird Toucan Sam, the Jolly Green Giant, several Tolkien characters (like the dwarf Bombur) in the animated versions of The Hobbit and The Return of the King, and Kin Haggard's wizard Mabruk in The Last Unicorn.
Ray Milland (b. 1907) – Actor – The Lost Weekend, Close to my Heart, Daughter of The Mind, Love Story
Lilli Palmer (b. 1914) – Actress – Cloak and Dagger, Body and Soul, The Fourposter
Henry Moore (b. 1898) – Sculptor
Back to Top  .  Back to 80s Capsules
---
People Who Were Born
Mischa Barton – Actress – as Marissa cooper on The O.C.
Lauren "L.C." Conrad – Reality TV star on MTV's Laguna Beach: The Real Orange County & The Hills
Charlotte Church – Classical & Pop Singer
Justin Berfield – Actor – as Reese Wilkerson on Malcolm in the Middle
Amanda Bynes – Actress – All That, The Amanda Show, What I Like About You, Big Fat Liar, What a Girl Wants, She's the Man, Hairspray
Emily VanCamp – Actress – as Amy Abbott on Everwood & Rebecca Harper on Brothers & Sisters
Shia LaBeouf – Actor – as Louis Stevens on Even Stevens, Stanley Yelnats in Holes, Kale Brecht in Distrubia, & Sam "Spike" Witwicky in Transformers (film)
Mary-Kate & Ashley Olsen – Actresses/Entrepreneurs – as Michelle Tanner on Full House
Lindsay Lohan – Actress/Singer – The Parent Trap, Freaky Friday, Confessions of a Teenage Drama Queen, Mean Girls, Georgia Rule
Mario – Singer/Actor – Singles include: "C'mon," "Just a Friend 2002," & "How Could You"; Films include: Step Up & Freedom Writers
Shaun White – American professional snowboarder – Won Gold in the Men's Halfpipe at the 2006 Winter Olympics.
Emmy Rossum – Actress/Singer – as Katie Markum in Mystic River, Laura Chapman in The Day After Tomorrow, Christine Daai in The Phantom of the Opera
Robert Pattinson – Actor – as Edward Cullen in the Twilight Saga, Cedric Diggory in Harry Potter and the Goblet of Fire, Tyler Hawkins in Remember Me