Before we were teenagers in the 80s, before Aquanet, MTV, new Coke, and bomber jackets took over our lives, we were babies and little kids in the 70s.
My memories of the 70s are a little blurry, mostly triggered by FM radio songs and my early school pics (polyester leisure suit, anyone?), but one thing that takes me straight back are the toys. Let's take a trip back a little further than we usually do on Like Totally 80s to the time before Rubik's Cube, My Little Pony, Speak 'n Spell or Simon came along. Who else played with these toys as they were growing up during the 1970s?
McDonald's Playset
Playskool made this "Familiar Places" playset because if you weren't eating at McDonald's, you should be playing with a toy that allowed you to pretend that you were. Remember those square-headed customers and the cute cute, cute pointy hat-wearing McDonald's employees? I do. And now I want a cheeseburger really bad – maybe this was the point of the playset? To make you crave McDonald's cheeseburgers at playtime? It totally worked.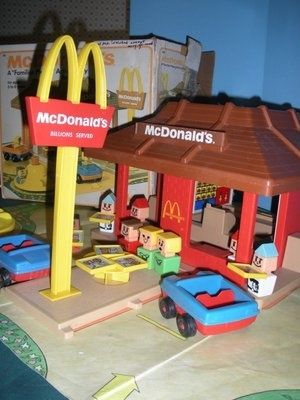 Fisher Price Record Player
Just looking at a photo of this sweet toy makes "London Bridge" start to run through my head on a loop. The first turntable and stereo system all children on the 70s owned, this sweet set came with 5 little pastel colored "records" and a Dutch-inspired record player that played music box- style nursery rhymes.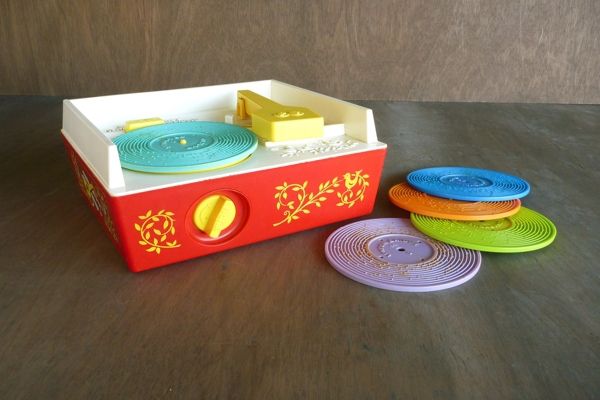 Children's Favorites
After getting old enough to graduate from the plastic faux records of the starter-player by Fisher Price, it was time for a real record player with some real music. For me, that meant Children's Favorites and my blue suitcase record player.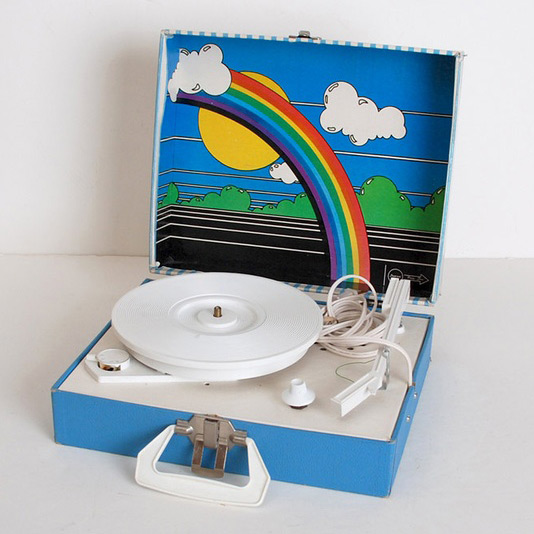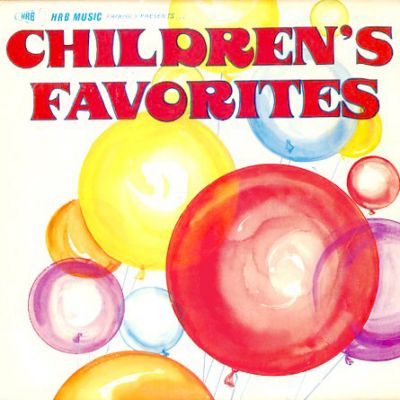 Originally distributed in 1978 by HRB Music Company and performed by The Jinglehimers, Children's Favorites was "not in any store." You had to order this big bad boy from the TV. While it was also available on 8-track, my parents opted for the LP set (thank goodness), which only set them back $4.99 31 very catchy children's songs. What a bargain. Can you really put a price on the hours of enjoyment I got out of this? The double album version featured 31 songs, including my personal favorite "Please go away and let me sleep," which I will still sing when the mood hits. It also came as a 25-song single LP, but who wants to miss those extra 6 six songs?!?
If you'd like to share some "John Jacob Jinglehimer Schmidt" with your own kids, it is now available digitally on Amazon, remastered and ready for the next century.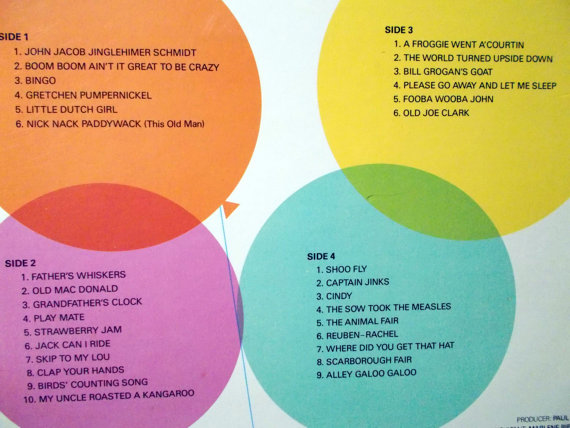 Boom. Boom. Ain't it great to be crazy!?!
Fisher Price Cash Register
Those primary colors. Those big blocky coins. That cool little slide that the coins rolled out of. The best! When we weren't playing "house" we were playing "store" and this was our main prop, naturally. The cash drawer popped out and it even had a "no sale" feature that I liked to use on my brother quite a bit.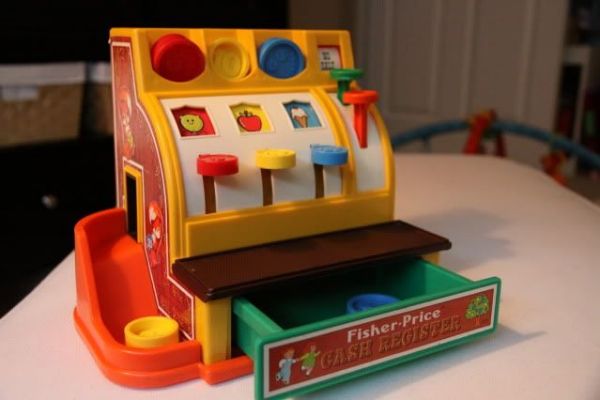 Fisher Price Activity Center
Even if you were too young to actually remember playing with this, seeing it can still take you back. For the wee-ones of the 70s, honk this horn! Spin this wheel! Slide this turtle and hare back and forth! So much to do and so little time, my Activity Center was always going with me to grandma's house on Sunday afternoons.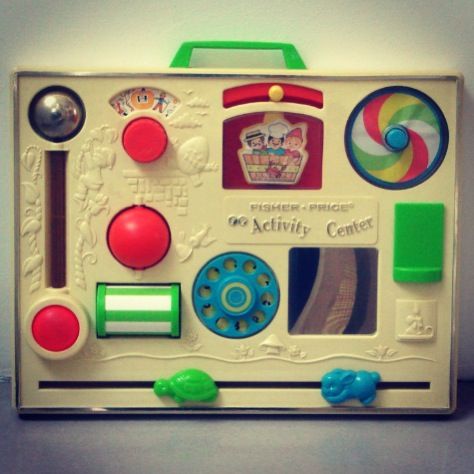 Lite Brite
"Lite Brite makin' things with light . . . what a sight makin' things with Lite Brite"
The toy that lets you create beautiful pictures with light – Lite Brite was one of my very favorites as a kid. I loved making rainbows, flowers, rainbows, Bozo the Clown, and more rainbows with my Lite Brite. On the other hand, my mom did not like constantly stepping on and vacuuming up those little colored pegs that were all over the house.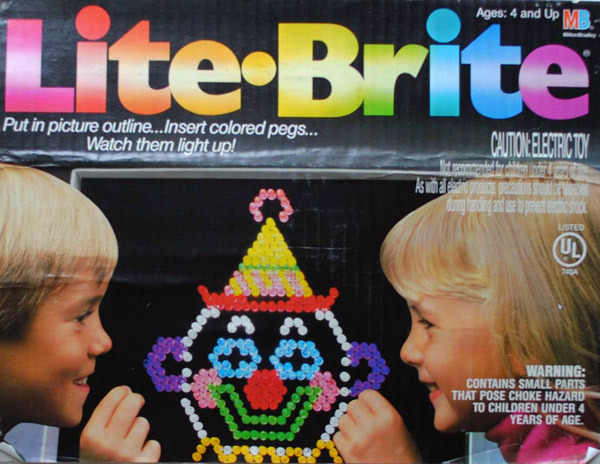 These toys seemed pretty cool and hi-tech back in the 70s when we were kids, didn't they? A record player for little ones? A replica of my favorite restaurant that I can play with at home? A glowing board of light-filled artistry?
If only we knew what was to come . . . that we'd soon be wearing a Walkman, hanging out at McDonalds after high school football games cruising for boys, and that our own kids would someday be creating their own art on a glowing board called an ipad.
Toy technology has sure come a long way.
Love this story?  Pin It using the image below!