The 1980s introduced us to a whole new genre of film.
Alongside action movies, horror movies and "The Coreys" movies, we also had another very important category: NERD MOVIES. Classics like Revenge of the Nerds, Better off Dead, Sixteen Candles, Real Genius and Can't Buy Me Love all told the tales of lovable losers, delightful dweebs and ultimate underdogs who struggled in the beginning, but prevailed in the end.
And sometimes, the underdogs wore underwear on their heads.
1985's Weird Science told the story of nerds Gary (Anthony Michael Hall) and Wyatt (Ilan Mitchell-Smith – now a college professor – what?!) who decide to create a woman, à la Frankenstein's monster, using Wyatt's computer while his parents are away for the weekend. So it's totally based on a true story . . .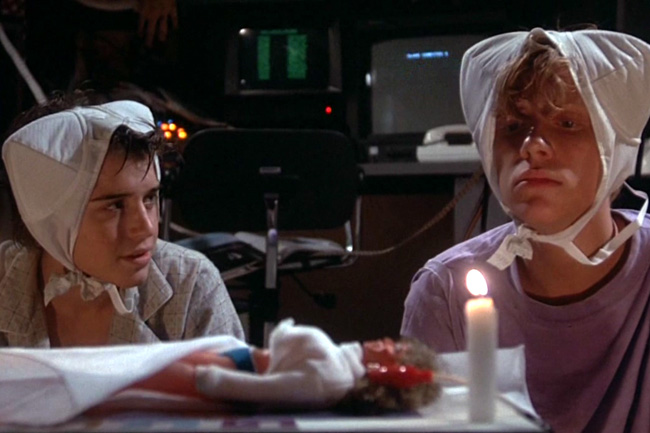 The woman that gets created is this woman, and what a woman she was. They name her Lisa, and she is played perfectly by Miss Kelly LeBrock.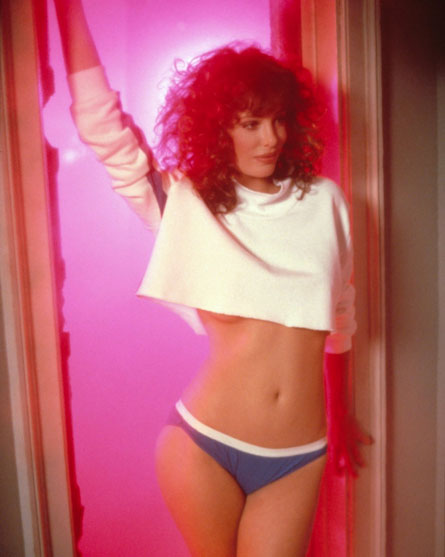 To create this perfect woman who has all of the attributes and features they desire, Gary and Wyatt hook a Barbie doll up to Wyatt's computer with little electrodes while wearing women's bras on their heads for no reason.
What better idea for a Halloween costume than to go as these two nerds in this classic scene? Grab a friend, here is what you'll need to make Gary and Wyatt come to life:
80s style clothing – a button down/oxford shirt and jeans, a purple t-shirt and dark sweats, sneakers.
A WHITE POINTY BRA THAT IS WORN ON YOUR HEAD.
That's pretty much it – any 80s enthusiast will know right away exactly who you are!
Accessories can include a Barbie doll in blue undies and a white cut off shirt with various wires attached to it.  If you have a really brave girlfriend, you could even go as a couple's costume with her in some blue bikini briefs and a white cropped top.
Bing bang boom; you are now two legendary nerds from a classic 80s movies written and directed by Mr. John Hughes. And if anyone by chance asks you just exactly why you are wearing a bra on your head, be sure to tell them, "it's ceremonial."