It was a new decade, and 1980 started off with a bang in the form of both natural and man-made disasters – including the eruption of Mount St. Helens and the assassination of John Lennon. Ronald Reagan is elected towards the end of the year, the beginning of his almost decade-long reign as the leader of the free world. Music was getting a shake up as well with a move away from the disco and singer-songwriter sounds of the 70s. New sounds hit the airwaves in the form of Blondie, Devo, and the Sugar Hill Gang with something new – rap. Millions of TV viewers want the answer to one question – Who Shot JR? This was the beginning of a new era – the 80s.
Jump directly to your area of interest using these links:
History & Politics  .  Music  .  Television  .  Movies  .  Sports  .  People Who Died  .  People Who Were Born
Back to 80s Time Capsules
---
History & Politics
U.S. President Jimmy Carter authorizes legislation giving $1.5 billion in loans to
bail out the Chrysler Corporation.
The infamous New Mexico State Penitentiary Riot takes place: 33 inmates are killed and more than 100 inmates injured.
Mount St. Helens erupts in Washington, killing 57 and causing US$3 billion in damage.
A series of deadly tornadoes strikes Grand Island, Nebraska, causing over $300m in damage, killing 5 people and injuring over 250.
U.S. President Jimmy Carter signs a bill requiring 19- and 20-year-old males to register for a peacetime military draft, in response to the Soviet invasion of Afghanistan.
1980 United States heat wave claimed anywhere between 1,250 and 10,000 lives and massive drought, creating agricultural damage estimates neared US$44 billion.
Alexandra Palace in London destroyed by fire.
U.S. presidential election, 1980: Republican challenger and former Governor Ronald Reagan of California defeats incumbent Democratic President Jimmy Carter in a landslide victory, exactly 1 year after the beginning of the Iran hostage crisis.
In Australia, baby Azaria Chamberlain disappears from a campsite at Ayers Rock, reportedly taken by a dingo.
The St. Gothard Tunnel opens in Switzerland as the world's longest highway tunnel at 10.14 miles (16.32 km) stretching from Goschenen to Airolo.
The command council of Iraq orders its army to "deliver its fatal blow on Iranian military targets," initiating the Iran-Iraq War.
The Staggers Rail Act is enacted, deregulating American railroads.
Voyager program: The NASA space probe Voyager I makes its closest approach to Saturn, when it flies within 77,000 miles of the planet's cloud-tops and sends the first high resolution images of the world back to scientists on Earth.
Former Beatle John Lennon dies in the hospital after being shot outside his New York City apartment by Mark David Chapman, a deranged fan who had received his signature earlier in the day.
Back to Top  .  Back to 80s Capsules
---
Music
Call Me – Blondie
Another Brick In The Wall – Pink Floyd
Magic – Olivia Newton-John
Rock With You – Michael Jackson
Do That To Me One More Time – Captain & Tennille
Fame – Irene Cara
Working My Way Back to You/Forgive Me, Girl – The Spinners
Funkytown – Lipps, Inc., Lipps, Inc.
Little Jeannie – Elton John
Upside Down – Diana Ross
He's So Shy – The Pointer Sisters
Please Don't Go – KC & the Sunshine Band
Turning Japanese – The Vapors
Rapper's Delight – Sugar Hill Gang
Escape (The Piña Colada Song) – Rupert Holmes
It's Still Rock n' Roll To Me – Billy Joel
Sailing – Christopher Cross
Another One Bites the Dust – Queen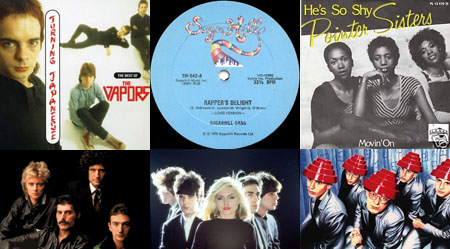 Back to Top  .  Back to 80s Capsules
---
Television
Dallas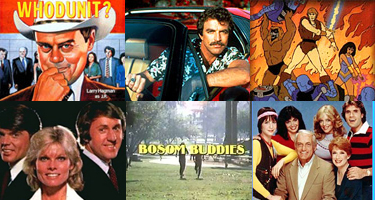 (1978-1991)
Millions of viewers tune into the U.S. TV soap opera Dallas to learn who shot lead character J.R. Ewing. The "Who shot J.R.?" event is a national obsession.
Magnum, P.I. (1980-1988)
Starring: Tom Selleck & John Hillerman
The adventures of a Hawaii based private investigator.
Thundarr the Barbarian [cartoon] (1980-1984)
In the year 1994, a comet hurtles between Earth and the moon. The moon is destroyed, and the Earth loses its ozone layer–causing the entire planet to be laid waste. Centuries later, Earth has become "a world of savagery, super-science, and sorcery," inhabited by various evildoers, scavengers, and magicians. Thundarr, a mighty warrior (armed with his magic sword "The Sun Sword") and his two companions, Princess Ariel, a beautiful sorceress the lion-like Ookla the Mok, do battle with evil forces of wizards and creatures as they travel across the world.
Too Close For Comfort (1980-1983)
Jackie and Sarah Rush are two grown sisters who live in half of a duplex. Their parents, Henry and Muriel, live in the other half. Though one might think this proximity may be fun, both sides often feel that it's "too close for comfort."
That's Incredible (1980-1984)
A show that looked at the more unusual sides of nature, medicine and human endeavor. Segments ranged from the uplifting (young people overcoming severe handicaps to lead normal lives) to the unexplainable (a park ranger who had been hit by lightning over 7 times) to the simply stupid (a stuntman jumping a motorcycle over the spinning rotors of 3 helicopters). It also popularized the phrase, "Don't try this at home."
Bosom Buddies (1980-1982)
Starring: Tom Hanks & Peter Scolari
Two single men must disguise themselves as women to live in the one apartment they can afford.
Back to Top  .  Back to 80s Capsules
---
Movies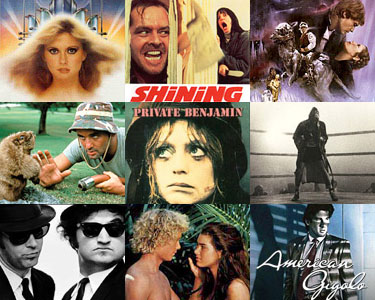 The Empire Strikes Back
Starring: Mark Hamill, Harrison Ford, Carrie Fisher, Billy Dee Williams
While Luke takes advanced Jedi training from Yoda, his friends are relentlessly pursued by Darth Vader as part of his plan to capture Luke.
9 to 5
Starring: Jane Fonda, Lily Tomlin, Dolly Parton, & Dabney Coleman
Three female employees of a "sexist, egotistical, lying, hypocritical bigot" find a way to turn the tables on him.
Stir Crazy
Starring: Richard Pryor & Gene Wilder
Skip and Harry are framed for a bank robbery and end up in a western prison. The two eastern boys are having difficulty adjusting to the new life until the warden finds that Skip has a natural talent for riding broncos with the inter-prison rodeo coming up.
Airplane!
Starring: Kareem Abdul-Jabbar, Lloyd Bridges, Peter Graves, Julie Hagerty, Robert Hays, Leslie Nielsen
Ex-Navy pilot Ted Striker has been nervous about flying ever since THAT incident during the war. He's on a flight which would cause anyone concern: he seems to be the only sane person aboard. Of course, everything that could possibly go wrong on this flight will go wrong… what do you expect with a co-pilot who doesn't realize he's a basketball star, and an air traffic controller with a substance abuse.
Any Which Way You Can
Starring: Clint Eastwood
Philo takes part in a bare knuckle fight to make some more money than he can earn from his car repair business. He decides to retire from fighting, but when the Mafia come along and arrange another fight, he is pushed into it. A motorcycle gang and an orangutan called Clyde all add to the 'fun'.
Private Benjamin
Starring: Goldie Hawn
A sheltered young high society woman joins the army on a whim and finds herself in a more difficult situation than she ever expected.
Coal Miner's Daughter
Starring: Sissy Spacek
Biography of Loretta Lynn, a country & western singer that came from poverty to fame.
Blue Lagoon
Starring: Brook Shields & Christopher Atkins
Richard and Em are children when shipwrecked and marooned alone on a lush tropical island. By the time they are rescued, they have learned a great deal about life and are raising a child of their own.
The Blues Brothers
Starring: Jonh Belushi & Dan Aykroyd
Jake Blues, just out from prison, puts together his old band to save the Catholic home where he and brother Elwood were raised.
Urban Cowboy
Starring: John Travolta
Bud is a young man from the country who learns about life and love in a Houston bar.
The Shining
Starring: Jack Nicholson
A family heads to an isolated hotel for the winter where an evil and spiritual presence influences the father into violence, while his psychic son sees horrific forebodings from the past and of the future.
Caddyshack
Starring: Chevy Chase, Rodney Dangerfield, Bill Murray, Ted Knight
An exclusive golf course has to deal with a brash new member and a destructive dancing gopher.
Friday the 13th
Many years after two summer camp councilors are killed at Camp Crystal Lake, the owner decides to reopen, which sparks a series of grisly murders.
Flash Gordon
A football player and his friends travel to the planet Mongo and find themselves fighting the tyrant, Ming the Merciless, to save Earth.
Raging Bull
Starring: Robert De Niro
Biography for middleweight champ Jake LaMotta.
Xanadu
Starring: Olivia Newton-John, Gene Kelly, Michael Beck
Kira an incarnate of a Greek muse inspires Sonny Malone to build a huge disco roller rink.
American Gigolo
Starring: Richard Gere, Lauren Hutton, Hector Elizondo
Julian is the highest paid lover in Beverly Hills. He leaves women feeling more alive than they've ever felt before. Except one.
Back to Top  .  Back to 80s Capsules
---
Sports
The Pittsburgh Steelers become the first NFL franchise to win 4 Super Bowls, defeating the Los Angeles Rams in Super Bowl XIV 31-19 at the Rose Bowl in Pasadena, California.
The United States Olympic Hockey Team defeats the Soviet Union in the semifinals of the Winter Olympics, in the Miracle on Ice.
United States boycotts the 1980 Summer Olympics in Moscow.
The Philadelphia Phillies win their first World Series beating the Kansas City Royals 4-1 in game six. This remains the Phillies only World Series championship in their 124 year existence.
New York Islanders win the Stanley Cup.
Genuine Risk wins the Kentucky Derby with a time of 2:02.00.
Björn Borg defeats John McEnroe to win Men's Singles & Evonne Goolagong
Cawley defeats Chris Evert Lloyd to win Lady's Singles at Wimbledon.
Joop Zoetemelk (Netherlands) wins the Tour de France.
Johnny Rutherford (for Chaparral Racing) wins the Indy 500.
John McEnroe defeats Björn Borg to win Men's Singles & Chris Evert defeats Hana Mandlíková to win Women's Singles at the US Open.
Dale Earnhardt #2 won the NEXTEL Cup (formerly Winston Cup).
Back to Top  .  Back to 80s Capsules
---
People Who Died
John Mauchly (b. 1097) – American physicist and inventor of ENIAC (1st general purpose electronic digital computer) & UNIVAC I (1st commercial computer made in the USA).
Georges Painvin (b. 1886) – French cryptanalyst during WWI who broke the ADFGVX cipher in June 1918.
Jimmy Durante (b. 1893) – American actor, singer & comedian.
David Janssen (b. 1931) – American film & TV actor best known as Dr. Richard Kimble in the TV series The Fugitive.
Bon Scott (b. 1946) – Lead signer of rock band AC/DC.
George Tobias (b. 1901) – American character actor known as the neighbor Abner Kravitz on the TV sitcom Bewitched.
Jay Silverheels (b. 1919) – Actor best known as the Lone Ranger's friend Tonto.
Jesse Owens (b. 1913) – American track and field athlete who won 4 gold medals in the 1936 Summer Olympics.
Red Sovine (b. 1917) – Country music singer best known for his #1 hit "Teddy Bear."
Jean-Paul Sartre (b. 1905) – French existentialist philosopher and writer who declined his win of the Nobel Prize for Literature.
Alfred Hitchcock (b. 1899) – British film director who pioneered many techniques in the suspense and thriller genres. His movie Rebecca won an Academy Award for Best picture in 1940. Also known for Strangers on a Train, The Man Who Knew Too Much, Vertigo, Psycho, The Birds, . . . .
Luis Muñoz Marín (b. 1898) – Poet, journalist, politician (1st democratically elected Governor of Puerto Rico and considered one of the most important 20th century political figures in the Americas) & was called the "Father of the Modern Puerto Rico."
Ian Curtis (b. 1956) – Lead singer of the British band Joy Division.
Henry Miller (b. 1891) – American writer, author of Tropic of Cancer, Tropic of Capricorn, and Black Spring.
Milburn Stone (b. 1904) – American actor best known as Doc on the western TV series Gunsmoke.
Bert Kaempfert (b. 1923) – German orchestra leader and songwriter, whose tunes include such hits as "Strangers in the Night," "Danke Schoen," and "Spanish Eyes."
Peter Sellers (b. 1925) – English comedian and actor best known for his Inspector Clouseau roles in Pink Panther films.
Tex Avery (b. 1908) – American cartoonist and creator of Looney Toons.
Willard Libby (b. 1908) – American physical chemist famous for helping develop radiocarbon (Carbon-14) dating which revolutionized archaeology. He was awarded the Nobel Prize in Chemistry for this work.
John Bonham (b. 1948) – Drummer for British band Led Zeppelin.
Steve McQueen (b. 1930) – American film & TV actor – TV series Wanted: Dead or Alive, The Magnificent Seven, The Great Escape, Bullitt, The Towering Inferno.
Mae West (b. 1893) – American actress, playwright, screenwriter, and sex symbol.
John Lennon (b. 1940) – British singer, songwriter, guitarist, one of the founders of The Beatles, painter, author and political activist.
Harland "Colonel" Sanders (b. 1890) – Founder and face of Kentucky Fried Chicken (KFC).
Tim Hardin (b. 1941) – American folk musician who wrote "Reason to Believe" & "If I Were A Carpenter."
Back to Top  .  Back to 80s Capsules
---
People Who Where Born
Albert Pujols – Baseball player for the Los Angeles Angels of Anaheim and former St. Louis Cardinals (First Baseman)
Christopher Masterson – Actor – as Francis on Malcolm in the Middle & brother to Danny Masterson (Steven Hyde on That 70s Show)
Alicia Keys – Musician (singer and pianist) & Actress (Smokin' Aces)
Nick Carter – Singer & member of Backstreet Boys
Wilmer Valderrama – Actor – as Fez on That '70s Show & host of MTV's Yo Momma
Christina Ricci – Actress – as Kate Flax in Mermaids, Wednesday Addams in The Addams Family, Young Roberta Martin in Now and Then, Katrina VanTassel in Sleepy Hollow, Ellie in Cursed, Rae in Black Snake Moan, & Trixie in Speed Racer
Chelsea Clinton – Daughter of former U.S. president Bill Clinton & U.S. senator Hillary Rodham Clinton
Laura Prepon – Actress – as Donna Pinciotti on That '70s Show & Hannah Daniels on October Road
Chingy – Rapper
Deryck Whibley – Lead vocalist & guitarist of pop-punk band Sum 41
Paul Wall – Rapper / Hip hop artist / DJKasey Kahne – American race car driver
Venus Williams – American tennis player
Michelle Kwan – American Figure skater
Jessica Simpson – Singer / Actress – as Daisy Duke in The Dukes of Hazzard, Amy in Employee of the Month, & herself on MTV's reality show Newlyweds: Nick & Jessica
Kristen Bell – Actress – as the title character on Veronica Mars
Gisele Bundchen – Brazilian supermodel
Macaulay Culkin – Actor – as Kevin McCallister in the first two Home Alone films, Miles Russell in Uncle Buck, Thomas J. Sennet in My Girl, Henry Evans in The Good Son, Richie Rich in Ri¢hie Ri¢h, & Roland in Saved!
Yao Ming – Basketball player for the Houston Rockets (center)
T.I. – Rapper
Ashanti – Singer / Actress – as Kyra in Coach Carter, Dorothy Gale in TV movie The Muppets' Wizard of Oz, Heather in John Tucker Must Die, & Nurse Betty in Resident Evil: Extinction
Monica – R&B signer
Ryan Gosling – Actor – as himself on The Mickey Mouse Club, Alan Bosley in Remember the Titants, Richard Haywood in Murder by Numers, Noah Calhoun in The Notebook, & Willy Beachum in Fracture
Isaac Hanson – Musician – Oldest of the 3 brothers in the band Hanson
Anna Chlumsky – Actress – as Vada Sultenfuss in the two My Girl movies