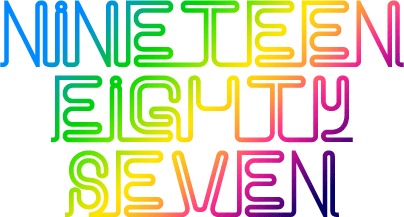 1987 saw its share of strife and turmoil. The current events of the time included an Amtrak train crash, the Iran-Contra affair, the Unabomber bombing Salt Lake City and the Black Monday stock market crash on October 19th. Add in a typhoon in the Philippines and two different plane crashes and it's no wonder that this was also the year that Prozac hit the market for the first time. It wasn't all doom and gloom, though. Aretha Franklin finally got the respect she deserved by being the first woman to be inducted into the Rock n Roll Hall of Fame. The Bangles had us all Walking like an Egyptian while Bon Jovi has us Living on a Prayer. We got introduced to Johnny Depp as 21 Jump Street hit the small screen and Patrick Dempsey as he tried to buy love on the big screen. We lost the talents of Andy Warhol and Jackie Gleason as both Zac Efron and Hilary Duff were born. Explore 1987 in our time capsule below. With all the happenings in the world, we guess that Madonna and George Michael had it right that year – you've got to Open Your Heart and have Faith.
Jump directly to your area of interest using these links:
History & Politics  .  Music  .  Television  .  Movies  .  Sports  .  People Who Died  .  People Who Were Born
Back to 80s Time Capsules
---
History & Politics
Aretha Franklin becomes the first woman inducted into the Rock and Roll Hall of Fame.
Chase, Maryland rail wreck: An Amtrak train en route from Washington, DC to Boston, Massachusetts collides with Conrail engines, killing 16.
R. Budd Dwyer, Treasurer for the Commonwealth of Pennsylvania, shoots and kills himself at a press conference after being found guilty on charges of bribery, fraud, conspiracy, and racketeering.
Brownsville, Texas was deluged with seven inches of rain in just two hours on Feb 9, and flooding in some parts of the city was worse than that caused by Hurricane Beulah in 1967.
A Unabomber bomb explodes in Salt Lake City, Utah on Feb 12. A second explodes at the Salt Lake City computer store on the 20th.
President Ronald Reagan addresses the American people on the Iran-Contra Affair, acknowledging that his overtures to Iran had 'deteriorated' into an arms-for-hostages deal.
In Charlotte, North Carolina, televangelist Jim Bakker, head of PTL Ministries, resigns after admitting an affair with church secretary Jessica Hahn.
Klaus Barbie, a German soldier and Gestapo member, goes on trial in Lyon for war crimes committed during World War II. He is sentenced to life imprisonment for crimes against humanity.
The USS Stark (FFG-31), while patrolling the Persian Gulf, is struck by two Exocet missiles from an Iraqi F-1 Mirage fighter, killing 37 sailors and injuring 21 other crew members (during the Iran-Iraq War).
In the case of Edwards v. Aguillard, the Supreme Court of the United States ruled that a Louisiana law requiring that creation science be taught in public schools whenever evolution was taught was unconstitutional.
Northwest Airlines Flight 255 (a McDonnell Douglas MD-82) crashes on takeoff from Detroit Metropolitan Airport in Romulus, Michigan just West of Detroit killing all but 1 (4-year old Cecelia Cichan) of the 156 people on-board (among them Nick Vanos, a center for the Phoenix Suns).
The Legend of Zelda was released for the NES in North America.
The 200th anniversary of the United States Constitution is celebrated across the country.
The United States is caught up in a drama that unfolds on television as a young child, Jessica McClure, falls down a well in Midland, Texas, and is later rescued.
Black Monday (Oct 19): stock market levels fall sharply on Wall Street and around the world.
Category 5 Typhoon Nina smashes the Philippines with 165 mph winds and devastating storm surge, causing destruction and 1,036 deaths.
Delaware (1st state admitted to the Union), Pennsylvania, & New Jersey celebrate their bicentennial statehood.
PSA Flight 1771 crashes near Paso Robles, California, killing all 43 on board, after a disgruntled passenger shoots his ex-supervisor on the flight, then shoots both pilots and himself.
The Intermediate-Range Nuclear Forces Treaty is signed in Washington, D.C. by U.S. President Ronald Reagan and Soviet leader Mikhail Gorbachev.
Square Co., Ltd. releases Final Fantasy in Japan for the Famicom.
The Perl programming language was created by Larry Wall.
Prozac makes its debut in the United States.
World population reached 5 billion people.
Hustler Magazine v. Falwell is argued before the U.S. Supreme Court.
Back to Top  .  Back to 80s Capsules
---
Music
Walk Like An Egyptian – Bangles
Alone – Heart
Shake You Down – Gregory Abbott
I Wanna Dance With Somebody (Who Loves Me) – Whitney Houston
Nothing's Gonna Stop Us Now – Starship
You Keep Me Hangin' On – Kim Wilde
C'Est la Vie – Robbie Nevil
I Knew You Were Waiting (For Me) – Aretha Franklin/George Michael
At This Moment – Billy Vera & the Beaters
I Heard a Rumour – Bananarama
Heaven Is a Place on Earth – Belinda Carlisle
Don't Dream It's Over – Crowded House
Lady in Red – Chris de Burgh
Open Your Heart – Madonna
Back to Top  .  Back to 80s Capsules
---
Television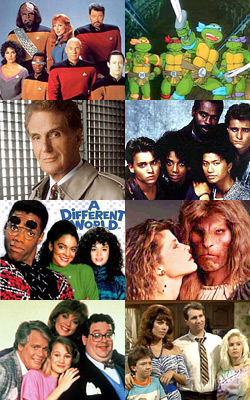 Star Trek: the Next Generation
Starring: Patrick Stewart, Jonathan Frakes, LeVar Burton, Marina Sirtis, Brent Spiner, Michael Dorn, Gates McFadden, & Wil Wheaton
Ninty-five years after Capt. Kirk's 5 year mission, a new generation in a new Enterprise set out on their own mission to boldly go where no one has gone before.
Married with Children
Starring: Ed O'Neil, Katey Sagal, Christina Applegate, & David Faustino
Al Bundy is a misanthropic women's shoe salesman with a miserable life. He hates his job, his wife is lazy, his son is dysfunctional (especially with women), and his daughter is dimwitted and promiscuous.
21 Jump Street
Starring: Steven Williams, Holly Robinson Peete, Peter DeLuise, Dustin Nguyen, & Johnny Depp
21 Jump Street is the headquarters for a squad of police officers who specialize in investigations relating to young people. Each of the Jump St. personnel was selected for their ability to pass for high school or college students, allowing them to operate undercover in areas where it is difficult for regular police officers to blend in unnoticed.
Teenage Mutant Ninja Turtles [cartoon]
Four turtles (Michelangelo, Donatello, Leonardo, & Raphael) were transformed into humanoids by a strange ooze. A human martial arts master, Hamato Yoshi (aka Splinter), also affected by the same ooze, transformed into a humanoid rat. Splinter, takes the four turtles under his wing and trains them as ninjas. Together with the intrepid reporter, April O'Neil, they fight against the threats against the world, like Shredder and Krang.
Beauty and the Beast
Starring: Linda Hamilton & Ron Perlman as Vincent
Vincent is a mythic, noble man-beast that lives in a secret Utopian community of social outcasts beneath the city. Catherine is a savvy assistant DA in New York. Through an emotional bond connecting the two of them, Vincent is able to sense the dangers Catherine's job brings her, and he comes to be her protector as well as the man she loves beyond all measure.
A Different World
Starring: Lisa Bonet, Jasmine Guy, Kadeem Hardison, Darryl M. Bell, & Dawnn Lewis
A group of students at a historically Black university struggle to make it through college.
Out of This World
Starring: Maureen Flannigan & Donna Pescow
Evie Garland is a half-human, half-alien girl. She lives with her human mother, Donna, in Marlowe, California. Her alien father, Troy, lives on the planet Anterias, but Evie can talk to him via a crystal cube. As a benefit of her half-alien parentage, Evie develops three powers: she can pause and un-pause time, "gleep" objects into existence, and can transport herself from one place to another. Episodes usually revolve around Evie getting herself out of a situation that she has caused.
Unsolved Mysteries
Host Robert Stack presides over an investigation into unsolved mysteries ranging from murders to UFO sightings. Through reenactments and interviews, viewers are presented with the known facts of each case. Anyone with additional information is then urged to contact the show's producers via a tool-free telephone number.
Back to Top  .  Back to 80s Capsules
---
Movies

3 Men and a Baby
Starring: Tom Selleck, Steve Guttenberg, Ted Danson, & Nancy Travis
Three bachelors find themselves forced to take care of a baby left by one of the guy's girlfriends.
Fatal Attraction
Starring: Michael Douglas, Glenn Close, & Anne Archer
A married man's one night stand comes back to haunt him when that lover begins to stalk him and his family.
Beverly Hills Cop II
Starring: Eddie Murphy & Judge Reinhold
Axel Foley returns to Beverly Hills to help Taggart and Rosewood investigate Chief Bogamil's near-fatal shooting and the series of "alphabet crimes" associated with it.
Good Morning, Vietnam
Starring: Robin Williams
An unorthodox and irreverent DJ begins to shake up things when he is assigned to the US Armed Services Radio station in Vietnam.
Moonstruck
Starring: Cher, Nicolas Cage, Danny Aiello, & Olympia Dukakis
A widowed Brooklyn book-keeper is torn between her fiancé and his brother.
The Untouchables
Starring: Kevin Costner, Sean Connery, Robert De Niro, Andy Garcia, & Charles Martin Smith
Federal Agent Elliot Ness sets out to take out Al Capone; because of rampant corruption, he assembles a small, hand-picked team.
Stakeout
Starring: Richard Dreyfuss, Emilio Estevez, & Madeleine Stowe
Two Cops have to observe a woman. One of them falls in love with her.
Lethal Weapon
Starring: Mel Gibson & Danny Glover
Martin Riggs is an L.A. cop with suicidal tendencies and Roger Murtaugh is the unlucky police officer with whom Riggs is assigned. Together they uncover a huge drug-smuggling operation, and as their success rate grows so does their friendship.
The Witches of Eastwick
Starring: Jack Nicholson, Cher, Susan Sarandon, & Michelle Pfeiffer
Three single women in a picturesque village have their wishes granted – at a cost – when a mysterious and flamboyant man arrives in their lives.
Dirty Dancing
Starring: Jennifer Grey & Patrick Swayze
Spending the summer in a holiday camp with her family, Frances ('Baby') falls in love with the camp's dancing teacher.
Predator
Starring: Arnold Schwarzenegger
A team of commandos, on a mission in a Central American jungle, find themselves hunted by an extra-terrestrial warrior.
Throw Momma From the Train
Starring: Danny DeVito, Billy Crystal, Anne Ramsey, & Kate Mulgrew
Two men have someone they would dearly love dead; One his ex-wife who is making his life miserable, the other his domineering, nasty mother. What could be simpler than exchanging murders to avoid any possible complicity. Momma turns out to be a hard nut to crack, not to mention the guilt.
Dragnet
Starring: Dan Aykroyd & Tom Hanks
The equally-straight-laced and "by the book" nephew of Joe Friday must work with his more laid-back partner to solve a mystery.
La Bamba
Starring: Lou Diamond Phillips
Biographical story of the rise from nowhere of singer Ritchie Valens whose life was cut short by a plane crash.
Robocop
Starring: Peter Weller
In a dystopic & crime ridden Detroit, a terminally wounded cop returns to the force as a powerful cyborg with submerged memories haunting him.
Planes, Trains and Automobiles
Starring: Steve Martin & John Candy
A man must struggle to travel home for Thanksgiving, with an obnoxious slob of a shower ring salesman his only companion.
Full Metal Jacket
Starring: Matthew Modine, Adam Baldwin, Vincent D'Onofrio, & R. Lee Ermey
A pragmatic U.S. Marine observes the dehumanizing effects the Vietnam War has on his fellow Marine recruits from their brutal basic training to the bloody street fighting set in 1968 Hue, Vietnam.
Mannequin
Starring: Andrew McCarthy & Kim Cattrall
Jonathan Switcher is a young artist. He just doesn't seem to last in any job he does. But when he builds a mannequin, he makes it so perfect, he falls in love with it. The mannequin ends up in the window of a big department store. ends up coming to life as Emmy, who was an ancient Egyptian living in the year 2514BC. The two redesign the window display to make it most eye catching in town. The store competitors are not happy and will do anything to stop them!
Roxanne
Starring: Steve Martin & Daryl Hannah
Based on the play "Cyrano de Bergerac", large nosed C.D. Bales falls for the beautiful Roxanne while she falls for his personality but another man's looks.
The Running Man
Starring: Arnold Schwarzenegger
A wrongly-convicted man must try to survive a public execution gauntlet staged as a TV game show.
Spaceballs
Starring: Mel Brooks, Rick Moranis, Bill Pullman, Daphne Zuniga, & John Candy
King Roland of the planet Druidia is trying to marry his daughter Princess Vespa to Prince Valium, but Vespa is kidnapped by the evil race of the Spaceballs. The Spaceballs ask Roland a tremendous ransom: all the air of Druidia (you see, the air of Spaceball had serious pollution problems . . . ). The King decides to offer a generous amount of money to a space rogue, Lone Starr, to persuade him to save Vespa.
Summer School
Starring: Mark Harmon & Kirstie Alley
A high-school gym teacher has big plans for the summer, but is forced to cancel them to teach a "bonehead" English class for misfit goof-off students.
Adventures in Babysitting
Starring: Elisabeth Shue, Maia Brewton, Keith Coogan, Anthony Rapp, & Penelope Ann Miller
She thought babysitting was easy money – until she started hanging out with the Andersons.
*batteries not included
Starring: Hume Cronyn, Jessica Tandy, Frank McRae, Elizabeth Peña, Micjael Carmine, Denis Boutsikaris, Tom Aldredge, Jane Hoffman, John DiSanti, John Pankow, Doris Belack, Wendy Schaal, Michael Green, & MacIntyre Dixon
Apartment block tenants seek the aid of alien mechanical life-forms to save their building from demolition.
The Lost Boys
Starring: Jason Patric, Corey Haim, Kiefer Sutherland, Corey Feldman, Jami Gertz, & Edward Hermann
Financial troubles force a recent divorcee and her teenage sons Mike and Sam to settle down with her father in the California town of Santa Carla. At first, Sam laughs off rumors he hears about vampires who inhabit the small town. But after Mike meets a beautiful girl at the local amusement park, he begins to exhibit the classic signs of vampirism. Fearing for his own safety, Sam recruits two young vampire hunters to save his brother by finding and destroying the head vampire.
Can't Buy Me Love
Starring: Patrick Dempsey & Amanda Peterson
Ronald Miller is tired of being a nerd, and makes a deal with one of the most popular girls in school to help him break into the "cool" clic. He offers her a thousand dollars to pretend to be his girlfriend for a month. It succeeds, but he soon learns that the price of popularity may be higher than he expected.
The Princess Bride
Starring: Cary Elwes, Robin Wright Penn, Chris Sarandon, Peter Falk, & Fred Savage
When the lovely Buttercup is kidnapped by a ghastly gang intent on fomenting an international incident they find they are pursued by the Dread Pirate Roberts who just might be Westley, her one true love. Also after everyone is nasty Prince Humperdinck to whom Buttercup is now betrothed but who seems to care little for her continued survival. The stage is set for swordfights, monsters, and tortures – but will Grandpa be allowed to finish telling the story with all these kissy bits?
Harry and the Hendersons
Starring: John Lithgow
Returning from a hunting trip in the forest, the Henderson family's car hits an animal in the road. At first they fear it was a man, but when they examine the "body" they find it's a "Bigfoot". They think it's dead so they decide to take it home (there could be some money in this). As you guessed, "it" isn't dead. Far from being the ferocious monster they fear "Harry" to be, he's a friendly giant. In their attempts to keep Harry a secret, the Henderson's have to hide him from the authorities and a man, who has made it his goal in life, to catch a "Bigfoot."
Overboard
Starring: Goldie Hawn & Kurt Russell
Rich bitch Joanna hires country carpenter Dean to build a closet on her yacht. When the two don't see eye-to-eye, Dean is left unpaid while Joanna sets sail. The following day, Joanna is fished out of the sea, after falling overboard, suffering from amnesia. Dean sees a neat way to regain the money she owes him… he tells her she's his wife; that way Dean gets a free housekeeper and mother for his four kids.
Innerspace
Starring: Dennis Quaid, Martin Short, & Meg Ryan
A hapless store clerk must foil criminals to save the life of the man who, miniaturized in a secret experiment, was accidentally injected into him.
Ernest Goes to Camp
Starring: Jim Varney
A group of juvenile criminals is sent for vacation to Kamp Kikakee. The clumsy Ernest has to care for them, although he doesn't even know how to take care of himself.
Back to Top  .  Back to 80s Capsules
---
Sports
N.Y. Giants defeat the Denver Broncos, 39-20, in Super Bowl XXI.
Edmonton Oilers win the Stanley Cup.
WrestleMania III is held at the Pontiac Silverdome in Pontiac, Michigan, setting the North American indoor attendance record at 93,173.
Indianapolis 500: Al Unser wins for a fourth time, the second driver to do so, after A.J. Foyt in 1977.
The Minnesota Twins won the World Series over the St. Louis Cardinals 4 games to 3, giving the franchise its first World Series victory since 1924, when the team was located in Washington, D.C. and known as the Washington Senators.
Alysheba wins the Kentucky Derby with a time of 2:03.40.
Pat Cash defeats Ivan Lendl to win Men's Singles & Martina Navratilova defeats Steffi Graf to win Lady's Singles at Wimbledon.
Stephen Roche (Ireland) wins the Tour de France.
Ivan Lendl defeats Mats Wilander to win Men's Singles & Martina Navrátilová defeats Steffi Graf to win Women's Singles at the US Open.
Dale Earnhardt #2 won the NEXTEL Cup (formerly Winston Cup).
Back to Top  .  Back to 80s Capsules
---
People Who Died
Ray Bolger (b. 1904) – Actor – as the Scarecrow in The Wizard of Oz
Liberace (b. 1919) – Pianist & Entertainer
Andy Warhol (b. 1928) – Artist / Director / Writer
Randolph Scott (b. 1898) – Actor who appear in 100+ movies, of which more than 60 were westerns
Danny Kaye (b. 1918) – Actor / Singer / Comedian – Secret Life of Walter Mitty, The Court Jester, White Christmas, Hans Christian Andersen, The Five Pennies
Rita Hayworth (b. 1918) – Actress – You'll Never Get Rich, You Were Never Lovelier, Cover Girl, The Lady from Shanghai, Affair in Trinadad, Fire Down Below
Robert Preston (b. 1918) – Actor – as Professor Harold Hill in The Music Man, Mame, Victor/Victoria, The Last Starfighter
Elizabeth Hartman (b. 1943) – Actress – A Patch of Blue & voice of Mrs. Frisby in The Secret of NIMH
Buddy Rich (b. 1917) – Musician – billed as "the world's greatest drummer"
Fred Astaire (b. 1899) – Actor / Dancer / Singer – The Gay Divorcee, Roberta, Top Hat, Shall We Dance, Carefree, Royal Wedding, Lady, Be Good, Funny Face, Easter Parade, Finnian's Rainbow, Towering Inferno
Jackie Gleason (b. 1916) – Actor / Comedian – as Ralph Kramden on The Honeymooners
Clara Peller (b. 1902) – Character actress – Wendy's "Where's the beef?" lady
Lee Marvin (b. 1924) – Actor – Cat Ballou, The Wild One, The Man Who Shot Liberty Valance
Lorne Greene (b. 1915) – Actor – as Ben Cartwright on Bonanza & Commander Adama on Battlestar Galactica & Galactica 1980
Peter Tosh (b. 1944) – Reggae musician – singer & guitarist for the Wailing Wailers later known as The Wailers
Bob Fosse (b. 1927) – Theater choreographer & director – who won an Academy Award for best director of Cabaret in 1972
Woody Herman (b. 1913) – Jazz clarinetist, Singer & Big Band Leader – "Woodchoppers' Ball"
Back to Top . Back to 80s Capsules
---
People Who Were Born
Bow Wow – Rapper
Jesse McCartney – Singer/Actor – as Bradin Westerly on Summerland
Joss Stone – Singer
Maria Sharapova – Russian tennis player
Mara Wilson – Actress – as Susan Walker in Miracle on 34th Street & Matilda Wormwood in Matilda
Katie Leung – Actress – as Cho Chang, Harry's love interest, in Harry Potter and the Golet of Fire & Harry Potter and the Order of the Phoenix
Blake Lively – Actress – as Bridget in The Sisterhood of the Traveling Pants & Serena van der Woodsen on the upcoming NBC series Gossip Girl
Evan Rachel Wood – Actress – as Jessie Sammler in Once and Again, Tracy Freeland in Thirteen & Kimberly Joyce in Pretty Persuasion
Danielle Panabaker – Actress – as Layla Williams in Sky High & Julie Stark on Shark
Tom Felton – Actor – as Draco Malfoy in the Harry Potter movies
Hilary Duff – Actress/singer – Lizzie McGuire, Cheaper by the Dozen 1 & 2, A Cinderella Story
Zac Efron – Actor – as Cameron Bale on Summerland, Troy Bolton in High School Musical movies, & Link Larkin in Hairspray
Michael Anagarano – Actor – as Elliot the son of Jack McFarland on Will & Grace, Will Stronghold in Sky High, & Sid in Lords of Dogtown
Aaron Carter – Singer/Actor and younger brother of Backstreet Boys member Nick Carter
Edward Speleers – Actor – as Eragon in Eragon
Thomas Dekker – Actor – as Nick Szalinski in Honey I, Shrunk the Kids; Zach on Heroes; and John Connor on The Sarah Connor Chronicles
William Moseley – Actor – as Peter Pevensie in The Chronical of Naria movies
Ashley Greene – Actress – as Alice Cullen in The Twilight Saga