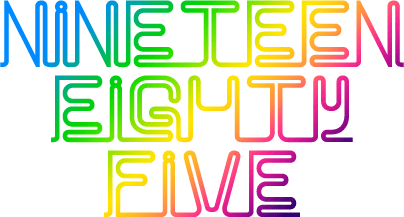 In world events and culture, 1985 can be characterized as heralding in the new. Windows 1.0 is released, the FDA develops a test for screening blood for AIDS, the first successful artificial heart transplant occurs, Gorbachev becomes the de facto leader of the Soviet Union, and the NES game system hits the US. Heck, even Coke was new in 1985. On the music front, this was the year of both "We Are the World" and "Live Aid." Big singles of the year included "Rock Me Amadeus," "Take on Me," and "Like a Virgin." The Golden Girls hit the small screen, while "Back to the Future," "The Goonies," and "Breakfast Club" hit the big screen. The world lost Rock Hudson but gained the likes of Michael Phelps and Keira Knightley. So, give 1985 a Shout cuz The Heat is On. Jump directly to your area of interest using these links:
History & Politics  .  Music  .  Television  .  Movies  .  Sports  .  People Who Died  .  People Who Were Born
Back to 80s Time Capsules
---
History & Politics
U.S. President Ronald Reagan is sworn in for a second term in office.
In Hollywood, California, the charity single "We Are the World" is recorded by USA for Africa.
William J. Schroeder becomes the first artificial heart patient to leave the hospital.
The Food and Drug Administration approves a blood test for AIDS, used since then to screen all blood donations in the United States.
Mikhail Gorbachev becomes the General Secretary of the Soviet Communist Party and de facto leader of the Soviet Union.
Coca-Cola changes its formula and releases New Coke. (The response is overwhelmingly negative, and the original formula is back on the market in less than 3 months.)
Philadelphia, Pennsylvania Mayor Wilson Goode orders police to storm the radical group MOVE's headquarters to end a stand-off. The police drop an explosive device into the headquarters, killing 11 MOVE members and destroying the homes of 61 city residents in the resulting fire.
Bangladesh is hit by a tropical cyclone and storm surge, which kills approximately 10,000 people.
An explosive device sent by the Unabomber injures John Hauser at UC Berkeley on May 15. Then on June 13 in Auburn, Washington, police defuse a Unabomber bomb sent to Boeing.
Famous Route 66 is officially decommissioned.
The Greenpeace vessel Rainbow Warrior is bombed and sunk in Auckland harbor by French DGSE agents.
Live Aid pop concerts in Philadelphia, Pennsylvania and London raise over £50 million for famine relief in Ethiopia.
Christa McAuliffe became the first schoolteacher to ride aboard the Space Shuttle Challenger.
The main ship wreck site of the Spanish galleon Nuestra Señora de Atocha (which sank in 1622) is found 40 miles off the coast of Key West, Florida by treasure hunters who begin to excavate $400 million in coins and silver.
In Hiroshima, tens of thousands mark the 40th anniversary of the atomic bombing of the city.
An 8.1 Richter scale earthquake strikes Mexico City. More than 9,000 people are killed, 30,000 injured, and 95,000 left homeless.
The Nintendo Entertainment System is released on US shores. It was first released in Japan in 1983.
A joint American-French expedition locates the wreck of the RMS Titanic.
Nevado del Ruiz volcano (in Columbia) erupts, killing an estimated 23,000 people.
In separate events, mail bombs kill two people in Salt Lake City, Utah; a third bomb explodes the next day, injuring career counterfeiter Mark Hoffman. The ensuing police investigation leads to the arrest of Hoffman for the two murders.
Microsoft Corporation releases the first version of Windows, Windows 1.0.
Arrow Air Flight 1285, a Douglas DC-8, crashes after takeoff in Gander, Newfoundland, killing 256, 248 of whom were U.S. servicemen returning to Fort Campbell, Kentucky from overseeing a peacekeeping force in Sinai.
In New York City, Mafia bosses Paul Castellano and Thomas Bilotti are shot dead in front of Spark's Steak House on Dec 16th, making hit organizer John Gotti the leader of the powerful Gambino organized crime family.
Right wing extremist David Lewis Rice murders civil rights attorney Charles Goldmark as well as Goldmark's wife and 2 children in Seattle. Rice suspected the family of being Jewish and Communist and claimed his dedication to the Christian Identity movement drove him to the crime.
Back to Top  .  Back to 80s Capsules
---
Music
Rock Me Amadeus – Falco
Everybody Wants to Rule the World – Tears for Fears
Life in a Northern Town – Dream Academy
Lay Your Hands on Me – The Thompson Twins
Careless Whisper – Wham!
I Want To Know What Love Is – Foreigner
Loverboy – Billy Ocean
Heat Is On – Glenn Frey
Broken Wings – Mr. Mister
Miami Vice Theme – Jan Hammer
Oh Sheila – Ready for the World
We Built This City – Starship
Power of Love – Huey Lewis & the News
Can't Fight This Feeling – REO Speedwagon
St. Elmo's Fire (Man in Motion) – John Parr
Never Ending Story – Limahl
Axl F (Theme to Beverly Hills Cop) – Harold Faltermeyer
Want more 1985 music? Then check out "1985: Thirty Year Retrospective (Music Edition)."
Back to Top  .  Back to 80s Capsules
---
Television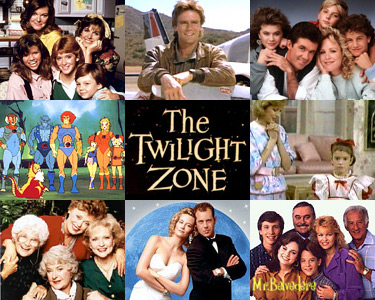 MacGyver
Starring: Richard Dean Anderson
Macgyver is a secret agent with a difference. He is quiet, mild mannered, deeply principled and refuses to carry a gun on his missions. Fortunately, the last detail is unimportant when compared to his astounding mind. Drawing on a vast practical knowledge of science, Macgyver is able to make use of any mundane materials around him to create unorthodox solutions to any problem he faces. The enemies of world peace and justice continually learn that underestimating this man is a fatal mistake for their plans.
Moonlighting
Starring: Bruce Willis & Cybil Shephard
An ex model and a wiseguy detective, who co-run a private detective agency, take on quirky cases.
The Golden Girls
Starring: Beatrice Arthur, Betty White, Rue McClanahan, & Estelle Getty
Four previously married women live together in Miami, sharing their various experiences together and enjoying themselves despite hard times.
Kate & Allie
Starring: Susan Saint James, Jane Curtin
When Allie Lowell divorces her husband and gets custody of their two children, she moves to New York City and moves in with her best friend, Kate McArdle, also divorced and raising a daughter.
Growing Pains
Starring: Alan Thicke, Joanna Kerns, Kirk Cameron, Tracey Gold, & Jeremy Miller
Dr. Seaver, a psychologist, and his wife Maggie Seaver, a journalist, try to do their best raising their family. Even though their kids, Mike, Carol, and Ben, cause them endless problems, they manage to keep the family close together. As long as they got each other, nothing else matters.
ThunderCats [cartoon]
The inhabitants of the planet Thundera evacuate just before it is destroyed by a band of mutants. All but one of their escape ships was destroyed, leaving only a small group of Thunderans (Thundercats) remained. With only half engine power, the group sets a course for the nearest planet, Third Earth. Soon the Thundercats make friends with various groups in the area and they designed a fortress. Mumm-Ra the centuries-old embodiment of evil, along with the mutants that destroyed the rest of the Thunderans are a constant threat. But Lion-O, the new leader of the Thundercats, with his weapon the "Sword of Omens" will help the Thundercats to have a standing chance.
Twilight Zone
An updated version of the famous 1960's TV series created by Rod Serling. Each week presents a stand-alone episode about some unusual situation that turns out to be even more unusual than initially suspected. Whether the tone of the story is horror, suspense or humor, there is always a surprise twist at the end.
Small Wonder
Starring: Dick Christie, Marla Pennington, Jerry Supiran, Tiffany Brissette, & Emily Schulman
Ted Lawson creates a human robot named Vickie. The Lawson family (Ted, Joan, and Jamie) pretend that Vickie is their daughter, keeping the fact she is a robot secret.
Mr. Belvedere
Starring: Christopher Hewett, Ilene Graff, Rob Stone, Tracy Wells, Brice Beckham, & Bob Uecker
A sarcastic, wisecracking Englishman answers an ad and takes on the role as housekeeper for a dysfunctional family, the Owenses. He becomes their nursemaid, babysitter, cleaner, cook, confidant, conscience . . . all these things, but still can't get Angela to pronounce his name correctly!
Back to Top  .  Back to 80s Capsules
---
Movies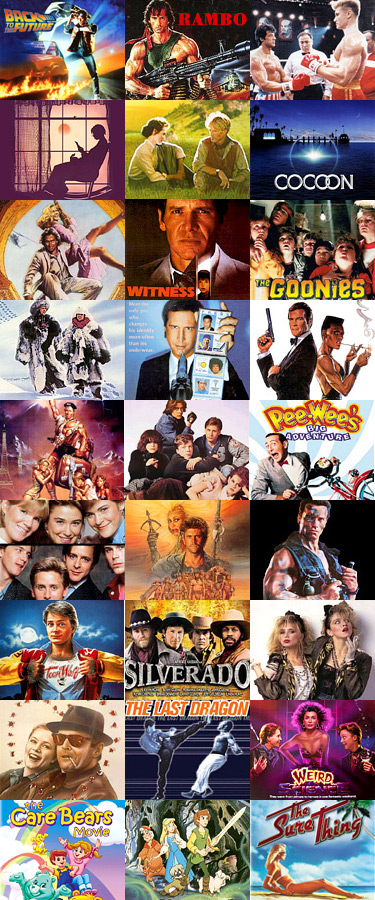 Back to the Future
Starring: Michael J. Fox, Christopher Lloyd, Lea Thompson, & Crispin Glover
Marty McFly helps out his friend Doc Brown, and ends up being taken back in time by Doc's time-machine. Marty, a boy of the 80's, has to come to grips with being in the 50's and get his parents to fall in love to set straight the damage his presence has done to the events of the past.
Rambo: First Blood Part II
Starring: Sylvester Stallone & Richard Crenna
Former Green Beret John Rambo is serving time in a federal prison. When the US military hears of American soldiers missing in action from the Vietnam war possibly still being alive and held captive, Colonel Trautman is authorized to send Rambo in to rescue them. For Rambo, this is what he would do best. If only the pencil-pushers would stop getting in his way.
Rocky IV                                                                                          
When Rocky's old friend Apollo Creed is killed during a fight with a super fit Russian boxer, Ivan Drago, Rocky blames himself for the death when he could have thrown in the towel before the crucial moment. Fuelled by the Russian's arrogance, Rocky arranges a fight with the new champion, only this time in Russia.
The Color Purple
Starring: Danny Glover, Whoopi Goldberg, Oprah Winfrey
The life and trials of a young African American Woman.
Out of Africa
Starring: Meryl Streep & Robert Redford
In 20th century colonial Kenya, a Danish baroness/plantation owner has a passionate but ultimately doomed love affair with a free-spirited big-game hunter.
Cocoon
Starring: Don Ameche, Wilford Brimley, Hume Cronyn, Jack Gilford, Maureen Stapleton, Jessica Tandy, Brian Dennehy, & Steve Guttenberg
When a group of trespassing seniors swim in a pool containing alien cocoons, they find themselves energized with youthful vigor.
The Jewel of the Nile
Starring: Michael Douglas, Kathleen Turner, & Danny DeVito
Sequel to Romancing the Stone
Witness
Starring: Harrison Ford, Kelly McGillis, & Lukas Haas
A young Amish boy is sole witness to a murder; policeman John Book goes into hiding in Amish country to protect him until the trial.
The Goonies
Starring: Sean Astin, Jeff Cohen, Corey Feldman, Kerri Green, Martha Plimpton, & Jonathan Ke Quan
A group of kids embark on a wild adventure after finding a pirate treasure map.
Spies Like Us
Starring: Chevy Chase & Dan Aykroyd
Two bumbling government employees think they are U.S. spies, only to discover that they are actually decoys for Nuclear War.
Fletch
Starring: Chevy Chase
Irwin "Fletch" Fletcher, Los Angeles journalist, really lives for his profession. As Jane Doe, he publishes articles that have caused several heads to roll in the past. Now, Fletch is at it again: In disguise as a bum, he lives at the beach, researching drugs and their dealing.
A View to a Kill
Starring: Roger Moore, Christopher Walken, Tanya Roberts, & Grace Jones
An investigation of a horse-racing scam leads 007 to a mad industrialist who plans to create a worldwide microchip monopoly by destroying California's Silicon Valley.
European Vacation
Starring: Chevy Chase, Beverly D'Angelo, Dana Hill, & Jason Lively
The Griswalds win a vacation tour across Europe where the usual havoc ensues.
The Breakfast Club
Starring: Emilio Estevez, Anthony Michael Hall, Judd Nelson, Molly Ringwald, & Ally Sheedy
Five high school students, all different stereotypes, meet in detention, where they pour their hearts out to each other, and discover how they have a lot more in common than they thought.
Pee-Wee's Big Adventure
Eccentric man-child Pee-Wee Herman embarks on the big adventure of his life across the US mainland, as he sets out to find his beloved bike, when it is stolen in broad daylight.
St. Elmo's Fire
Starring: Emilio Estevez, Rob Lowe, Andrew McCarthy, Demi Moore, Judd Nelson, Ally Sheedy, Mare Winningham, & Andie MacDowell
A Group of friends, just out of college, struggle with adulthood. Their main problem is that they're all self-centered and obnoxious.
Mad Max Beyond Thunderdome
Starring: Mel Gibson & Tina Turner
Mad Max becomes a pawn in a decadent oasis of technological society, and when exiled, becomes the deliverer of a colony of children.
Commando
Starring: Arnold Schawrzenegger, Alyssa Milano, Rae Dawn Chong, Dan Hedaya, & Vernon Wells
A retired elite commando has only a few hours to find and rescue his daughter from an exiled dictator.
Teen Wolf
Starring: Michael J. Fox
A high school student discovers that he is a werewolf.
Silverado
Starring: Kevin Kline, Scott Glenn, Kevin Costner, & Danny Glover
A misfit bunch of friends come together to right the injustices which exist in a small town.
Desperately Seeking Susan
Starring: Rosanna Arquette, Madonna, Aidan Quinn, & Laurie Metcalf
A bored suburban housewife, seeking adventure to her life, accidentally gets hit on the head, wakes up with amnesia, and is mistaken for a free-spirited New York City drifter named Susan.
Prizzi's Honor
Starring: Jack Nicholson, Kathleen Turner, & Robert Loggia
A professional hit man and hit woman fall in love, only to discover that they have each been hired to kill the other.
The Last Dragon
A young man searches for the "master" to obtain the final level of martial arts mastery known as the glow. Along the way he must fight an evil martial arts expert and an rescue a beautiful singer from an obsessed music promoter.
Weird Science
Starring: Anthony Michael Hall, Ilan Mitchell-Smith, & Kelly LeBrock
Two nerdish boys attempt to create the perfect woman, but she turns out to be more than that.
The Care Bears Movie
The Care Bears live in a country high in the clouds, where they have a lot of fun together. But they also do care for the human children on Earth, who they watch through huge telescopes from the sky, and come to help whenever there is need. Nikolas, a magician's apprentice, is in danger of getting under the influence of a bad spirit, which resides in an ancient spell book. The siblings Kim and Jason don't trust anyone anymore after being disappointed once too often. The Care Bears take them into their wonderland where they experience exciting and dangerous adventures together and quickly become good friends.
The Black Cauldron
A young boy and a bunch of misfit friends embark on a quest to find a dark magic item of ultimate power before a diaboical tyrant can.
The Sure Thing
Starring: John Cusack, Daphne Zuniga, & Anthonly Edwards
College freshman John (Gib) Gibson decides to go cross country to visit his friend in California during winter break. Awaiting there is a bikini-clad babe whom his friend assures him is a "sure thing."
Back to Top  .  Back to 80s Capsules
---
Sports
San Francisco 49ers defeated the Miami Dolphins, 38–16 in the Super Bowl XIX.
WrestleMania debuts at Madison Square Garden.
The Kansas City Royals played against the St Louis Cardinals, winning the World Series 4 games to 3.
Edmonton Oilers win the Stanley Cup.
Spend A Buck wins the Kentucky Derby with a time of 2:00.20.
Danny Sullivan (for Penske Cars) wins the Indy 500.
Boris Becker defeats Kevin Curren to win Men's Singles & Martina Navratilova defeats Chris Evert Lloyd to win Lady's Singles at Wimbledon.
Bernard Hinault (France) wins the Tour de France.
Ivan Lendl defeats John McEnroe to win Men's Singles & Hana Mandlíková defeats Martina Navrátilová to win Women's Singles at the US Open.
Darrell Waltrip #11 wins the NEXTEL Cup (formerly Winston Cup).
Back to Top  .  Back to 80s Capsules
---
People Who Died
Michael Redgrave (b. 1908) – Actor – The Lady Vanishes, The Importance of being Earnest, 1984, The Go-Between
Marc Chagall (b. 1887) – Cubism & Fauvism Painter – famous work: I and the Village
Margaret Hamilton (b. 1902) – Actress – as the Wicked Witch of the West in The Wizard of Oz
J. Fred Coots (b. 1897) – American songwriter famous for "Santa Claus Is Coming to Town" & "You Go To My Head"
Andy Stanfield (b. 1927) – American sprinter who won 2 gold medals at the 1952 Summer Olympics & a silver medal at the 1956 Summer Olympics
Chester Gould (b. 1900) – Cartoonist – Creator of the Dick Tracy comic strip
E. B. White (b. 1899) – Writer – author of Charlotte's Web, Stuart Little & The Trumpet of the Swan
Rock Hudson (b. 1925) – Actor – Magnificent Obsession, A Farewell to Arms, Pillow Talk, Strange Bedfellows, Giant, McMillan & Wife (TV), & a recurring role on Dynasty
Yul Brynner (b. 1920) – Actor – as King Mongkut of Siam in The King and I, Rameses II in The Tem Commandments, & Chris Adams in The Magnificent Seven
Ricky Nelson (b. 1940) – Singer/Actor – starred in The Adventures of Ozzie & Harriet, Rio Bravo, The Wackiest Ship in the Army, & Love and Kisses. Some of his hit songs were "Hello Mary Lou," "It's Late," "Be-Bop Baby," "Travelin' Man," "Poor Little Fool," "Young World," "Lonesome Town," & "Teenage Idol."
Orson Welles (b. 1915) – Film Director – Citizen Kane, The Lady from Shanghai, Macbeth, Othello, Touch of Evil
Johnny Olson (b. 1910) – TV announcer – To Tell The Truth, What's My Line?, The Match Game, The Jackie Gleason Show & The Price is Right . . . "Come on down!"
Big Joe Turner (b. 1911) – Blues singer – "Shake, Rattle and Roll," "Corrine, Corrina," & "Chains Of Love"
Anne Baxter (b. 1923) – Actress – The Razor's Edge, All About Eve, The Ten Commandments
Nelson Riddle (b. 1921) – Bandleader/Arranger/Orchestrator who wrote arrangements for Frank Sinatra, Dean Martin, Nat King Cole, Judy Graland, Peggy Lee, Louis Prima, Ella Fitzgerald, & Linda Ronstadt. Also provided arrangements for films & TV shows such as Batman, Li'l Abner, Route 66, The Great Gatsby, & Bonanza
Edmond O'Brien (b. 1915) – Actor – D.O.A., The Barefoot Contessa, Seen Days in May, White Heat, The Girl Can't Help It, The Man Who Shot Liberty Valance, Birdman of Alcatraz, The Longest Day, Fantastic Voyage, The Wild Bunch
Back to Top  .  Back to 80s Capsules
---
People Who Were Born
Tina Majorino – Actress – as Enola in Waterworld, Deb in Napoleon Dynamite, and Cindy "Mac" Mackenzie on Veronica Mars
Haylie Duff – Actress/Singer – as Sandy Jameson on 7th Heaven, Ava Marchetta in Material Girls; also older sister to Hilary Duff
Emile Hirsch – Actor – as Sedgewick Bell in The Emperor's Club, Matthew Kidman in The Girl Next Door, Jay in Lords of Dogtown, Johnny Truelove in Alpha Dog, and Speed in Speed Racer
Keira Knightley – Actress – as Elizabeth Swann in the Pirates of the Caribbean trilogy, Elizabeth Bennet in Pride & Prejudice, Juliette "Jules" Paxton in Bend It Like Beckham
Sarah Hughes – American Figure Skater – Won Gold in Ladies' Singles at the 2002 Winter Olympics
Ashley Tisdale – Actress/Singer – as Sharpay Evans in Disney's High School Musical & Maddie Fitzpatrick on The Suite Life of Zack and Cody
James Lafferty – Actor – as Nathan Scott on One Tree Hill
Michelle Trachtenberg – Actress – as Dawn Summers on Buffy the Vampire Slayer, Jenny in EuroTrip, & Casey Carlyle in Ice Princess
Zac Hanson – Musician – Youngest brother of the trio Hanson
Ciara – Singer – "Goodies," "Get Up," "Promise," "Like a Boy"
Jack Osbourne – TV personality & son of Ozzy Osbourne
Kaley Cuoco – Actress – as Bridget Hennessy on 8 Simple Rules & Billie Jenkins on Charmed
Frankie Muniz – Actor – as Malcolm Wilderson on Malcolm in the Middle & Cody Banks in the Agent Cody Banks movies
Raven-Symone – Actress/singer – as Olivia Kendall on The Cosby Show, Raven Baxter on That's So Raven, Galleria Garibaldi in the Cheetah Girls movies
Michael Phelps – American swimmer – Won 6 Gold & 2 Bronze metals in the 2004 Summer Olympics
Kellan Lutz – Actor – as Emmett Cullen in The Twilight Saga