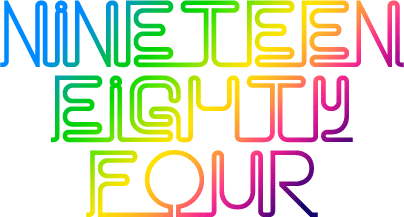 Some would argue that the launch of "Miami Vice" alone is enough to claim 1984 as the height of the 80s. If that weren't enough, it saw the release of the first Apple Macintosh and had us asking "Where's the Beef?" With Reagan re-elected, Space Shuttle Discovery taking off on its maiden voyage and Michael Jackson burned in the filming of Pepsi commercial, 1984 certainly had its share of excitement. 1984 gave us too many great 80s movies to mention (ok, we'll mention a couple: Footloose, Sixteen Candles, Karate Kid, Gremlins, Ghostbusters); you'll just have to read more below. The Summer Olympics were in LA and the USSR decided not to join the party. Prince Harry and Scarlett Johansson were born – what more could you want out of a year? So, put on "Wake Me Up Before You Go-Go" and get back to 1984.
Jump directly to your area of interest using these links:
History & Politics  .  Music  .  Television  .  Movies  .  Sports  .  People Who Died  .  People Who Were Born
Back to 80s Time Capsules
---
History & Politics
Bell System divestiture breaks AT&T into 24 independent units.
Clara Peller is featured in the "Where's the Beef?" commercial campaign for Wendy's for the first time.
The first Apple Macintosh goes on sale.
Astronauts Bruce McCandless II and Robert L. Stewart make the first untethered space walk.
The CIA station chief in Beirut, William Francis Buckley, is kidnapped by Islamic Jihad and later dies in captivity.
Pop star Michael Jackson's scalp is seriously burned by pyrotechnics during filming of a Pepsi television commercial.
Teachers at the McMartin Preschool in Manhattan Beach, California are charged with Satanic ritual abuse of the schoolchildren (the charges are later dropped as completely unfounded).
A deadly F5 tornado nearly destroys the town of Barneveld, Wisconsin, killing 9 people, injuring nearly 200, and causing over $25,000,000 in damage.
In San Ysidro, California, 41-year-old James Oliver Huberty sprays a McDonald's restaurant with gunfire, killing 21 people before being shot and killed.
Vanessa Lynn Williams becomes the first Miss America to resign when she surrenders her crown, after nude photos of her appear in "Penthouse" magazine.
The Space Shuttle Discovery takes off on its maiden voyage on August 30th.
The first MTV Video Music Awards are held in Radio City Music Hall, New York City on Sept. 14th.
The United Kingdom and the People's Republic of China sign the initial agreement to return Hong Kong to China in 1997.
Velma Barfield becomes the first woman executed in the United States since 1962, in Raleigh, North Carolina.
U.S. presidential election, on Nov. 6th: Ronald Reagan defeats Walter F. Mondale with 59% of the popular vote, the highest since Richard Nixon's 61% victory in 1972.
Cesar Chavez delivers his speech, "What The Future Holds For Farm Workers And Hispanics", on Nov. 9th at the Commonwealth Club in San Francisco.
Thirty-six of Britain and Ireland's top pop musicians gather in a Notting Hill studio to form Band Aid, and record the song "Do They Know It's Christmas", in order to raise money for famine relief in Ethiopia.
Over 250 years after their deaths, William Penn and his wife Hannah Callowhill Penn are made Honorary Citizens of the United States.
Four African-American youths (Barry Allen, Troy Canty, James Ramseur, and Darrell Cabey) board an express train in The Bronx borough of New York City. They attempt to rob Bernhard Goetz, who shoots them. The event starts a national debate about urban crime, which is a plague in 1980s America.
Crack, a smokeable form of cocaine, is first introduced into the Los Angeles area and soon spreads across the United States in what came to be known as the Crack Epidemic.
The first United States Kabbalah Centre is opened.
Back to Top  .  Back to 80s Capsules
---
Music
When Doves Cry – Prince & The Revolution
What's Love Got To Do With It – Tina Turner
Say Say Say – Paul McCartney / Michael Jackson
Footloose – Kenny Loggins
Against All Odds (Take A Look At Me Now) – Phil Collins
Owner of a Lonely Heart – Yes
Ghostbusters – Ray Parker, Jr.
Jump (For My Love) – The Pointer Sisters
Caribbean Queen (No More Love on the Run) – Billy Ocean
Let's Hear It for the Boy – Deniece Williams
Karma Chameleon – Culture Club
Hold Me Now – Thompson Twins
Grandma Got Run Over by a Reindeer – Elmo & Patsy
Pass The Dutchie – Musical Youth
All I Need – Jack Wagner
Back to Top  .  Back to 80s Capsules
---
Television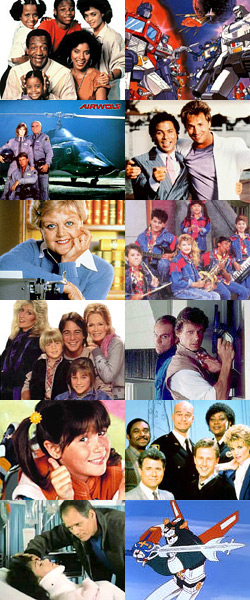 The Cosby Show
Starring: Bill Cosby, Phylicia Rashad, Malcolm-Jamal Warner, Lisa Bonet, Tempestt Bledsoe, Keshia Knight, & Sabrina Le Beauf
Doctor Heathcliff Huxtable and Clair Huxtable, a happily married couple, are raising their children (Sondra, Denise, Theodore, Vanessa, and Rudy).
Transformers [cartoon]
The Autobots and Decepticons, during the great Cybertronian War, crash landed on earth. Millions of years later, geological activity revives the warring factions – the Decepticons want to strip the earth of its vast energy resources, and the Autobots seek to protect the inhabitants of earth from that fate. And so an endless battle begins.
Miami Vice
Starring: Don Johnson, Philip Michael Thomas, Olivia Brown, Saundra Santiago, & Edward James Olmos
Detective James "Sonny" Crockett and detective Ricardo "Rico" Tubbs, of the Miami-Dade police department's organized crime bureau vice unit, work deep undercover as seedy criminals to infiltrate and bring down the various criminal enterprises of southern Florida.
Airwolf
Starring: Jan-Michael Vincent, Alex Cord, & Ernest Borgnine
A renegade pilot (Stringfellow Hawke) and his partner "steal" an advanced battle helicopter (Airwolf) that they feel would be used unethically by its owners, a secretive U.S. intelligence agency. They agree to continue flying it on missions for the agency in exchange for the agency's help locating the Hawke's missing brother.
Murder She Wrote
Starring: Angela Lansbury
Jessica Beatrice McGill Fletcher, a former high school English teacher, takes up writing mystery novels to cope with the sudden passing of her husband Frank. Her nephew Grady, who was raised by the Fletcher's, finds one of Jessica's novels and submits it to a publisher behind her back. Not only does the novel get published, but it becomes a best seller. Soon Jessica becomes an international celebrity, traveling across the U.S. and the world to promote her novels. Also having a knack for solving murders, Jessica becomes a well respected amateur criminologist, solving crimes with the aid of her friends Dr. Seth Haslett and Sheriff Amos Tupper.
Kids Incorporated
The show portrayed kids in a rock band, performing at a teen-dance club, & dealing with problems such as a being too shy to ask someone on a date or having a friend that likes Shakespeare while you only want to listen to rock and roll.
V
Starring: Marc Singer, Jane Badler, Faye Grant, & Michael Ironside
The Earth has been invaded by lizard-like beings from another planet called Visitors. A small resistance of rebels led by photojournalist Mike Donovan, Dr. Julie Parrish and mercenary Ham Tyler fight the Nazi-like reign. The aliens usually appear disguised as humans, and are led by Diana, their queen.
Who's the Boss?
Starring: Tony Danza, Judith Light, Alyssa Milano, Danny Pintauro, & Katherine Helmond
Former major-leaguer Tony Micelli and his daughter Samantha arrive at the Connecticut household of executive Angela Bower, where Tony has taken a job as live-in housekeeper. The Bowers are an interesting family, to say the least. Angela is uptight and obsessed with her work. Her son Jonathan is shy and lacks self-esteem, and her mother, Mona, is a man-hungry vixen. Tony soon wins them over with his laid back style, and the Bowers begin to loosen up.
Punky Brewster
Starring: Soleil Moon Frye, George Gaynes, Cherie Johnson, Susie Garret, & Ami Foster
Punky Brewster is a show about a girl named Penelope "punky" Brewster. She is abandoned with her dog, Brandon in a supermarket by her mother. She doesn't want to stay in an orphanage, and finally befriends Henry Warnimont who adopts her.
Night Court
Starring: Harry Anderson, Richard Moll, John Larroquette, Charles Robinson, Selma Diamond, & Markie Post
An eccentric fun-loving judge presides over an urban night court and all the silliness going on there.
Hunter
Starring: Fred Dryer & Stepfanie Kramer
L.A.P.D. Sgt. Rick Hunter is a tough-minded, Dirty Harry-type policeman who can't stand the creeps, thieves, rapists, and especially murderers who prowl the streets of Los Angeles. Unfortunately his method of doing things doesn't sit well with his precinct captains, which lead to their efforts to get rid of him. Because of his heavy-handed approach, he is unable to keep partners for any significant time frame, and is assigned to Sgt. Dee Dee 'The Brass Cupcake' McCall. The two find themselves up against the slimiest criminals Los Angeles has to offer.
Voltron: Defender of the Universe [cartoon]
Voltron, a mighty robot who defended peaceful planets and justice in the galaxy, seemed invincible until an evil witch, Haggar, tried to destroy him. She split him into 5 parts, each a large robotic lion & each powered by an element of planet Arus… the Black Lion by lightning, the Red Lion by magma, the Green Lion by cyclone, the Blue Lion by water, and the Yellow Lion by the sands of the desert. After the confrontation with Haggar, each lion found a hiding place somewhere in Arus, remaining unused for years. Arus, no longer protected by Voltron, is consequently defeated by the forces of the evil Zarkon. Now five space explorers, sent by Galaxy Garrison after another terrible battle, flee from planet Doom to find the secret to restoring the super-robot known as Voltron.
Back to Top  .  Back to 80s Capsules
---
Movies

Beverly Hills Cop
Starring: Eddie Murphy & Judge Reinhold
A freewheeling Detroit cop pursuing a murder investigation finds himself dealing with the very different culture of Beverly Hills.
Ghostbusters
Starring: Bill Murray, Dan Aykroyd, Harold Ramis, Sigourney Weaver, & Rick Moranis
Three unemployed parapsychology professors set up shop as a unique ghost removal service.
Indiana Jones and the Temple of Doom
Starring: Harrison Ford, Kate Capshaw, & Jonathan Ke Quan
After arriving in India, Indiana Jones is asked by a desperate village to find a mystical stone. He agrees, and stumbles upon a secret cult plotting a terrible plan in the catacombs of an ancient palace.
Gremlins
Starring: Zach Galligan & Corey Feldman
There are three rules must be obeyed as a Mogwai owner: 1) Keep it away from bright light, 2) Don't get any water on it, and 3) Never, never ever feed it after midnight. Unfortunately Billy starts ignores these rules. Water is accidentally spilled on Gizmo causing him to multiply. These new mischievous brothers get a hold of some food after midnight and transform into Gremlins.
The Karate Kid
Starring:  Ralph Macchio, Pat Morita, Elisabeth Shue, & Martin Kove
A handyman/martial arts master agrees to teach a bullied boy karate and shows him that there is more to the martial art than fighting.
Police Academy
Starring: Steve Guttenberg & Kim Cattrall
A group of good-hearted but incompetent misfits enter the police academy, but the instructors there are not going to put up with their pranks.
Footloose
Starring: Kevin Bacon
A city boy comes to a small town where rock music and dancing have been banned.
Romancing the Stone
Starring: Michael Douglas, Kathleen Turner, & Danny DeVito
A romance writer sets off to Colombia to ransom her kidnapped sister, and soon finds herself in the middle of a dangerous adventure.
Star Trek III: The Search for Spock
Starring: William Shatner, Leonard Nimoy, DeForest Kelley, James Doohan, George Takei, Walter Koenig, & Nichelle Nichols
Admiral Kirk and his bridge crew risk their careers stealing the decommissioned Enterprise to return to the restricted Genesis planet to recover Spock's body.
Splash
Starring: Tom Hanks & Daryl Hannah
A man is reunited with a mermaid who saves him from drowning as a boy and falls in love not knowing who/what she is.
Purple Rain
Starring: Prince
A young man with a talent for music has begun a career with much promise. He meets an aspiring singer, Apollonia, and finds that talent alone isn't all that he needs. A complicated tale of his repeating his father's self destructive behavior, losing Apollonia to another singer (Morris Day), and his coming to grips with his own connection to other people ensues.
Amadeus
Starring: Tom Hulce & F. Murray Abraham
The incredible story of Wolfgang Amadeus Mozart, told in flashback mode by Antonio Salieri – now confined to an insane asylum.
The Natural
Starring: Robert Redford, Glenn Close, Kim Basinger, Wilford Brimley, & Barbara Hershey
An overage baseball player comes out of seemingly nowhere to become a legendary player with almost divine talent.
Revenge of the Nerds
Starring: Robert Carradine, Anthony Edwards, Timothy Busfield, & Curtis Armstrong
When lovable nerds Gilbert and Lewis embark on their freshman year at Adams College, little do they realize the perils that await them. They're beset with taunting by the jocks of Alpha Beta fraternity, which only worsens when the jocks accidentally burn down their house and are forced toss the freshmen out of the freshmen dorm. To make matters more problematic, Lewis develops a crush on pretty Betty Childs, popular sorority sister and quarterback's girlfriend. Joined by the aptly named Booger and the violin-playing Pointdexter, the nerds soon realize they must form their own fraternity in self-defense. Soon the tables are turned as the nerds employ high-tech warfare against the jocks . . . . but can they really win and make a difference?
The Terminator
Starring: Arnold Schwarzenegger, Linda Hamilton, & Michael Biehn
A cyborg assassin called "The Terminator" is sent back through time to 1984 to kill the seemingly innocent Sarah Connor-a woman whose unborn son will lead the human race to victory in a bitter future war with a race of machines. If the Terminator succeeds, mankind is doomed. Sarah's only hope is a soldier from that post-apocalyptic war, who has chased the Terminator back through time. The future of the human race depends on which one finds her first.
Dune
Starring: Kyle MacLachlan & Virginia Madsen
Set in a distant future where life in the universe and space travel is dependent upon a spice found only on the planet Dune, this film tracks the rise of young Paul Atreides, son of good Duke Lito, from the time of his father's betrayal and murder by a rival lord, Baron Harkonnen, to his discovery of the great secret behind the planet Dune and his own destiny, which is to free the planet and its denizens of the cruel rule of the Emperor.
The Last Starfighter
Starring: Lance Guest
A video gaming boy, seemingly doomed to stay at his trailer park home all his life, finds himself recruited as a gunner for an alien defense force.
The Muppets Take Manhattan
Kermit and his friends go to New York to get their musical on Broadway only to find it's a more difficult task than they anticipated.
A Nightmare on Elm Street
In the dreams of his victims, a spectral child murderer stalks the children of the members of the lynch mob that killed him.
The Flamingo Kid
Starring: Matt Dillon
Jeffrey feels boxed in; in his home, in his life, in his dreams. At the Flamingo beach club his eyes are opened to a world filled with what he sees as beautiful people and perfect lives. He turns his back on his family in pursuit of easy street. Jeffrey falls in love with pretty beach girl Carla, and appears to be on his way to a cushy job selling sports cars for the slick Mr. Brody. It all begins to fall apart when Jeffrey discovers that Mr. Brody misled him; and further disintegrates when he notices Mr. Brody cheating at cards. Jeffrey must finally choose between his dreams and honor. He returns to his family, which he now sees not as a box, but as a foundation.
Sixteen Candles
Starring: Molly Ringwald, Justin Henry, Anthony Michael Hall, Haviland Morris, & Gedde Wantanabe
A young girl's "sweet sixteenth" birthday becomes anything but special as she suffers from every embarrassment possible. Samantha's life is going downhill fast. The fifteen-year-old has a crush on the most popular boy in school, and the geekiest boy in school has a crush on her. Her sister's getting married, and with all the excitement the rest of her family forgets her birthday! Add all this to a pair of horrendously embarrassing grandparents, a foreign exchange student named Long Duk Dong, and we have the makings of a hilarious journey into young womanhood.
Oh, God! You Devil!
Starring: George Burns
George Burns is back as God, but oops, here he is as Satan, too. A young rock star is ready to sell his soul to Satan, and Satan is all too happy to oblige. Oops! Seems the fellow was watched over by God as a baby, so now the almighty and his nemesis have to duke it out over the soul.
Back to Top  .  Back to 80s Capsules
---
Sports
The 1984 Winter Olympics were held in Sarajevo.
Super Bowl XVIII saw Oakland/Los Angeles Raiders, who were playing out of Los Angeles at that time, defeat the National Football Conference (NFC) champion Washington Redskins, 38–9. The Raiders' 38 points and their 29 point margin of victory were both Super Bowl records unsurpassed until Super Bowl XX.
At the 1984 Winter Olympics the British ice dancers, Torvill and Dean, became the highest scoring figure skaters of all time (for a single program) receiving 12 perfect 6.0s, including artistic impression scores of 6.0 from every judge.
The longest game in Major League Baseball history begins at 7:30 PM between the Milwaukee Brewers and the Chicago White Sox. The game will be played over the course of 2 days, lasting 25 innings, with a total time of 8 hours and 6 minutes.
Richard Petty wins his 200th career NASCAR victory at the Firecracker 400 in Daytona, Florida.
The 1984 Summer Olympics are held in Los Angeles, California. The Soviet Union boycotts it.
The 1984 World Series pitted the Detroit Tigers against the National League champion San Diego Padres, winning the series 4 games to 1.
Edmonton Oilers win the Stanley Cup.
Swale wins the Kentucky Derby with a time of 2:02.40.
Rick Mears (for Penske Cars) wins the Indy 500.
John McEnroe defeats Chris Lewis to win Men's Singles & Martina Navratilova defeats Andrea Jaeger to win Lady's Singles at Wimbledon.
Laurent Fignon (France) wins the Tour de France.
John McEnroe defeats Ivan Lendl to win Men's Singles & Martina Navrátilová defeats Chris Evert to win Women's Singles at the US Open.
Terry Labonte #44 won the NEXTEL Cup (formerly Winston Cup).
Michael Jordan is picked in Round 1 of the NBA draft by the Chicago Bulls.
Back to Top  .  Back to 80s Capsules
---
People Who Died
Johnny Weissmuller (b. 1904) – Swimmer/Actor – one of the world's best swimmers in the 1920s winning 5 Olympic gold medals & 1 bronze medal. He went on to portray the most well-known Tarzan in 12 Tarzan films.
Ethel Merman (b. 1908) – Singer/Actress – often hailed as "The Queen of the Broadway stage." Her stage performances included: Anything Goes, Annie Get Your Gun, Gypsy, & Hello, Dolly!
Jackie Coogan (b. 1914) – Actor – as Uncle Fester in the Addams Family TV show.
William Powell (b. 1892) – Actor – as Nick Charles in the Thin Man films, as Godfrey in My Man Godfrey, & Clarence Day Sr. in Life with Father
Sam Jaffe (b. 1891) – Actor – Gunga Din, Lost Horizon, Ben-Hur, The Day the Earth Stood Still, & The Asphalt Jungle
Marvin Gaye (b. 1939) – Soul & R&B Singer – Hit songs included: "Stubborn Kind of Fellow," "How Sweet It Is (To Be Loved By You)," "I Heard It Through the Grapevine," "Let's Get It On," "Got to Give It Up," & "Sexual Healing."
Ansel Adams (b. 1902) – Photographer best known for his black & white photos of California's Yosemite Valley.
Count Basie (b. 1904) – Jazz musician (pianist), bandleader, & composer – Regarded as one of the most important jazz bandleadres of his time. – He was known for the songs "One O'Clock Jump," "Jumpin' at the Woodside," & "April in Paris."
Andy Kaufman (b. 1949) – Comedian – played Latka on Taxi
Richard Burton (b. 1925) – Actor – The Robe, Becket, The Spy Who Came in from the Cold, Who's Afraid of Virginia Woolf?, Anne of the Thousand Days, Equus, & My Cousin Rachel. Also married Elizabeth Taylor twice.
Walter Pidgeon (b. 1897) – Actor – The Bride of the Regiment, Sweet Kitty Bellairs, Kiss Me Again, Viennese Nights, How Green Was My Valley, Mrs. Miniver, Madame Curie, & Voyage to the Bottom of the Sea
Jon-Erik Hexum (b. 1957) – Actor/model – best known as Phineas Bogg on the sci-fi series Voyagers!
Waite Hoyt (b. 1899) – Professional baseball player – one of the dominant pitchers of the 1920s & the winningest pitcher of the New York Yankees during that decade.
Back to Top  .  Back to 80s Capsules
---
People Who Were Born
Lee Thompson Young – Actor – as Jett Jackson in Disney's The Famous Jett Jackson, Chris Comer in Friday Night Lights, the Cyborg Victor Stone on Smallville, & Detective Barry Frost on Rizzoli & Isles
Benji Schwimmer – Dancer – Winner of the 2nd season of So You Think You Can Dance (2006)
Olivia Wilde – Actress – as Alex Kelly the bisexual bartender on The O.C., Jenny Reilly on The Black Donnellys, Dr. Remy 'Thirteen' Hadley on House M.D., & Quorra in TRON: Legacy
Julia Mancuso – American alpine skier – Won Gold in the Giant Slalom at the 2006 Winter Olympics
Katharine McPhee – Singer – American Idol runner-up on the 5th season of American Idol (2006)
Mandy Moore – Singer with hits "Candy" & "I Wanna Be With You" and Actress as Jamie Sullivan in A Walk to Remember, Hilary Faye in Saved!, & Sally Kendoo in American Dreamz
America Ferrera – Actress – as Betty Suarez on Ugly Betty, Ana Garcia in Real Women Have Curves, and Carment Lowell in The Sisterhood of the Traveling Pants
Tyson Ritter – Musician – Lead singer of The All-American Rejects
Patrick Stump – Musician – Lead singer of Fall Out Boy
Fantasia – Singer – Won the 3rd season of American Idol (2004)
Prince Harry of Wales – 2nd son of Princess Dianna & Prince Charles
Avril Lavigne – Singer – "Sk8er Boi," "I'm with You," "Complicated," "My Happy Ending," & "Girlfirend"
Ashlee Simpson – Singer/actres and younger sister of Jessica Simpson – songs include "Pieces of Me," "Shadow," & "La La"
Sasha Cohen – American figure skater – Won silver in Ladie's singles at the 2006 Winter Olympics
Kelly Osbourne – Singer and daughter of Ozzy Osbourne
Scarlett Johansson – Actress – as Griet in Girl with a Pearl Earring, Charlotte in Lost in Translation, Jordan Two Delta in The Island, Nan in The Nanny Diaries, & Natasha Romanoff/Black Widow in the Avengers movies
LeBron James – Basketball player for the Miami Heat and formerly for the Cleveland Cavaliers
Jackson Rathbone – Actor – as Jasper Cullen in The Twilight Saga, Sokka in The Last Airbender, and Nicholas Fiske in the TV series Beautiful People