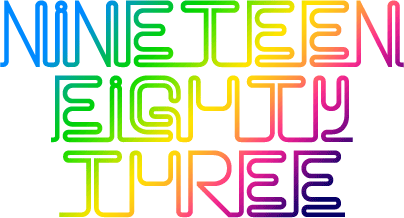 One site reader described the awesomeness of 1983 as follows.
1983, hands down. Michael Jackson and The Police dominate the Billboard charts, while "Murmur" is released and the Smiths put out their first single. Hair bands have not yet screwed up MTV for the rest of us. "National Lampoon's Vacation" and "Valley Girl" are in the theaters, but George Lucas has hinted at the suck in our movie futures by giving us… Ewoks. Reagan and other Western political leaders are still wearing brown suits half the time. Everyone is legitimately worried about nuclear war. Good times. The only hole in the argument that 1983 is the height of the 80s would be that we're still a year short of the debut of "Miami Vice."
Jump directly to your area of interest using these links:
History & Politics  .  Music  .  Television  .  Movies  .  Sports  .  People Who Died  .  People Who Were Born
Back to 80s Time Capsules
---
History & Politics
A riot breaks out at Sing Sing prison, New York.
Lotus 1-2-3 (spreadsheet program) is released for IBM-PC compatible computers.
The musical Annie is performed for the last time after 2,377 shows at the Uris Theatre on Broadway, New York City.
Red rain falls in the UK, caused by sand from the Sahara Desert in the droplets.
High ranking Nazi war criminal Klaus Barbie is arrested in Bolivia & officially charged with war crimes.
Wah Mee massacre: 13 people are killed in an attempted robbery in Seattle, Washington.
M*A*S*H (TV series) ends after 11 years and 251 episodes on CBS. The series finale, Goodbye, Farewell and Amen, becomes the highest rated episode in TV history.
Swatch introduces their first watches.
Strategic Defense Initiative: U.S. President Ronald Reagan makes his initial proposal to develop technology to intercept enemy missiles. The media dub this plan "Star Wars."
The U.S. Embassy is bombed in Beirut, killing 63 people.
Sally Ride becomes the first American woman in space, on the Space Shuttle Challenger.
Diana Ross stages a free concert in Central Park in front of 800,000 people, enduring the severe weather, but vows to return the next day . . . and she does.
Hurricane Alicia hits the Texas coast, killing 22 and causing over US$3.8 billion (2005 dollars) in damage.
Tom Brokaw becomes lead anchor for NBC Nightly News.
Vanessa Williams becomes the first African-American to be crowned Miss America, in Atlantic City, New Jersey.
Microsoft Word is first released.
Martin Luther King Day: At the White House Rose Garden, U.S. President Ronald Reagan signs a bill creating a federal holiday on the third Monday of every January to honor American civil rights leader Martin Luther King Jr.
Drug Abuse Resistance Education (DARE) program launched in U.S.
McDonald's introduces the McNugget.
Giovanni Vigliotto goes on trial for multiple counts of bigamy involving 105 women. He'd marry them, take their belongings, abandon them, and sell their stuff at flea markets.
Harold Washington is elected the first African American mayor of Chicago.
United States troops invade Grenada at the behest of Eugenia Charles of Dominica, a member of the Organization of American States.
Back to Top  .  Back to 80s Capsules
---
Music
Every Breath You Take – Police
Flashdance . . . What A Feeling – Irene Cara
Africa – Toto
Electric Avenue – Eddy Grant
True – Spandau Ballet
Total Eclipse of the Heart – Bonnie Tyler
Jeopardy – Greg Kihn Band
Do You Really Want to Hurt Me – Culture Club
Making Love Out of Nothing at All – Air Supply
She Blinded Me With Science – Thomas Dolby
China – Red Rockers
Mark Dursin explains why 1983 was the BEST year for music.
Back to Top  .  Back to 80s Capsules
---
Television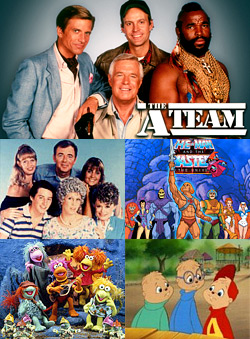 The A-Team
Starring: George Peppard, Dwight Schultz, Mr. T, & Dirk Benedict
Four Vietnam vets, framed for a crime they didn't commit, help the innocent while on the run from the military.
Mama's Family
Starring: Vicki Lawrence, Ken Berry, Dorothy Lyman, Eric Brown, & Rue McClanahan
Thelma Harper and her spinster sister Fran open their home to Thelma's recently divorced son Vinton and his teenage son and daughter. It's quite an adjustment for everyone, especially the cranky, argumentative Thelma.
He-Man and the Masters of the Universe [cartoon]
The most powerful man in the universe, He-Man, goes against the evil forces of Skeletor to save the planet Eternia and to protect the secrets of Castle Grayskull with the help of his friends, Man-At-Arms, Teela, Orko, and Battlecat.
Fraggle Rock [muppets]
Doc and his dog Sprocket have a hole in their wall, behind which live little furry creatures known as Fraggles in a place called Fraggle Rock. The Rock is also home to the Doozers (who are knee-high to a Fraggle) and the Gorgs (who are giants that think they rule the Rock). One gang of Fraggles (Gobo, Mokey, Wembley, Boober, and Red), under the guidance of the all-knowing Trash Heap (Marjorie), learn about each other and their neighbors and eventually befriend the Doozers, the Gorgs–and even Doc and Sprocket. Meanwhile, Gobo's Uncle Matt explores Outer Space (our world) and sends postcards to his nephew about the Silly Creatures (that's us).
Alvin & the Chipmunks [cartoon]
Three chipmunk brothers, Alvin, Simon, and Theodore, have been adopted by and are living with Dave (a human). Each show finds the boys getting into trouble and new and unusual situations.
Back to Top  .  Back to 80s Capsules
---
Movies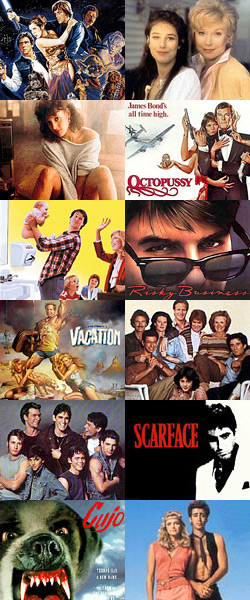 Return of the Jedi
Starring: Mark Hamill, Harrison Ford, Carrie Fisher, & Billy Dee Williams
Darth Vader and the Empire are building a new, indestructible Death Star. Meanwhile, Han Solo has been imprisoned, and Luke Skywalker has sent R2D2 and C3PO to try and free him. Princess Leia – disguised as a bounty hunter – and Chewbacca go along as well. The final battle takes place on the moon of Endor, with its natural inhabitants, the Ewoks, lending a hand to the rebels. Will Darth Vader and the dark side overcome the rebels and take over the universe?
Terms of Endearment
Starring: Shirley MacLaine, Debra Winger, Jack Nicholson
Aurora and Emma are mother and daughter who march to different drummers. Beginning with Emma's marriage, Aurora shows how difficult and loving she can be. The movie covers several years of their lives as each finds different reasons to go on living and find joy. Aurora's interludes with Garrett Breedlove, retired astronaut and next door neighbor are quite striking. In the end, different people show their love in very different ways.
Flashdance
Starring: Jennifer Beals
A Pittsburgh woman with two jobs as a welder and an exotic dancer wants to get into ballet school.
Trading Places
Starring: Dan Aykroyd & Eddie Murphy
A snobbish investor and a wily street con artist find their positions reversed as part of a bet by two callous millionaires.
WarGames
Starring: Matthew Broderick
A young computer whizz kid accidentally connects into a top secret super-computer which has complete control over the U.S. nuclear arsenal. It challenges him to a game between America and Russia, and he innocently starts the countdown to World War 3. Can he convince the computer he wanted to play a game and not the real thing?
Octopussy
Starring: Robert Moore, Maud Adams
A Faberge Egg found with a murdered British agent puts Bond on the trail that leads to a plot to kill thousands to weaken NATO defenses in Europe.
Sudden Impact
Starring: Clint Eastwood
A rape victim is exacting revenge on her aggressors in a small town outside San Francisco. Dirty Harry, on suspension for angering his superiors (again), is assigned to the case.
Mr. Mom
Starring: Michael Keaton, Teri Garr
Jack and Caroline are a couple making a decent living When Jack suddenly loses his job. They agree that he should stay at home and look after the house while Caroline works. It's just that he's never done it before, and really doesn't have a clue.
Risky Business
Starring: Tom Cruise & Rebecca De Mornay
A Chicago teenager is looking for fun at home while his parents are away, but the situation quickly gets out of hand.
National Lampoon's Vacation
Starring:  Chevy Chase, Beverly D'Angelo, Randy Quaid, Anthony Michael Hall
The Griswold family's cross-country drive to the Walley World theme park proves to be much more arduous than they ever anticipated.
Superman III
Starring: Christopher Reeve
Synthetic kryptonite laced with tobacco tar splits Superman in two: good Clark Kent and bad Man of Steel.
The Big Chill
Starring: Tom Berenger, Glenn Close, Jeff Goldblum, Kevin Kline
A group of seven former college friends gather for a weekend reunion at a posh South Carolina winter house after the funeral of one of their friends.
Never Say Never Again
Starring: Sean Connery
A SPECTRE agent has stolen two American nuclear warheads, and James Bond must find their targets before they are detonated.
Scarface
Starring: Al Pacino as Tony Montana
In 1980 Miami, a determined Cuban immigrant takes over a drug empire while succumbing to greed.
The Outsiders
Starring: Matt Dillon, Ralph Macchio, Patrick Swayze, Rob Lowe, Emilo Estevez, Tom Cruise, C. Thomas Howell
The tension between two groups: The Greasers and The Socials "Socs" puts Ponyboy Curtis (Howell) and his best friend Johnny Cade (Macchio) in a bad spot. One night at the movies, Ponyboy and Johnny fall in love with Sherri "Cherry" Valance (Lane) and Marcia (Meyrink) once they get Dally Winston (Dillon), the toughest and meanest of the Greasers to stop attempting to "score" Cherry and Marcia. What Johnny and Ponyboy don't know is that Cherry and Marcia are girls for the snobbish, popular, and rich group, the Socs. Once Johnny kills Bob Sheldon (Garrett), the toughest and meanest member of the Socs, this begins as the Socs demand a rumble against the Greasers.
Cujo
A friendly St. Bernard named "Cujo" contracts rabies and conducts a reign of terror on a small American town.
Valley Girl
Starring: Deborah Foreman, Nicolas Cage
Julie, a girl from the valley, meets Randy, a punk from the city. They are from different worlds and find love. Somehow they need to stay together in spite of her trendy, shallow friends.
All the Right Moves
Starring: Tom Cruise, Craig T. Nelson, Lea Thompson
A high school footballer desperate for a scholarship and his headstrong coach clash in a dying Pennsylvania steel town.
Back to Top  .  Back to 80s Capsules
---
Sports
Björn Borg retires from tennis after winning 5 consecutive Wimbledon championships.
The Washington Redskins defeat the Miami Dolphins 27-17 in Super Bowl XVII.
Indianapolis 500: Tom Sneva wins his first race after three previous runner-up finishes.
George Brett (former 3rd baseman for the Kansas City Royals) is expelled from a baseball game in Yankee Stadium, New York, after charging an umpire who called him out for having more pine tar on his bat than technically allowed.
The Denver Nuggets and the visiting Detroit Pistons combine for an NBA record 370 points, with Detroit winning in triple overtime, 186-184.
The Balitmore Orioles took the World Series, winning 4 games to 1 over the Philadelphia Phillies.
New York Islanders win the Stanley Cup.
Sunny's Halo wins the Kentucky Derby with a time of 2:02.20.
John McEnroe defeats Chris Lewis to win Men's Singles & Martina Navratilova defeats Andrea Jaeger to win Lady's Singles at Wimbledon.
Laurent Fignon (France) wins the Tour de France.
Jimmy Connors defeats Ivan Lendl to win Men's Singles & Martina Navrátilová defeats Chris Evert to win Women's Singles at the US Open.
Bobby Allison #22 won the NEXTEL Cup (formerly Winston Cup).
Back to Top  .  Back to 80s Capsules
---
People Who Died
George Cukor (b. 1899) – Film Director – My Fair Lady, Dinner at Eight, Little Women, David Copperfield, Romeo and Juliet, Camille, Holiday, The Philadelphia Story
Karen Carpenter (b. 1950) – Singer and 1/2 of the duo The Carpenters
Tennessee Williams (b. 1911) – Playwright who wrote The Glass Menagerie, A Streetcar Named Desire, Cat On a Hot Tin Roof
Gloria Swanson (b. 1897) – Actress – in numerous silent films & as Norma Desmond in Sunset Boulevard
McKinley "Muddy Waters" Morganfield (b. 1915) – Blues musician considered to be the father of Chicago blues
Roger J. Traynor (b. 1900) – 23rd Chief Justice of the Supreme Court of California & is considered to be one of the greatest judges in the history of the U.S.
Jack Dempsey (b. 1895) – World heavyweight boxer
Norma Shearer (b. 1902) – Actress – The Divorcee, Romeo & Juliet, Marie Antoinette
Buckminster Fuller (b. 1895) – Architect known for the geodesic dome
Chris Wood (b. 1944) – Rock musician and member of the group Traffic
Frank Reynolds (b. 1923) – TV journalist – Anchored ABC Evening News, co-anchored World News Tonight, and pioneered the 30 min late night news program "America Held Hostage" which was renamed to "Nightline"
David Niven (b. 1910) – Actor – Around the World in Eighty Days, Pink Panther, Casino Royale, Separate Tables
Carolyn Jones (b. 1930) – Actress – best known as Morticia Addams in the TV series The Addams Family
Ira Gershwin (b. 1896) – Lyricist who collaborated with his younger brother & composer George Gershwin to create some of the most memorable songs of the 20th century – "I Got Rhythm," "Embraceable You," "Someone to Watch Over Me"
Joan Hackett (b. 1934) – Actress – as Catherine Allen in the western Will Penny & won a Golden Globe best supporting actress in Only When I Laugh (1982)
Slim Pickens (b. 1919) – Actor – best know as the B-52 pilot Major T.J. "King" Kong in Dr. Strangelove who rode the H-bomb.
Dennis Wilson (b. 1944) – Musician – founding member & drummer of The Beach Boys
Otto Messmer (b. 1892) – Animator – Creator of Felix the Cat
Back to Top  .  Back to 80s Capsules
---
People Who Were Born
Kate Bosworth – Actress – as Anne Marie Chadwick in Blue Crush, Rosalee Futch in Win a Date with Tad Hamilton!, & Sandra Dee in Beyond the Sea
Carrie Underwood – Country music singer & winner of the 4th season of American Idol
Taylor Hanson – Musician and member (middle brother) of the group Hanson
Amber Tamblyn – Actress – as Joan Girardi on Joan of Arcadia, Emily Quartermain on General Hospital, Tabitha "Tibby" Tomko-Rollins in The Siterhood of the Traveling Pants, Aubrey Davis in The Grudge 2
Leelee Sobieski – Actress – Deep Impact, Joan of Arc (TV), Eyes Wides Shut, The Glass House, Uprising (TV), The Wicker Man
Michelle Branch – Singer as a pop soloist "Everywhere," "All You Wanted," & "Breathe" and as part of the duo of the country group The Wreckers
Gregory Smith – Actor – as Ephram Brown on Everwood, Alan Abernathy in Small Soldiers, Thomas Martin in The Patriot
Mila Kunis – Actress – as Jackie Burkhart on That '70s Show & the voice of Meg Griffin on Family Guy
Patrick Flueger – Actor – as Logan/Cal West on Scoundrels and Shawn Farrell on The 4400
William Hung – Won our hearts and brought us laughs as an American Idol reject with his off-key rendition of Ricky Martin's "She Bangs."