Today's 80s Puzzle: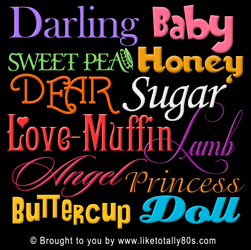 Today's 80s Trivia Question:
Q: What lead singer of a chart topping 80s band was offered the lead singer spot with both Toto and Chicago but turned them down?
A: Richard Page, lead singer of Mr. Mister.
Read past 80s trivia questions below; they are organized by category – music, movies, culture, etc. We are always on the look out for interesting and little know 80s factoids. If you've got one, please share. You can email it to us at [email protected] or post it on our Facebook wall: www.facebook.com/liketotally80s.
80s Movie Trivia
Q: What 80s actor was valedictorian of his high school class and later turned down the lead in "American Beauty" (1999)?
A: Chevy Chase.
Q: Who said? "Like, he's got the bod, but his brains are BAD news."
A: This is a quotation from the totally awesome 80s movie, Valley Girl, starring a very young Nick Cage and Deborah Foreman. The line happens early in the movie while they are in the mall (in the food court). Deborah Foreman's character, Julie, is describing her boyfriend (that she is about to dump).
Q: What brother and sister both appeared (before either was famous) in bit parts in 1984's Sixteen Candles?
A: John and Joan Cusack. They appeared as two geeks in the brat pack film Sixteen Candles, John as one of Farmer Ted's henchmen and Joan as the geek with the neck brace. Joan and John also appear together in the 2007 movie The Martian Child, as well as High Fidelity, Grosse Pointe Blank, and Say Anything. (source: wikipedia.com)
Q: What was the first word uttered by Allison (Sheedy), the Basket Case in The Breakfast Club?
A: Vodka
Q: What star of The Breakfast Club was also part of the original cast of the Facts of Life?
A: Molly Ringwald played Molly Parker in 13 episodes between 1979-1980
Q: What is Ilan Mitchell-Smith, star of Weird Science, up to these days?
A: Ilan Mitchell-Smith was one of the starring geeks in Weird Science who, along with Anthony Michael Hall, use their brains (and their 80s computer technology) to create the ideal woman, a smoking hot Kelly LeBrock. Turns out, that Ilan Mitchell-Smith went on to do a PhD in Medieval Studies and is now a professor at California State University, Long Beach.
Q: Who was on the shirt that Mouth was wearing on the Goonies?
A: Cover of Prince's Purple Rain
80s Music Trivia:
Q: What late 80s pop sensation band had their Grammy revoked for allegedly not singing the vocals on their album?
A: Milli Vanilli – Girl, you know it's true!
Q: What 80s pop queen got her start on Star Search, but did not win (she came in second)?
A: Tiffany
Check out Tiffany's video for "I Think We're Alone Now," filmed during her Mall tour to promote her first album.
Q: Who was the lead singer of Genesis before Phil Collins stepped into the role?
A: Peter Gabriel
Q: Like what was the very first video ever to play on MTV?
A: "Video Killed the Radio Star" by The Buggles
Q: What 80s rock band trio agreed to bleach their hair blonde in order to do a chewing gum commercial?
A: Police
Q: Who turned down both the lead roll in Back to the Future as well as the opportunity to perform the hit song "Danger Zone" for the movie Top Gun?
A: Corey Hart
LT80s Commentary: Bad career move.
The hit song "Maniac" from the film Flashdance was originally inspired by the horror film Maniac. Michael Sembello wrote the song after seeing the 1980 movie about a serial killer in New York City. The lyrics had to be changed before it could be used in Flashdance. Check out the earlier version of the chorus:
He's a maniac, maniac that's for sure,
He will kill your cat and nail him to the door.
(Source: Wikipedia)
Unfortunately, the song was disqualified from its Academy Award nomination because it was not originally written for Flashdance.
Q: What model was featured in Duran Duran's 1986 "Notorious" music video?
A: Christy Turlington. She was only 16 years old at the time. Watch Duran Duran's "Notorious" video now from our 80s Music Videos vault.
Q: What was the first a cappella song to reach #1 in the Billboard charts?
A: "Don't Worry, Be Happy" by Bobby McFerrin.
80s Pop Culture Trivia:
Q: User-submitted trivia: What soda had six times the caffeine of any other soda on the market?
A: Jolt
80s TV Trivia:
Q: On Family Ties, what president's picture did Alex Keaton keep on his nightstand?
A: Richard Nixon
Q: What actress, who played Flo in the movie Alice Doesn't Live Here Anymore, appeared as Flo's replacement Belle on the TV series Alice?
A: Diane Ladd
Q: Who had the catch phrase "Wa! Wa! Wa!" (Trivia submitted by S.R. Fox)
A. Dwayne F. Schneider from One Day at a Time
B. Ben Seaver from Growing Pains
C. Willis Jackson from Diff'rent Strokes
D. Charles 'Chachi' Arcola from Happy Days
A: D. Charles 'Chachi' Arcola from "Happy Days"
Q: Finish this lyric from One Day at a Time's theme song, This is it; this is it. ___?___. (Trivia submitted by S.R. Fox)
A. This is life, the one you chose you just can't have it all!
B. This is life, the one you get, so go and have a ball!
C. This is life I suppose, come on lets take it all!
A: B. This is life, the one you get, so go and have a ball! Be sure to check out the video of the theme song!
Q: Who was Matthew Frewer?
A: The actor best known for playing Max Headroom. He also appeared in Monty Python's The Meaning of Life and in the 2009 film Watchmen. Go behind the scenes with Max Headroom on the BBC's I Love 1985. Then check out Max in Art of Noise's Paranoimia music video.
80s Trivia Puzzles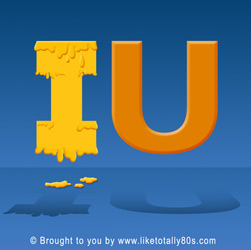 More 80s Trivia
Want even more 80s Trivia Questions? Visit www.infinite80s.com. You can even sign up for daily emails with like totally great 80s trivia and links!
Submit Your Own Trivia Question
We will archive all our trivia questions to build up a great store of 80s trivia. Submit your 80s trivia question here.